It's been awhile, but I finally qualified for another VoxBox! Shipping got a bit delayed, but thankfully they also extended the active period for reviews to accommodate. For awhile I was concerned mine got lost along the way, but then it finally showed up a few weeks ago. 🙂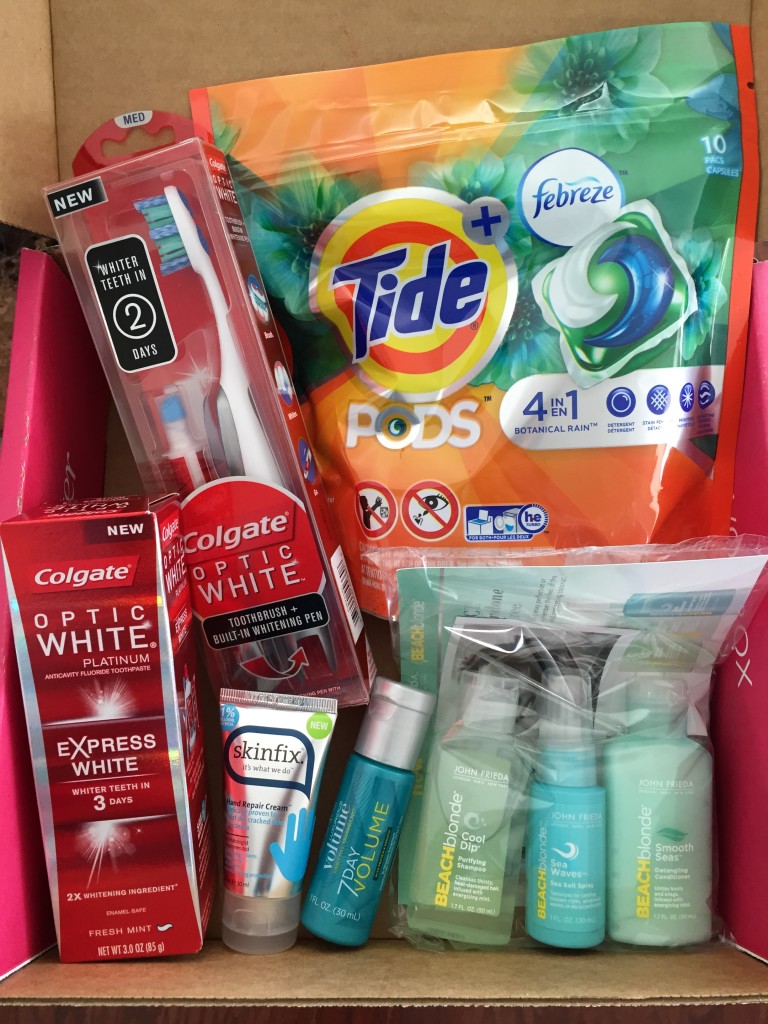 As always, I got a wonderful box full of products that I enjoyed. Some I will definitely buy again, some I might not, but I liked trying them all.
Colgate Optic White Platinum toothpaste – We've used other Colgate Optic products before, but not quite this exact one. I like their tube design that allows us to stand the toothpaste up – it saves on counter space! This felt warm at first and then more minty with further brushing. I like it
Colgate Optic White toothbrush with built-in whitening pen – I'm always happy to get another toothbrush and these bristles feel good. The whitening pen in the handle is a handy design that makes it easier to remember to whiten after brushing. I did find the tip to be rather odd, with the texture that made the paste come out on my teeth in small globs. I like that I don't have to worry about removing it from my teeth after a certain period. I didn't notice a huge change in my teeth, but they did seem glossier/brighter after a few uses.
Skinfix Hand Repair Cream – This is a really great healing lotion for whenever my skin desperately needs deep hydration. I get these weird red bumps on my fingers sometimes, which I think are an allergic reaction (typically to frozen cardboard, like the ones for housing goods in the freezer). My fingers itch a lot when that happens and I'm keeping this handy for those situations, to help soothe and heal my skin.
Tide Pods with Febreze – I just love how convenient these are! Throw one in, no muss no fuss, and your clothes come out smelling fresher than clean. I love that there's no risk of a sticky mess and no need for measuring. What a great solution. They dissolve perfectly and leave no trace at the end, except the lingering Febreze scent. I'll definitely be using these as my go-to for my laundry needs.
John Frieda 7 Day Volume – So the instructions say to use a blow dryer, but I'm not in that habit so I wanted to see what would happen if I styled my hair normally (which means letting it air dry). I do feel there was a bit more volume to my hair, but nothing super obvious that would scare people away. I'll have to leave it in longer and try this whole blow drying thing another time.
John Frieda Beach Blonde collection of shampoo, conditioner, and sea salt spray – I like the mint in the shampoo and conditioner! It offers a nice scent that is fresh and sweet. I haven't noticed them performing differently than my standard hair care products, though the conditioner is more subtle and doesn't over-slick my hair. The spray has a coconut scent that is oh so tropical. It gives great texture and a bit of tousling helps to give that ocean air-blown hair.
What's your favorite item in this #XOVoxBox?
[I received these products free for testing purposes. All opinions are my own.]