Learn more about 365great here.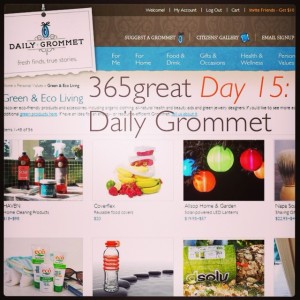 Daily Grommet has been an excellent source of discovery for me! They consistently introduce fabulous products, ranging from sugru (which I am itching to get my hands on) to Squishables, which was featured earlier on 365great! When it comes to curated content for those looking for unique, often eco-friendly products, this is the place to be. If you are ever out of ideas for gifting, check out their recommendations – I guarantee you'll find something cool.
Products range from practical to whimsical, from kitchenware to clothing, and so much more. Usually you'll find a clever solution to common problems or something beautifully and elegantly designed. Each one has a compelling story, which is how they get chosen. I really can't even begin to describe all the awesomeness you'll encounter there, so I think the best thing to do is go browse yourself! Or hey, browse my own personal favorites here on my wishlist. I'm sure you'll come across something great.