I'm loving the glittery and rosy theme of this box. Definitely has a festive holiday feel to it.
Petit Vour is $15 per box (or as much as $30 for international subscribers) and comes with vegan beauty, skincare, and other personal care products. Boxes are sent monthly with no option to skip. They offer a referral program that earns you points towards free boxes (email contact@petitvour.com to say I referred you if you sign up!).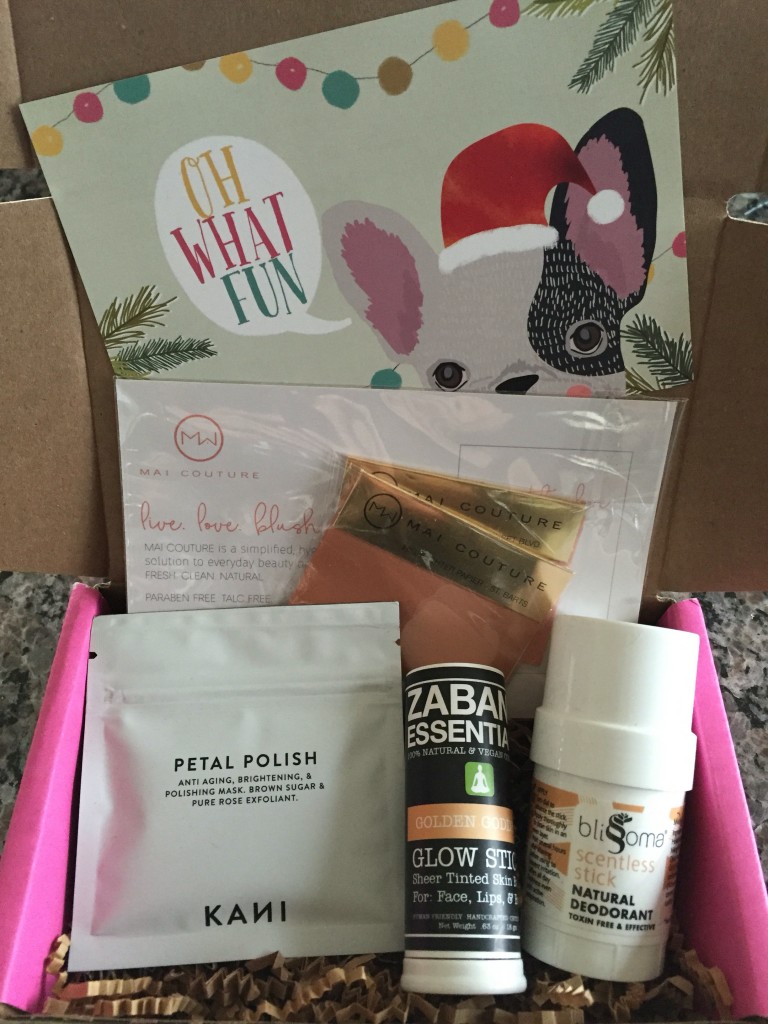 Kani Petal Polish – Ok, I was super confused by this one and I couldn't figure out if it was one of those paper masks or a regular one. It turns out it's like a super thick scrub paste sort of thing. It smells much like brown sugar and rose mixed together, which is basically what it is. I'm a fan of brown sugar and it's a lot of fun to rub this on your face. It left my skin very soft and nice.
Mai Couture blush papier & highlighter papier – This reminds me a lot of those oil blotting papers, which it seems to act as in a secondary fashion. Primarily, these are for adding some color to your face! What a highly portable way to go about it. I know it says to tear one sheet in half to use on either cheek, but I found that it wasn't created with easy tearing. At least perforate or make it easier to tear a somewhat even line if that the recommended use. The grain of the paper made the paper want to tear lengthwise rather than widthwise.
Zaban Essentials Golden Goddess glow stick – Oh my goodness, this smells GOOD. It's some sort of delicious tropical smell that I attribute to the nectarine extract. It's so fragrant and wonderful! It glides on easily and gives a nice subtle glow and shimmer that feels very festive. What a great little stick of fun.
blissoma scentless stick natural deodorant – There's a dryness and graininess to this stick that makes me feel like it will definitely keep me dry and odor-free. I found it needed some extra rubbing in with my fingers for it to absorb and spread. After that, I felt great and instantly the moisture from that area was diminished.
I had fun with these products. The glow stick is perfect for the season and a great way to spruce things up when everything outside gets more dull. Which of these products do you like most?
[This post mentions a referral program. Signing up and emailing contact@petitvour.com to say I referred you helps support my subscription and I'd be ever so grateful. 🙂 All opinions are my own and I received no compensation for this review. I just purchased this box and wanted to share what I got!]