Learn more about 365great here.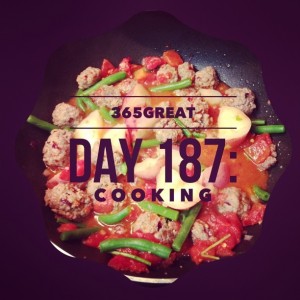 Panda and I have been cooking a bit together* and I've really enjoyed it. Not only are we spending time together, getting a chance to chat and catch up, we're producing results that we get to enjoy at the end. There's something very rewarding about getting a product that is useful after all that effort. Then we get to sit down and eat together and spend even more time together! Oh, and of course cooking is nice because you can make things taste just how you want and you don't have to leave a tip. 😉 You save time and money (usually) and you are more active too. We really should do it more often, but it's so easy to slip into laziness and order out or just go out. That's why I'm exploring options to make it easier for us, like this Hello Fresh meal that was pre-planned for us. I won't delve into it too much since I'll feature them another time, but suffice it to say that cooking at home can be a great experience.
*More like I'm doing the cooking and he's doing the cleaning up, but hey we're working together and that's what matters.