Been awhile since I last linked up with Jennifer of Ramblings of a Suburban Mom, so let's do this!
a. ~A lot has been on my mind lately, mostly related to where I want my life to go in the next couple of years. Panda and I have been
house hunting
(more like condo hunting) and we found a place that is basically our dream home. We love the layout, it's brand new (not even built yet), it's super spacious, it's a nice neighborhood, and it's on the higher end of our budget but totally manageable once I get a job. The one thing I don't love is the location in relation to where I might work. It's looking like I will have a 40-60 minute commute each way, based on the jobs I've been applying for. Am I willing to make that commute every day? I was hoping for something less stressful, but we'll see! If I love the job and my home, a commute isn't so bad.
b. ~I'm still grappling with the idea of my new life "out east." I've had to resist looking at some very appealing job opportunities in the SF and LA regions, where a lot of cool start-ups are. I really want to find a company culture that I would fall in love with, where they take care of their employees and offer great growth potential. Oh, and I'd really like a job that involves around 25% travel. I don't need all the crazy cool perks of some companies I've seen, like free massages or no dress code or no set hours, but I do want a somewhat laidback vibe. I don't mind business casual dress or having to show up at a certain time each morning so long as the people are chill and there is room for a ton of learning and evolution of my role. So many companies on the west coast offer that and it's a little harder to find here, but I have some promising leads.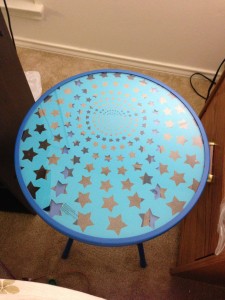 c. ~The other day I was at Target exchanging a tripod when I happened upon a super cute table. When I checked, it was on clearance for 50% off, which is not ideal, but still a steal! I mean, with something this adorable I just had to snatch it up. Initially it looked like the perfect little thing to put out on the porch, but now that I've field tested it in my room I can't bear to put it outside. We'll see where it fits in when we move to our future home! I may not be as good as Jennifer when it comes to Target clearance shopping, but I'm learning from her!
d. ~I started looking at laptops today, since that will be my reward for landing a job (in addition to getting a car for myself!). My absolute no-compromise criterion is that it is QUIET. Like, tablet quiet (aka silent). I determined that that basically means I need a solid state drive (SSD), so that's what I've been focusing on. My tier 2 criteria include having a touchscreen, backlit keyboard, 3 USB ports, and 2-in-1 media reader or better. An added bonus would be a button that can turn the display off so I don't have to wait for it to go idle on its own. Oh, and I was hoping for an ASUS but the only one fitting my specifications is $2250 with a student discount! DANG! Depending on how happy I am with the job I land, I might spring for that just because it really satisfies my needs, whereas all other options are missing this or that.
e. ~Is it just me or do you marvel at how freakin' perfect Kate Middleton always looks? I mean, she just gave birth and she's coming out looking like any other day? She's so composed and elegant and graceful and personable all in one. I doubt we'll ever see her trip or yell or mess up at all. It's amazing because I think of how I'd be and well, quite frankly I'd never be accepted into royalty! They'd cringe at the casual wear I go out in, how I don't wear makeup or do my hair, and all my other imperfections. I am perfectly happy being out of the limelight and I don't understand how famous people manage; then again, I guess many of them don't, what with those in rehab and lashing out and whatnot. You won't be seeing that from the Cambridge royalty though! Always so poised it baffles me.
f. ~I started watching Once Upon A Time as my first deviation from my "normal" shows (crime dramas) and it is tangling up my mind quite well. The relationships are suuuper complex – [possible SPOILER ALERT] I mean, your step-great-grandmother is also your adoptive mother and step-great-great-grandmother was once in love with your grandfather (on the other side of the family) and a bunch of them are trying to kill each other? It's all sorts of weirdness that I can barely keep up with. No wonder I stick to shows where each episode brings on one less-complicated mini-drama generally not related to previous ones.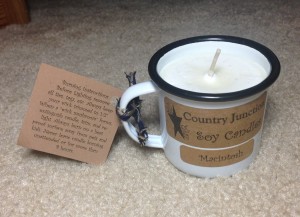 g. ~Tonight I finally decided to break in my super cool soy candle from Gettysburg and I love it! This is my first time with a soy candle and I'm pretty sure I'm a convert now. I'll have to test out other brands, but it burns sooo clean!! I usually have a little reaction to a candle burning due to my over-sensitivity to particles in the air, but I couldn't even tell this one was burning. This particular candle is also super cool because of the little mug it comes in. I can't wait to find a way to use it once my candle is all burned up.
That's it from me for now! What are your thoughts on this fine Thursday?