Wow, I can hardly believe it was well over a year ago that the other California box came. I've got to say, this box introduced me to some great products that I quite enjoy!
Escape Monthly is just under $40 per box (with code for 20% off your subscription – see end of post) and comes with a variety of food, home, skincare items themed around a city/region. Each box comes with a guide for that area. Boxes are sent monthly with no option to skip. They offer a referral commission program.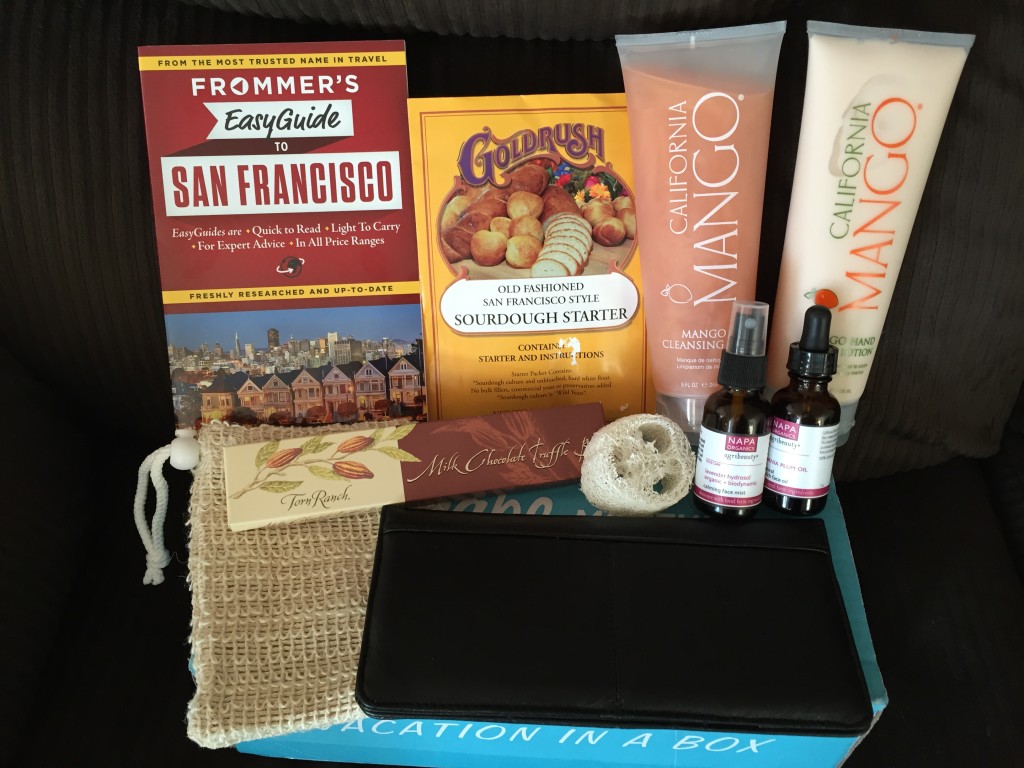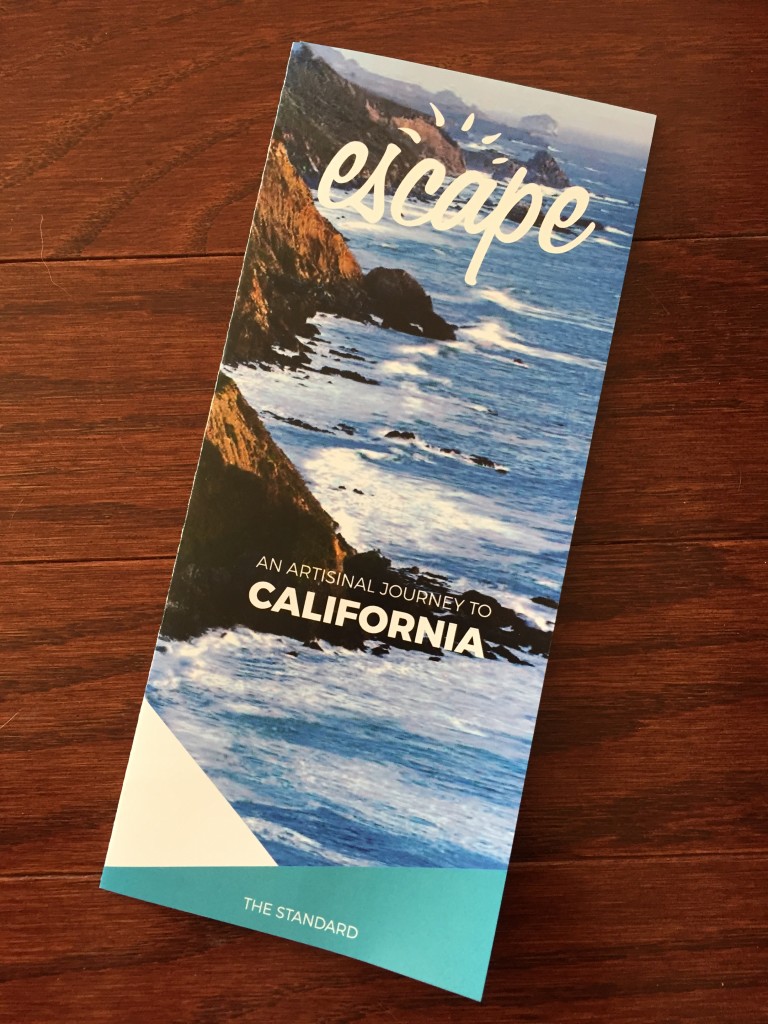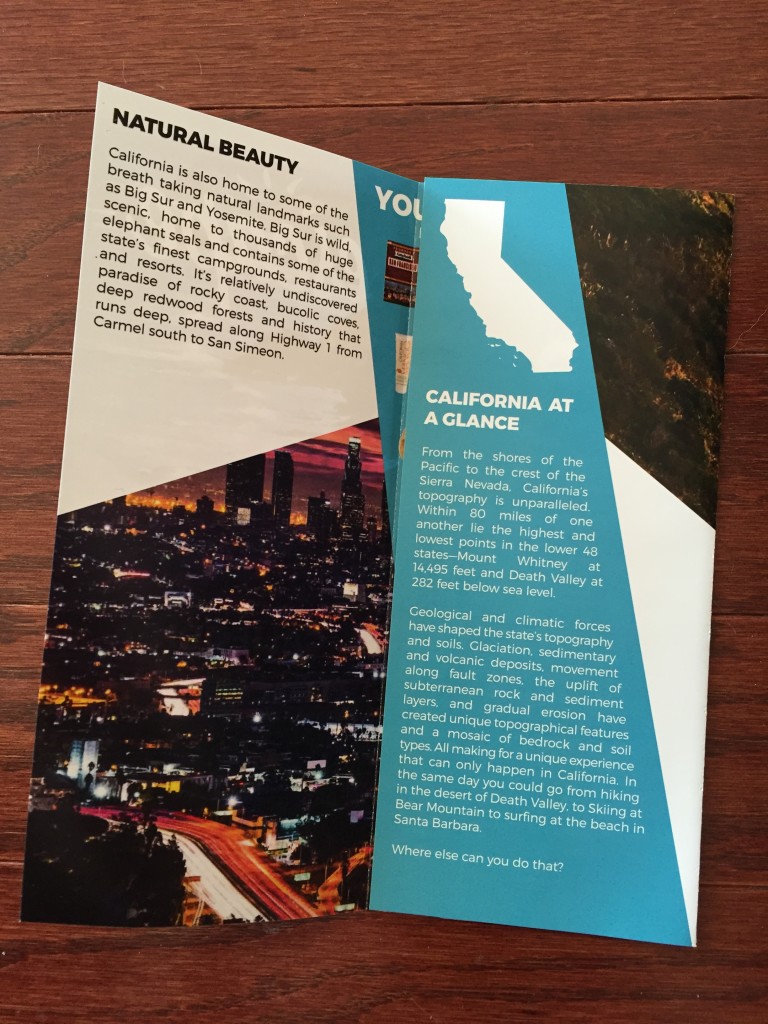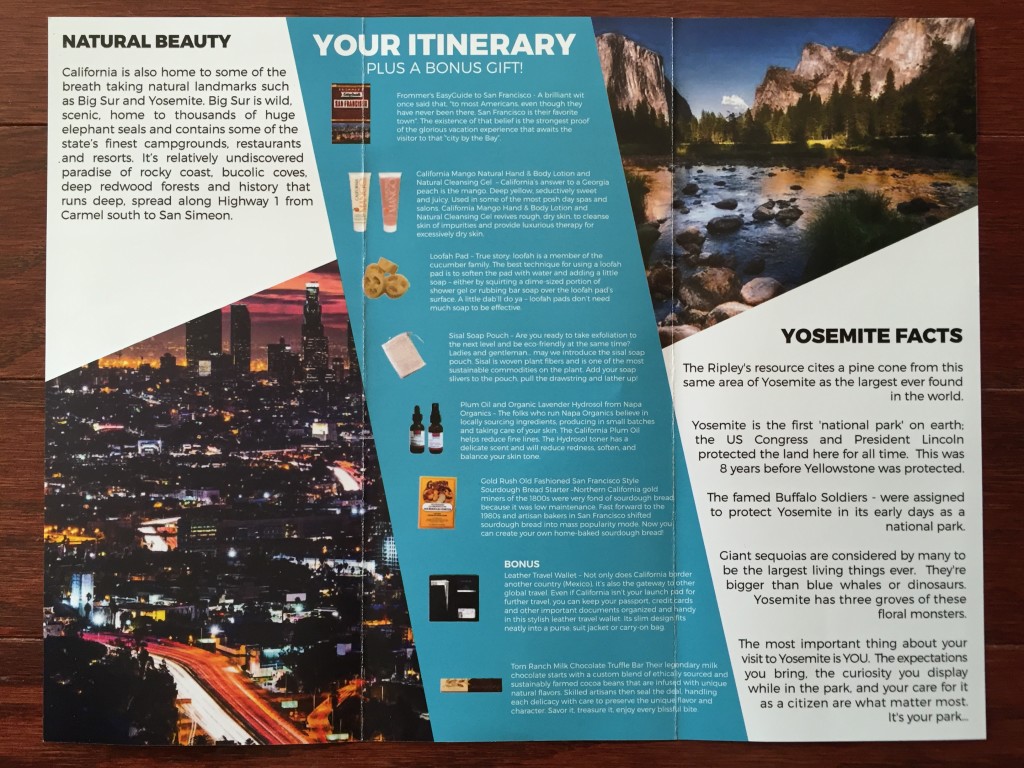 (click to enlarge and read full messaging)
As before, I like the skincare items that were included. Guess there are a lot of those great brands out west. The other stuff is pretty cool too and overall this box has more things I'll use.
Here's what came in the box:
Frommer's EasyGuide to San Francisco – This is only the second Frommer's book that they've used. It's got a ton of maps that will be useful in finding things. I've only ever explored SF on my own of things I'd heard of, so I'm curious what the guide will recommend.
Goldrush Sourdough Starter – This is packaged to be mailed like a postcard, which would be a fun thing to do from CA. I love sourdough bread and I've never thought about making it, so this should be exciting! I might even take this home to LA with me this Thanksgiving to try it out in my mom's bread machine.
California Mango cleansing gel and hand & body lotion – As I've recently learned, mango skincare products smell amazing. These generous tubes will last me a very long time! I'll smell fabulous coming out of the shower. The lotion almost smells a little bit coconuty, which is also a super tropical sort of scent.
sisal pouch – I've got small pouches with smaller holes for the solid shampoo and conditioner pieces that are too small to use alone and now I have the perfect pouch for my soap! I recently got a cute wool soap that's meant to do a similar thing. I can also use this as a glove to scrub my body with if I want a rougher exfoliation.
Torn Ranch milk chocolate truffle bar – I just got a bunch of chocolate in Europe, so I'm saving this one to eat later. The truffle bar sounds rich and wonderful – can't wait to try it!
loofah pad – I'm all about exfoliating, so I'm happy to have this to use in the shower. I might even make soap and pour it around it to make loofah soap, like this one cool bar I once got from Hawaii.
Napa Organics face mist and face oil – Ooo, now these look like luxurious products. I love mists and toners, so this toner mist is just perfect to use after washing my face. I swear the oil smells like some sort of honey (clover honey maybe?) that I've had before. It has a nice earthy element to it and feels like it could be a healing tonic with medicinal qualities.
travel wallet – Too bad I didn't get this before our travels, or I could have used it to keep some money and cards stored away. I think it could just fit my passport in it as well and definitely plane tickets, which would have been nice to help me organize all my stuff.
I think a lot of the focus here was on NorCal products, so I hope that there's a SoCal or LA or San Diego box in the future, to learn more about products from my neck of the woods. No idea what the next destination is but I'm hoping more Asian countries will show up. There are amazing things to be found out there. What products from this California Escape Monthly box do you like most? If you want to sign up, be sure to sign up for their newsletter to get a code for 20% off the lifetime of your subscription.
[This post contains affiliate links. Signing up through them helps support my subscription and I'd be ever so grateful. 🙂 All opinions are my own and I received no compensation for this review. I just purchased this box and wanted to share what I got!]