The timing of this went perfectly with Canada Day, giving us a chance to see items from our neighbors. I was away when it arrived, so I'm a bit delayed seeing what I got!
Escape Monthly is just under $40 per box (with code for 20% off your subscription – see end of post) and comes with a variety of food, home, skincare items themed around a city/region. Each box comes with a guide for that area. Boxes are sent monthly with no option to skip. They offer a referral commission program.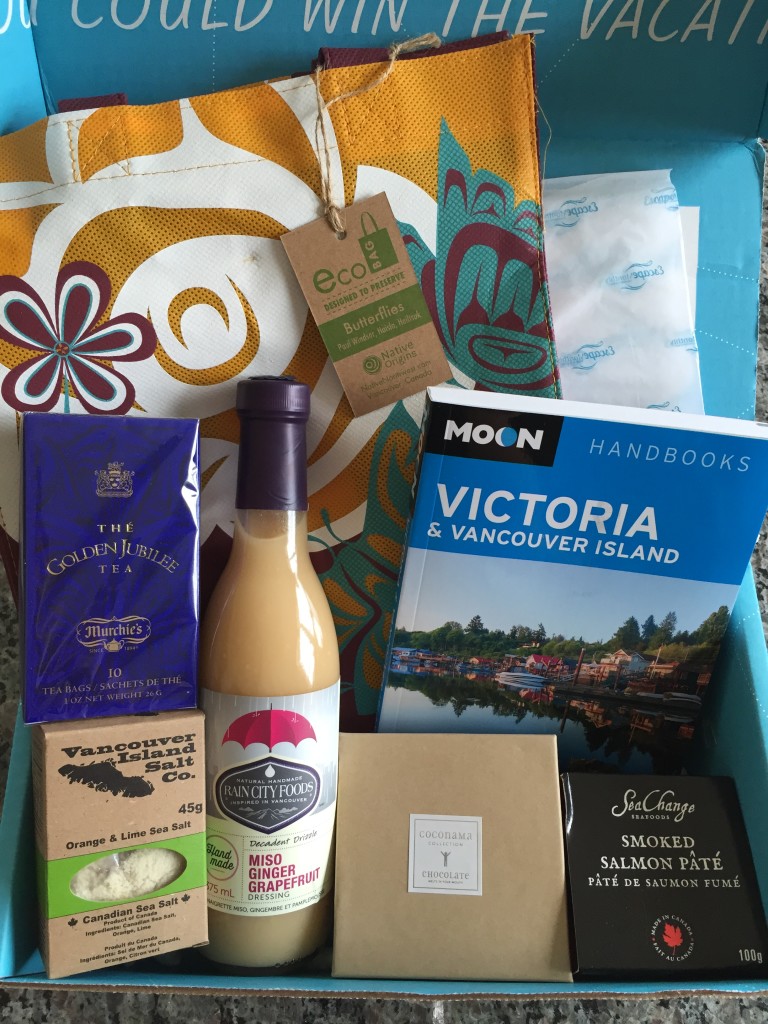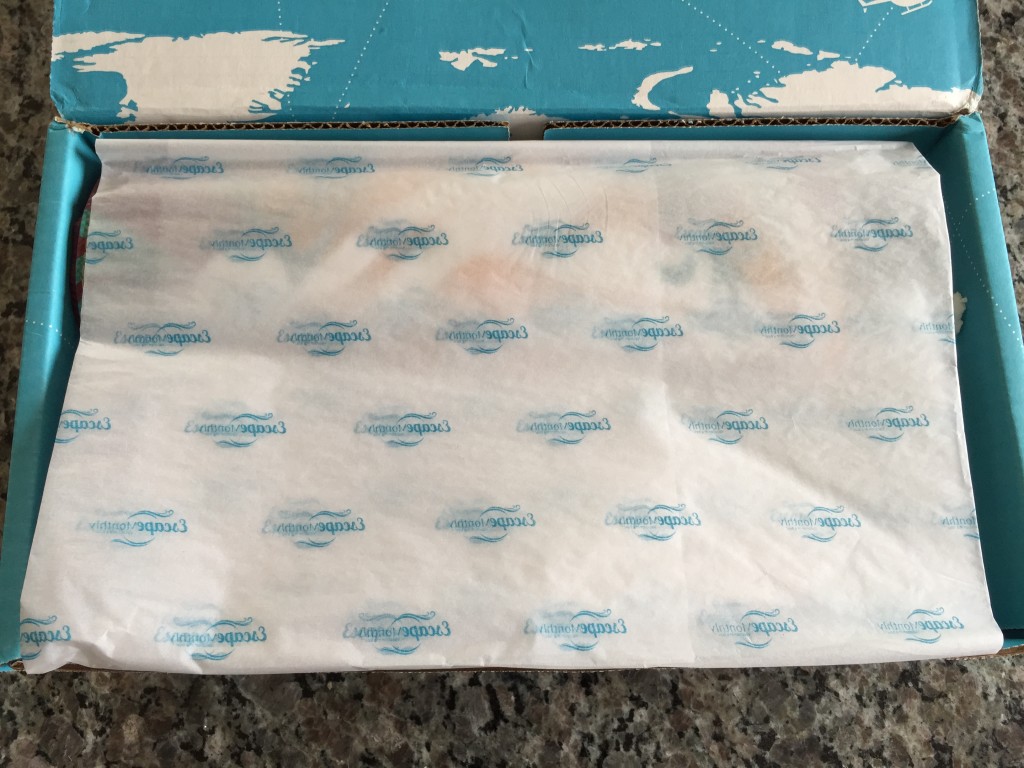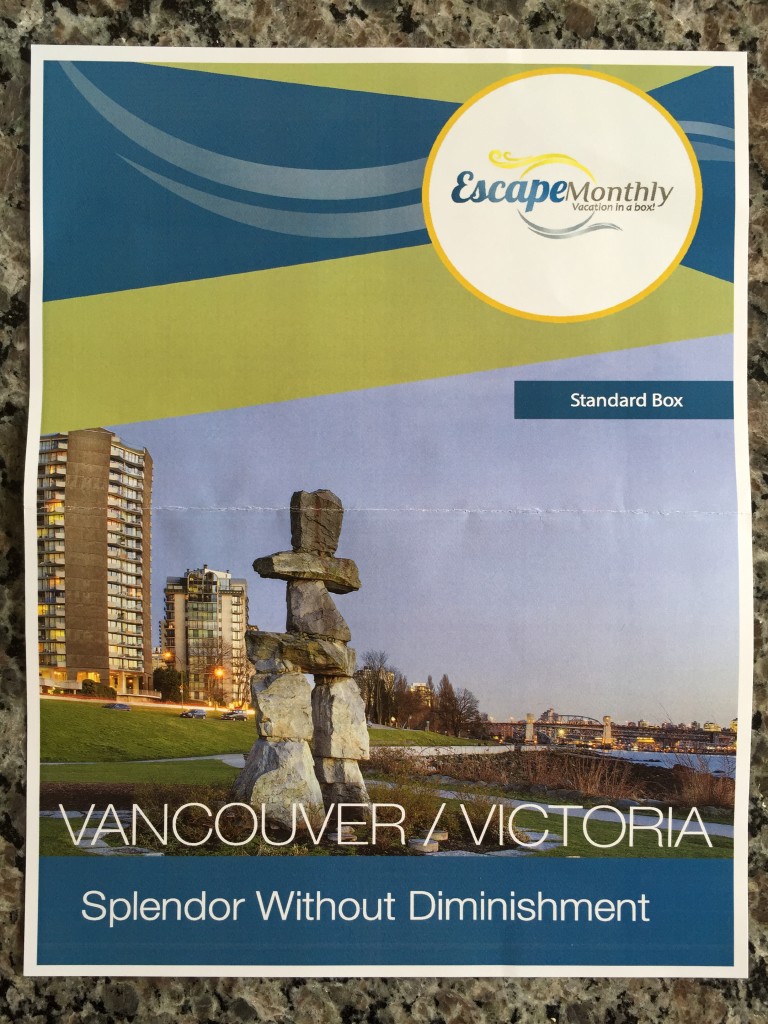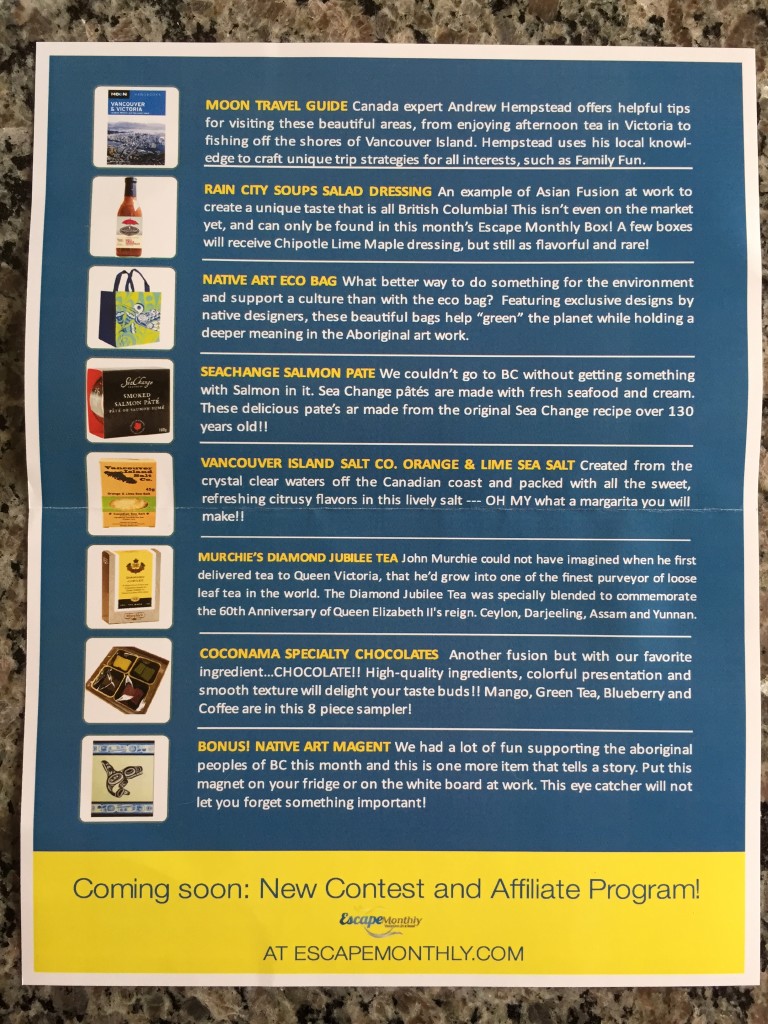 (click to enlarge and read full messaging)
The look of this one was completely different, with new tissue paper, the new logo, and a different style of insert. I guess the digital kind from last month didn't go over well. This type feels less professional than the original three-panel one. I was also really bummed that I didn't get the bonus item! I'm used to receiving it in nearly every box, so I've messaged them and should have it on its way this week.
Here's what came in the box:
Moon Handbooks guide to Victoria & Vancouver Island – This part of Canada is pretty foreign to me, though I will be going that direction for a cruise to Alaska later this year. I certainly want to go spend some time there another time.
Murchie's The Golden Jubilee tea – I will drink just about any tea, so I've already started sipping on this. I'm not super sensitive to flavors so this tastes pretty normal to me and I'm happy to drink it at home when I want something a little more flavorful than water.
Vancouver Island Salt Co. Orange & Lime Sea Salt – Whoa, this is cool and I love the citrus aspect of it. I wonder how strongly that will come through when I use it for some cooking. This should be fun!
Native Origins Eco Bag in Butterflies – This is totally perfect for me. I love using these types of bags to carry lunch to work or just use in lieu of a large bag or purse. The size is great for some of the larger containers I try to carry and the pattern is really pretty.
Rain City Foods Miso Ginger Grapefruit dressing – This sounds delicious. I can't wait to try it out on my next salad! I usually like Italian dressing, so I think I'll like the tangy aspect of this one. It's a very large bottle that will last for quite some time.
Coconama chocolate – These chocolates are very rich, sort of like cheesecake. I can only have a small bite at a time. When I first saw the box, I thought it might be jewelry. It's nice packaging!
Sea Change Seafoods smoked salmon paté – Hmm, I am not familiar with this kind of thing, so I'll have to look up how to eat it. I'm thinking I can either cook with it or maybe spread it right on a cracker? I do like smoked salmon, so we'll see about this.
native art magnet – The magnet was the bonus item this month and I'm looking forward to receiving mine in the mail soon. It'll be a nice momento to keep on the fridge and help hold up random coupons or ads we have.
I love the freshness of the products in this box, though I would have liked to see at least one home or skincare item. Which products from the Vancouver Escape Monthly box would you want too? If you want to sign up, be sure to sign up for their newsletter to get a code for 20% off the lifetime of your subscription.
Next will be New Orleans, which I'm sure will feature some awesome food options.
[This post contains affiliate links. Signing up through them helps support my subscription and I'd be ever so grateful. 🙂 All opinions are my own and I received no compensation for this review. I just purchased this box and wanted to share what I got!]