Alright, after a first box that I liked, I was really looking forward to the next one. It's another one with a variety of items that I'm glad I get to try! I guess I'm really into the yoga lifestyle.
Yogi Surprise is just under $36 per box (with code for 20% off your subscription – use my referral links from this post) and comes with yoga gear, skincare, food, and other lifestyle products. Boxes are sent monthly with no option to skip. They offer a referral program that earns you free boxes.
kaia naturals juicy bamboo facial cleansing cloths – What timing! I just bought a pack of these after months of waiting for a deal at a price I was ok with. I'd only used them a couple of days when this box arrived and I just had to laugh at that. I'm very pleased with receiving another one and I'll certainly be using these once my first pack is gone.
Emma's Organics sprouted granola – I'm not much into granola, but this chunky kind looks perfect with some Greek yogurt. I've been eating a lot healthier lately, so this will fit into my new habits quite nicely. My backup plan is to have Panda and my coworkers help me with it.
Keen-Wah Energy & Glow bars – Fascinating! I certainly enjoy quinoa so I'm excited to try these. I've seen them at the store before, so if I like them I'd get more. This is a nice change from the other bars out there. I want to save them for when I need a boost, so I haven't tried them just yet.
organic yoga headband – This is fun! I put it on right away and it was wonderfully warming around my ears. The color is perfect and can certainly see myself using these for working out. I'm just not sure if the narrow part is supposed to go by my neck or forehead… does it matter?
Native Touch Rooting Bear Rub – If I didn't already have some lotions I'm using for the winter, I'd dig into this right away. I like their plant-based philosophy and I'm excited to try it when my current body butter and oil run low.
sibu beauty sea buckthorn face and body bar – This is one of my favorite soaps EVER. It's been two years since I first heard of them, through a Yuzen box. I used up my first bar like it was the only way to be clean, then saved my other one as I tried other samples in my stash. Now that I have this, I quickly opened the one I'd had sitting so I can enjoy it in the shower again. The scent is amazing, it foams just right, and I feel so clean but not stripped of my skin's oils.
Kishu charcoal to go – You know, I saw these back at Green Conference 2012 and had it on my wishlist. I'm so happy to have one to try now! It's definitely not what we're used to when we think of water filter (having the filter sitting right in the water rather than the water flowing past it), but I love the idea. It's a fun conversation piece too, if anyone asks why I have charcoal in my drink.
I'm so impressed with Yogi Surprise and this box is my favorite yet. I didn't realize how well this lifestyle aligned with my personal preferences and values!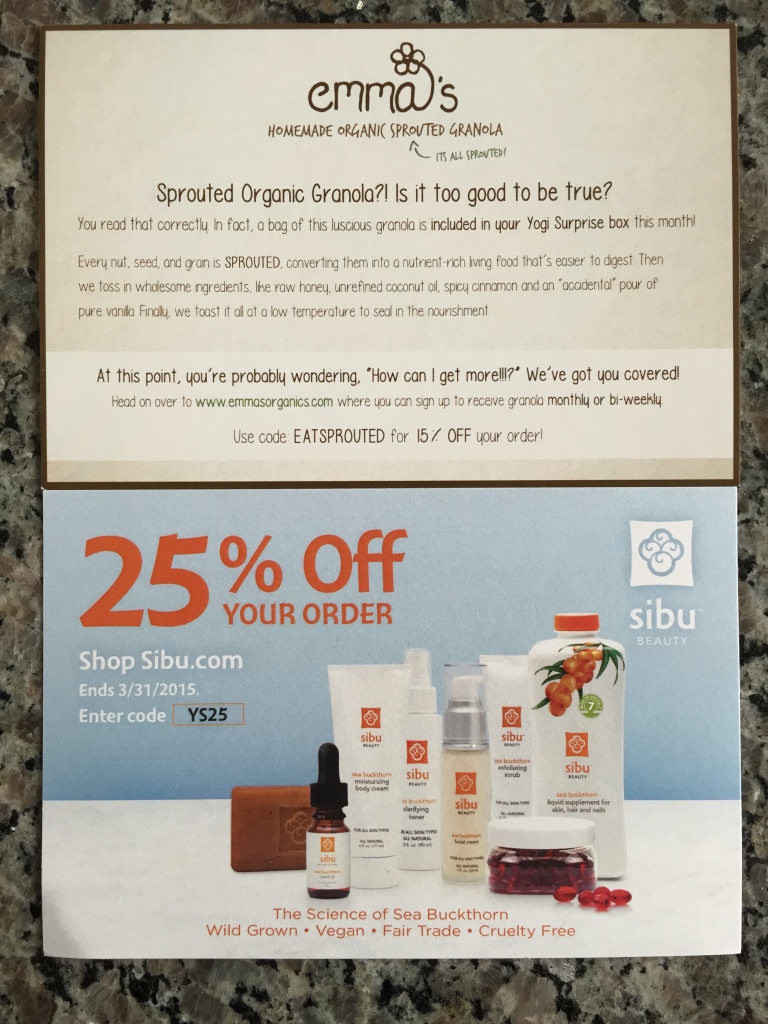 [This post contains affiliate links. Signing up through them helps support my subscription and I'd be ever so grateful. 🙂 All opinions are my own and I received no compensation for this review. I just purchased this box and wanted to share what I got!]