Happy Earth Day! I hope you all are a little more mindful of how you can be less wasteful these days. 🙂
And I've spent the day contemplating and struggling over that very issue. See, I came across a really cool offer for a nail polish "exchange" by Zoya. Zoya makes 5-free nail polish (aka they don't use 5 toxic ingredients that have commonly been in nail polish before people started taking note). They've got a ton of designs and colors, which are pretty awesome! For this week, they're offering to help you swap your old toxin-laden nail polishes with their lovely 5-free nail polishes (excluding the PixieDust collection).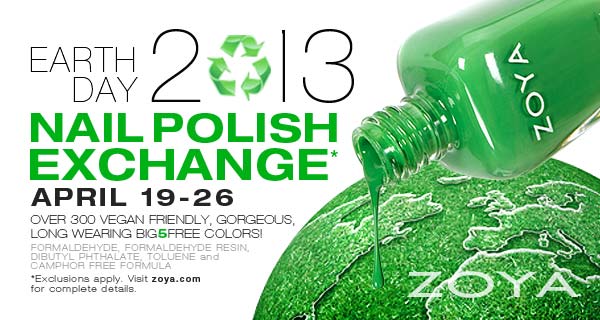 Here's the deal: you can pick anywhere from 6-24 bottles of nail polish to get at half off, which would make them $4 apiece. Then you're supposed to gather up that same number of bottles of non-5-free brands from your collection to mail in to them. They'll help you dispose of them appropriately. So for something like $35, you can get 6 bottles of Zoya nail polish and send off 6 bottles of your old nail polish. That's 6x$4+$6.95 shipping+$4 shipping to them. I'm not sure exactly how much it would cost to mail your nail polish since you have to do ground shipping and that might have different rates from "standard" shipping, but my estimate should be close enough.
Now I don't know about you, but a $4 bottle of nail polish is still kind of expensive. Factor in the shipping costs you'd have to pay and you're paying around $6 per bottle. While I love the thought of my old, mostly unused polish getting properly disposed of, I'm struggling to decide if this is the best option. In a way, I still feel bad that that polish would get trashed rather than used and enjoyed. But then again, if something's not good for your health or the environment, should you be enjoying it?
Dilemmas, dilemmas.
Oh, and let's not forget the economic aspect too – from that perspective, this is NOT a good deal since you're not really gaining any new polish yet you end up paying $35! All in the name of "green"(er)? Well, there is a caveat here – you don't
have
to return your old polish. That's right, you are not obligated to send them anything and they will honor the deal! So basically you can look at this as a 50% off sale. In which case you should either get the nail polishes because you want them and this is a good deal (comparatively) or you should not get the nail polishes because you could just use your old ones.
However, I can't just ignore the moral concern about doing good for the planet and being more responsible. Here is a chance for me to ensure that my nail polish with toxic chemicals is not left to leak into a landfill, but be treated however it's supposed to be in order to safely dispose of it. Well, as safe as nail polish can get anyway. Unfortunately I don't know if nail polish will ever be *that* green. So I could just try giving up on using nail polish, but I'm not that noble. I like having fun painting my nails! The best I can do is try to minimize the negative effects of it.
If I knew of a place I could drop off my nail polish to have it properly disposed of, I could go there and donate my "bad" polish. I'm not aware of such a service though and Zoya's offer is the only way I know how to get that done at this point. So I think I've just talked myself into taking the offer. Can $35 buy me less guilt? Maybe for awhile. At the least I want to feel like I did better.