Ooo I'm all about exfoliation! In fact, I think I probably go too crazy with that, but I just love envisioning the dead skin sloughing off leaving behind freshness. Sugar, salt, ground up nuts – I've tried'em all and love'em all!
The Homegrown Collective GREENBOX is $39 per box + $9 shipping (or as discounted as $429 for an entire year, with options in between) and comes with fun and easy projects to live a more sustainable lifestyle. Boxes are sent monthly with no option to skip. They offer a referral program you can apply to join.
Project #1, DIY lavender bath soak: Ah, what a nice easy soak to put together. I enjoy baths with lovely scents like this, so I'll be trying this with one of my next baths.
Project #2, DIY eucalyptus sea salt scrub: Now what is the difference between these types of salts? I'm not really sure, but I'm happy to use them. I guess epsom is good for soaking and sea salt is good for scrubbing. Oh, and the glove is so cute!
Project #3, DIY sugar & lemon scrub: I had no idea sugar helps draw sugar to your skin, but I did know there is a difference between using sugar scrubs vs. salt. Still, I like them all and will use this when my skin is feeling dry to hopefully revive its moisture.
All these are just up my alley and I'm excited to have them to try, among my many other exfoliant products. The last sheet explained more about exfoliation and the benefits of it all over your body. Good stuff. 🙂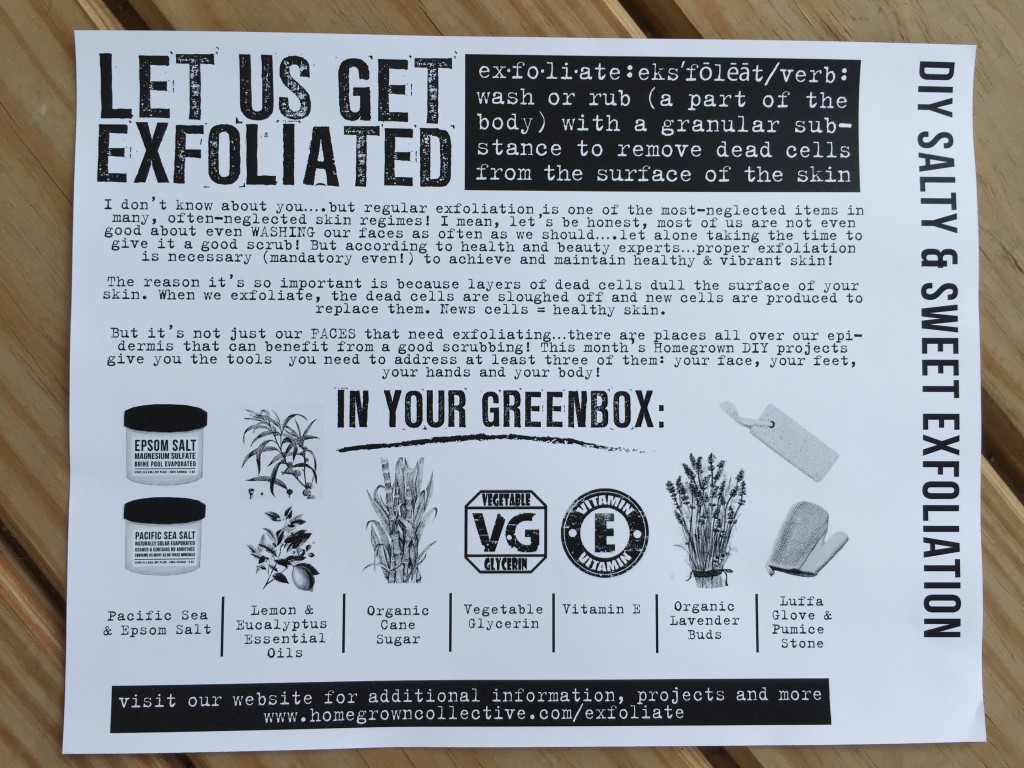 Want your own? Subscribe to the Homegrown Collective to start getting projects too!
[This post contains affiliate links. Signing up through them helps support my subscription and I'd be ever so grateful. 🙂 All opinions are my own and I received no compensation for this review. I just purchased this box and wanted to share what I got!]