How do you like to sleep?
Since Panda sleeps much earlier and I sit in bed on my computer, I've noticed some strange sleeping habits and positions that he'll get into. He loves to be tightly tucked in under the blanket, complete with a tight tuck under his chin. It shuts in the hot air so much that he'll sweat at night and I recently observed a drop of sweat making its way down his face and neck (ick). I prefer more air flow and will sometimes lay on top of the thick blanket with a light blanket or have various body parts sticking out of the blanket (typically my feet or one leg). I also like to have one leg bent up and one straight out. Since I leave a low light on, Panda will sometimes find creative ways to block the light – usually he'll crook his elbow over his eyes, but I've found him with my nightgown wrapped around his head like a turban before.
There are some commonalities we share though – for one, we both like to sleep with our arms laying next to our heads, elbows bent. Perhaps we like airing out our armpits? We also like to take up a lot of space. For me, this generally means spreading out and draping my leg over him if necessary (he hates that). For him, it's usually some strange contortion he managed to get into while twisting in his sleep. I've had to provide photo evidence of his transgressions to prove how he overran the bed and left me no space!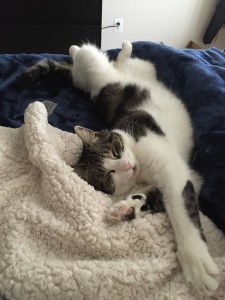 I also like to keep things fresh by changing where we sleep in the bed. At first we'd swap sides every now and then. A few times we oriented our heads and feet the opposite way. Most recently we are sleeping sideways, parallel to the wall that the bed is against. Each time we change, Panda complains and hates the idea, but I've found that if I keep pushing, he tries it out and ends up enjoying it. Then that new spot is the default and the next change is another little battle (it's like he forgot he didn't want his "spot" the last time we changed either).
Even the cats have their funny sleeping preferences, like Smokey's "happy nap" where she lays on her back in the middle of the floor, belly up and all paws facing the ceiling. As soon as she notices someone trying to take a picture of that, she quickly rolls over and runs off. When she's in boxes, she loves to prop her chin and one paw over the edge. Meanwhile Missy is a huge fan of crawling in under the covers to snuggle up next to you. Or, if she's on top of the blanket she'll often end up belly up, chest to the side, and head twisted back. That's when you know she's really sleeping well. 🙂
So do you also have your own sleeping quirks?