Hah! How perfect that this came when I've been having some skin flare-ups. I wonder if they'll be good for that in addition to actual bug bites? I don't know what is causing my redness and bumps but it might just be worth a try.
The Homegrown Collective GREENBOX is $39 per box + $9 shipping (or as discounted as $429 for an entire year, with options in between) and comes with fun and easy projects to live a more sustainable lifestyle. Boxes are sent monthly with no option to skip. They offer a referral program you can apply to join.
Project #1, DIY anti-itch salve: This looks really promising for soothing itching skin of all sorts. I love how simple it is, so it can be quickly put together and slathered on. I've rubbed it on my swollen fingers and so far so good with the soothing effect. I may smell like I'm trying to ward off vampires, but if it helps with the itching then I'm all in.
Project #2, DIY plant-based bug spray: Whoa, there's a lot going on here! All sorts of scents to keep those bugs at bay and create a barrier between us and anything that might want to to irritate our skin. Mosquitoes, beware! This should definitely pack a punch.
Project #3, DIY mint citronella candle: I know that citronella is great for keeping bugs away, so this is a great candle to have for burning outdoors. Luckily, it smells good to us humans and can provide a nice freshness to the air. I like to keep the door open in the evening so the cats can play on the porch, so I might try having this candle by the door to hopefully keep the insects from flying in.
It's great to have these natural ways of repelling insects so we don't have to worry about what we're putting on our skin or what we're breathing in. This box offers three great ways to keep the bugs away and/or soothe any bites that you might have gotten.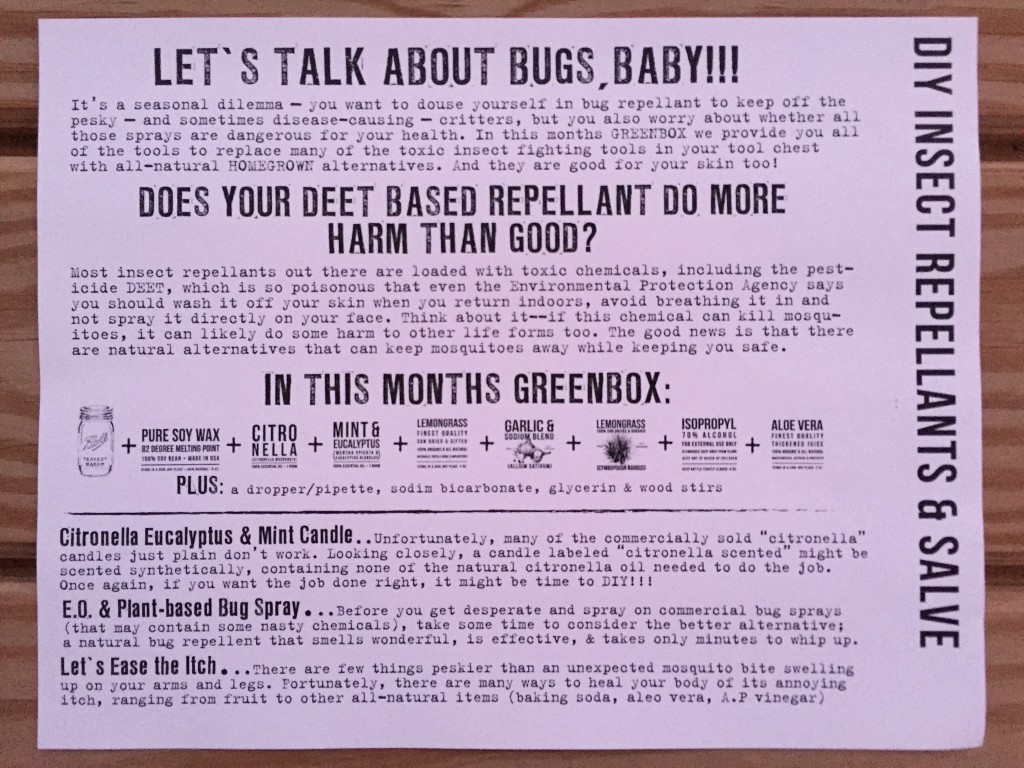 Want your own? Subscribe to the Homegrown Collective to start getting projects too!
[This post contains affiliate links. Signing up through them helps support my subscription and I'd be ever so grateful. 🙂 All opinions are my own and I received no compensation for this review. I just purchased this box and wanted to share what I got!]