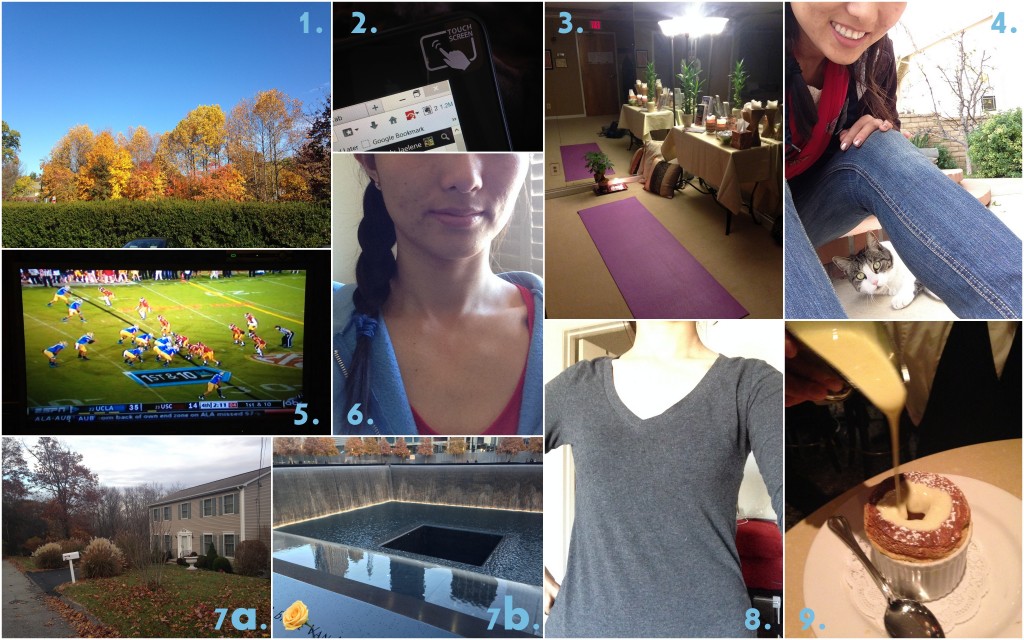 Well gosh, I better get my Nov favorites up before it's time for the December ones!
1. fall colors – This was the month of gorgeous colors. Fall beauty was everywhere to be found and I loved it. It's one of the things about having real seasons that I was looking forward to. I don't know if it was the richness of the leaves, but I swear even the sky was more pigmented.
2. touchscreen laptop – I've been using my new ASUS laptop and now I'm used to having a touchscreen laptop. It's a lot easier than trying to navigate the touchpad. It's very convenient just to tap on what I'm looking at. Too bad not all my devices are like that – I've found I try to tap all other laptops now too, lol. It's hard to remember when I'm using other laptops that they don't have touchscreens. Hopefully everything will just have that in the future so I don't have to keep track.
3. yoga – I've been going to yoga again and picking up my practice, which is wonderful. I like that I can choose from a range of levels depending on what I'm feeling. I've tried everything from Hatha Yoga for all levels to Power Yoga with some meditation thrown in too. I look forward to continuing with my practice and getting strong enough to do a handstand one day!
4. going home – It was so nice to return home for Thanksgiving and be reunited with my parents, cousin, and cats. It was the first time I'd been back since starting work out east and it was a welcome break. We also got a chance to get together my family and Panda's!
5. Bruins football – UCLA's program has finally been doing better and it was so thrilling to watch our team beat USC in our football showdown this year. Our crosstown rivalry is going strong and with the liberty bell securely in our possession, we can proudly say that we run LA. 😉
6. fun hair styles – For a long time, I'd just let my hair fall however it wanted. It's the easiest to do and requires absolute minimal effort. I started to play around with some hair styles more recently, particularly a side braid, French braids, or a bun. I want to try a braid that wraps around my head, but I'm not quite sure how to end it so I'll have to test it out.
7. revisiting New York (and the city) – After over a decade, I finally got a chance to return to one of my childhood homes. It was so nice to be able to share that with Panda so he can see some of what used to be my life. It also became an opportunity to explore parts of NYC that I'm not that familiar with. It's the first time I'd been back to any of my old stomping grounds other than a brief visit to Penn State many years ago. I've never returned to my homes in Kansas and Missouri, but I sure do plan on it!
8. long sleeve v-necks – I find these to be so perfect to wear. They're comfortable, warm, and flattering. I can wear them under another shirt or alone and throw on a jacket for extra warmth. I even use it during yoga if it's an extra chilly night. It's easy to dress them up or down and if I don't want my neck so exposed, I just throw on a scarf. Simple, the way I like it.
9. pumpkin flavored – I almost never get pumpkin flavored stuff, but somehow I ended up trying a few this month and they were quite good! This was a pumpkin souffle I got at a happy hour. Very yummy. I also had pumpkin spice caramels and a pumpkin creme brulee snack. Maybe I should try more pumpkin things since I really enjoyed those foods.
What about you? What did you find yourself gravitating towards in November?