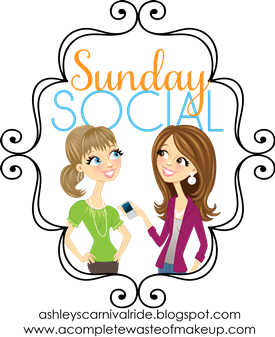 I really like the prompts for yesterday's Sunday Social so I thought I'd join in! I saw them when catching up on
Ramblings of a Suburban Mom
and hey, better late than never, right?
1 year ago I was doing…
A bit of relaxing and enjoying life. I had just quit my job, was trying to find my way in the world of self-employment, but took a break to go back to China and attend my cousin's wedding. Not long after, I had a grand vacation with Panda (our first time flying together!) in Hawaii before figuring out what to do with my entrepreneurial endeavors. I started by launching DeckMyPhone.com and later created PandaLoves.com. On the blogging front things were still tootin' along as they have been since 2009, when I decided to do more "for the public" blogging. Prior to that, my blog was really more of an online journal/diary.
5 years ago I was doing…
Training for UCLA Orientation. I had not yet met Panda (wow, can't believe I've only known him for less than 5 years when it feels like ages). I still had a month left before the quarter ended and I walked for graduation. It would be 6 more months before I finished up my classes since I took an extra quarter. Over the summer, I met Panda and we began our little romance, which has been tough but rewarding! I also went back to China at the end of this summer, getting a chance to check out the Paralymics in Beijing and visit relatives.
10 years ago I was doing…
A whole lot of adjusting and trying to grapple with living in California. I had just moved from New York the year before, was finishing up my junior year at my new high school, and still kind of hated LA. The weather was too dry (my skin hurt), I was still bitter that I had been torn away from my old high school and friends with little notice (we moved within 2 weeks of me finding out), I missed NJROTC (had to transfer to an AFJROTC unit since there was no Navy one nearby), and I didn't like having to choose between track or swimming (they're the same season in CA but not NY). Yeah, I was probably a bit of an angsty teenager. Oh, and I had just started to hear of this college called UCLA, which hadn't been on my radar before.
1 year from now I'll be doing…
Some sort of steady work. I've decided to get back into the "normal" workforce so I certainly hope I'd have a job by then! I'd love to continue my blogging and eBay sales on the side and hopefully will get my blog above the 1 mil Alexa rank threshold. I started off around 7.4 mil just over 2 weeks ago, when I decided I wanted to bring up my rank. As of now, I'm at 4.1 mil and I'm sure it will only get harder to move up but I'm confident that I can make it into the 6-digits range. Panda and I will be engaged, but I do not expect to be doing any wedding planning yet. We'll both be living and working together (finally!) and building a nice little home life together before the craziness of kids.
5 years from now I'll be doing…
The motherhood thing. I'll probably have had my first child, if not a second as well (assuming there are no fertility issues). I'm sure Panda and I will both have our hands full. By this point we should have been married for a few years (whew, thank goodness! I will be glad when the wedding is over). I have no clue on the work front what I might be doing – maybe I love my career and keep it up, or maybe I decide I'd rather stay home. My ability to make money from home could help decide, or maybe Panda will decide he wants to be a stay at home dad. If we're both working, our parents might come help watch the kids at times. I expect to have my cat Missy as part of our household too. Molly's old so I don't know if she'll still be around, plus she loves my mom so maybe she'll stay at my parents' place.

10 years from now I'll be doing…
Yikes, this one is the toughest one. I really can't imagine what life will be like in 10 years. Ideally, Panda and I will both be working in careers that challenge and excite us. We'll have a beautiful home with all kinds of personal touches we added over the years. We'll probably have two little kids who are just starting the education journey and dreaming of their lives as adults. We'll have a comfortable life filled with family activities and vacations and probably a terabyte of pictures stored away. I'd love to be getting a variety of subscription boxes so I can have a ton of mini projects to do, ranging from crafts with the kids to cooking with Panda. I'm sure I'll still have way too many skincare items but a hopeless addiction to trying new ones nonetheless. I might still be trying to use up any single bottle of nail polish. I think I'll still be blogging and trying to win stuff and selling on eBay on the side. We'll see!