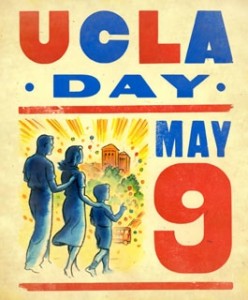 Today was UCLA Day at my beloved university.  This whole weekend just makes me miss my college experience.  It's only the second time that UCLA has done this, inviting alum back for exclusive tours, lectures, and gatherings to reunite with old friends and make new ones.  I really wish I was around to experience it and I can't wait until when I am.  This year, Rachel Robinson, a UCLA grad and Jackie Robinson's widow, was on campus to receive the UCLA Medal from Chancellor Block, for all her hard work and dedication to education.  I remember last year when they were starting the inaugural UCLA Day, banners went up all over campus and tables and stages were set up for the day.  And it's not just this – there's also Dance Marathon, the Festival of Books, Spring Sing, etc.
I joined the Alumni Association as a Lifetime Member when I was buying my cap and gown and diploma frame last summer.  Because of that, I have some nice UCLA memoribilia, including license plate frames, padfolios, and a mug.  I bought a fancy tassel to hang in the car and I can't wait to continue to collect UCLA gear, adding to my vast collection of clothes, binders and folders, keychains, and even a baseball cap (though I don't wear them).  I'm a sucker for all things UCLA and I'll buy nearly anything with my alma mater tastefully included in the design.  I'd stop short of buying a blue and gold car with the logo on the sides though.  Otherwise, my devotion runs deep and I can't wait to take advantage of everything as an alumna.  I've gotten exclusive invitations to hear Coach Howland and Neuheisel speak about next year's seasons, special ticket access for Spring Sing, and of course, an invitation to attend UCLA Day.  There are also special discount offers and exclusive sales/coupons e-mailed to me.  This is all fine and dandy, but useless to me unless I am in the area.
So, I really look forward to when I am back in LA again and I hope I can make time for all these events.  I love feeling connected to the school and I am ever so loyal.  I got a peek at Panda giving a housing tour today and it made me miss the campus so much.  I would love to give tours as well!  I wonder if there's a part-time position that allows alum to give tours…  That would be nice.  I love more than anything to show others the beautiful campus and explain to them the history and tradition we are steeped in.  I think Orientation tours are the best, because it's a unique experience offered only incoming freshman.  They get a special edition, hearing about the campus from an insider's point of view.  I think I'd really enjoy giving any sort of tour though.
So, as the saying goes, "A Trojan is only good once, but a Bruin is FOREVER."