Alright, this should be my last box from them. The six-month subscription is finally over and I won't have to worry about accumulating snacks that I feel guilty about. All in all this box just didn't suit my needs, but I think it'd be great for kids and folks who are less picky eaters.
Love With Food is $12 per box (or as discounted as $120 for an entire year, with an option in between) and comes with 8 or more snack products. Boxes are sent monthly with no option to skip. They offer a referral program that earns you points towards products or boxes.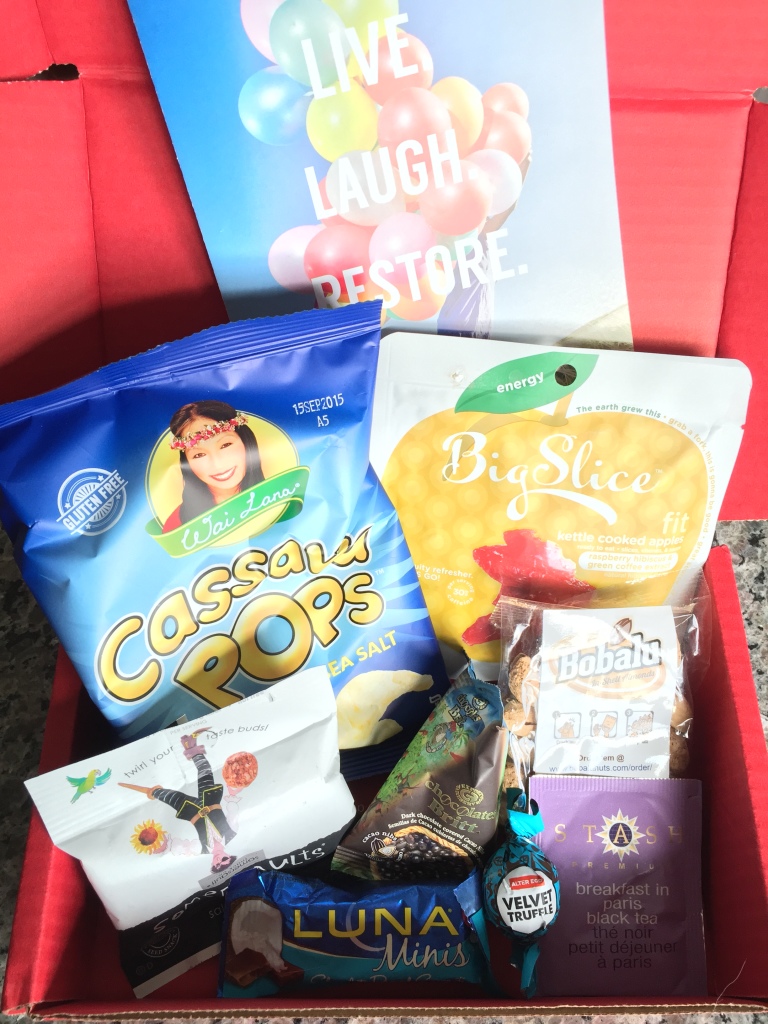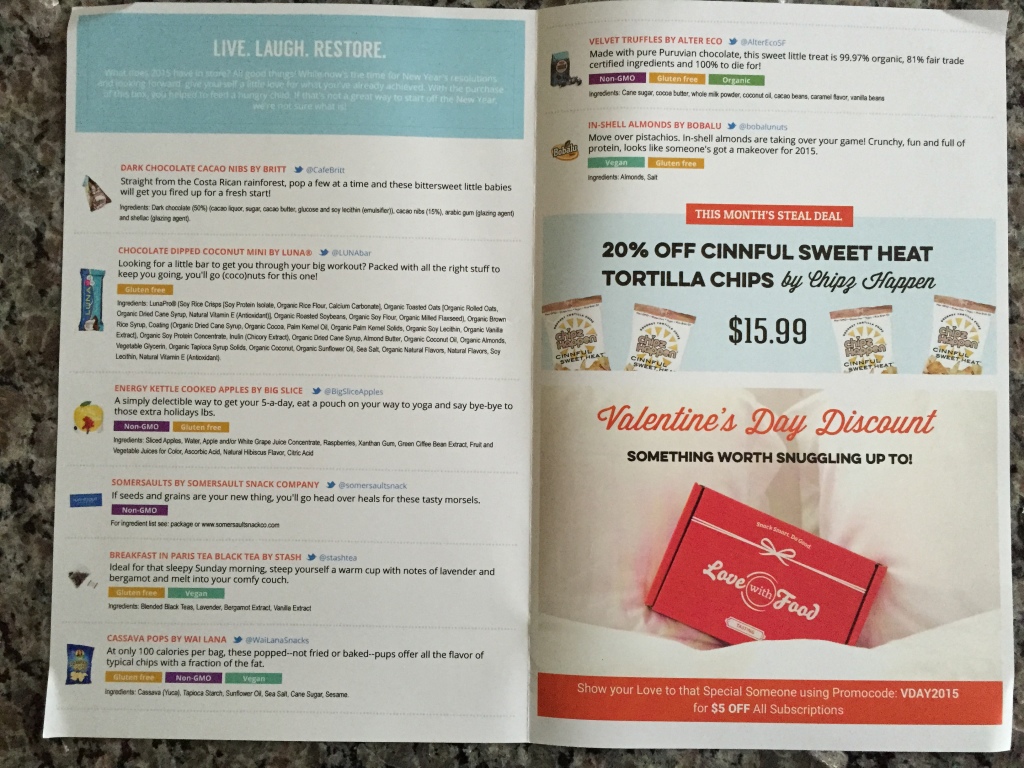 (click to enlarge and read messaging)
I haven't gotten around to trying any of these yet and I don't want to open them since I need more snacks at work. I've had the Somersaults before and I think I remember liking the salty pepper taste over their chocolate and other sweeter options. At first I thought I received the Stash Breakfast in Paris tea in my Escape Monthly box as well, but turns out that was the Christmas in Paris. This one sounds good – lavender, bergamot, and vanilla flavors instead of chocolate and peppermint. I saw the Big Slice kettle cooked apples and other flavors at Target and they've been on my "to try" list so I'm happy to get that! I sure hope it tastes good.
I think the Wai Lana Cassava Pops will be nice and light with that crunch of airiness, so I'll have those the next time I want a salty treat. I'm hesitant with the Babalu In-Shell Almonds. I'm not a fan of nuts, but I did have some tasty chocolate-covered almonds at work, so who knows. I might just love'em. Ooo and then there are the chocolate treats! A Luna Mini bar with chocolate and coconut. I quite like coconut bits. Then more cacao nibs to add to my current stash with Britt chocolates cacao nibs. What a fun little package too. It reminds me of those frozen popsicle things. And finally, the piece of Alter Eco Velvet Truffle will be a wonderful treat when I want a bite of something special.
So based on the impressions I have of these items, I'm quite happy! We'll see if they live up to my expectations or completely surprise me. Which items do you like best from this box?
[This post contains affiliate links. Signing up through them helps support my subscription and I'd be ever so grateful. 🙂 All opinions are my own and I received no compensation for this review. I just purchased this box at the special offer price and wanted to share what I got!]