Ah, Paris… of course we'd some gourmet items here and leave it to one of these items to have some delays coming through customs! I was also intrigued by the very different guide book included this time around.
Escape Monthly is just under $40 per box (with code for 20% off your subscription – see end of post) and comes with a variety of food, home, skincare items themed around a city. Each box comes with a Moon Handbooks guide for that region. Boxes are sent monthly with no option to skip. They offer a lovely recurring referral commission program.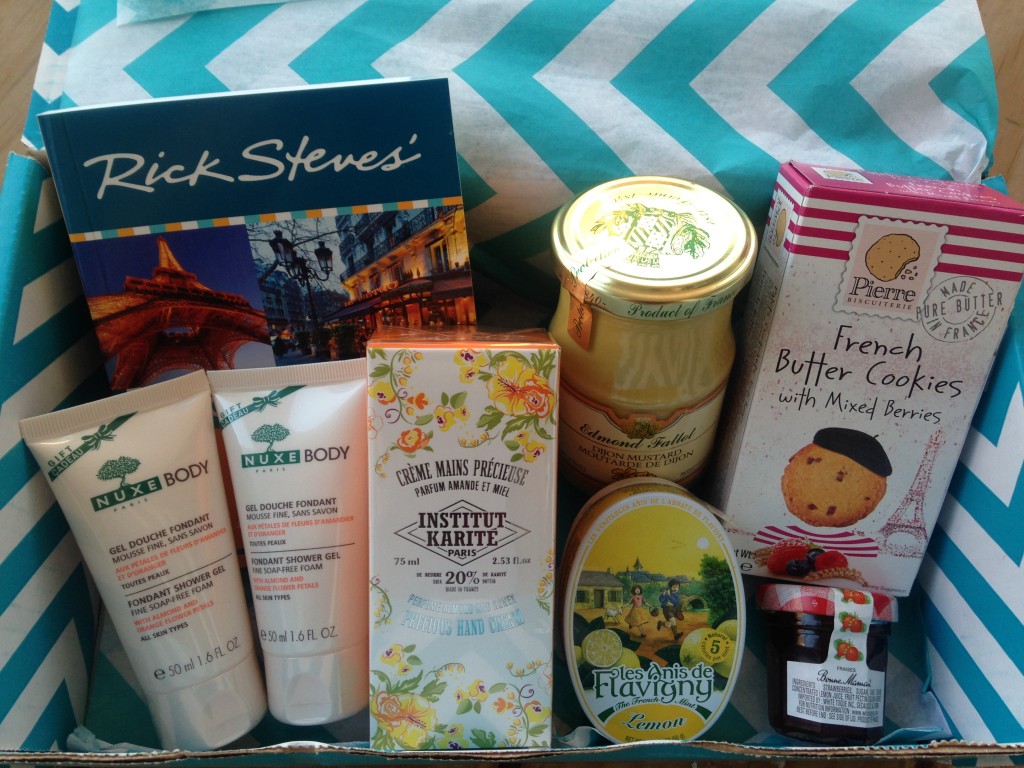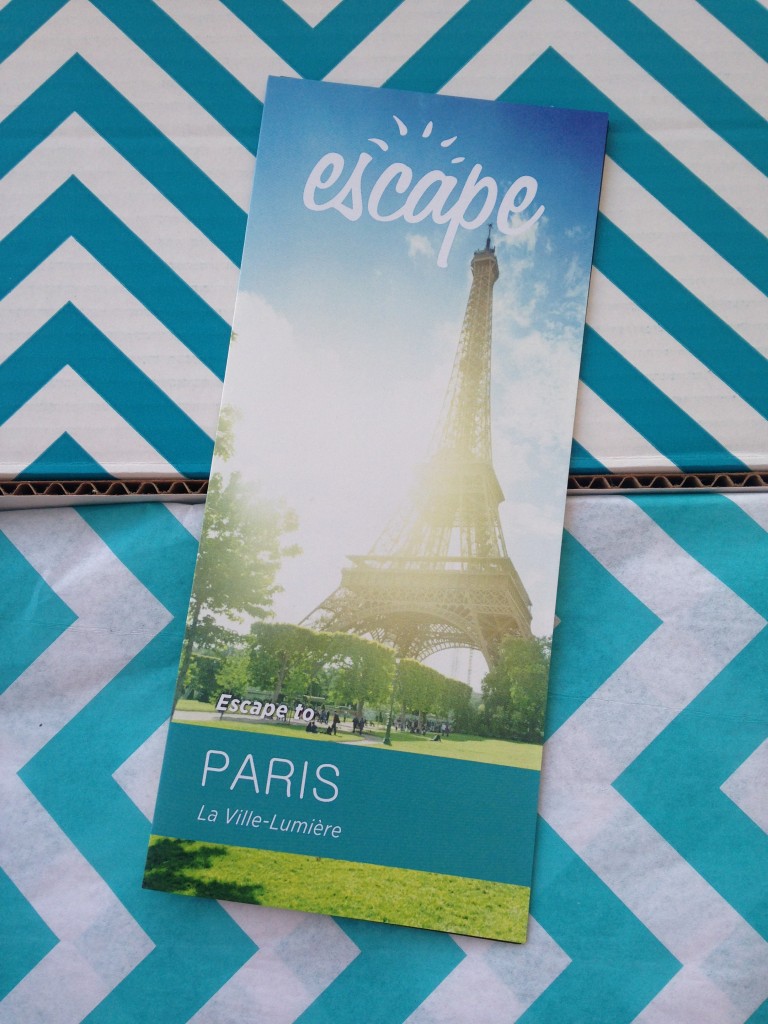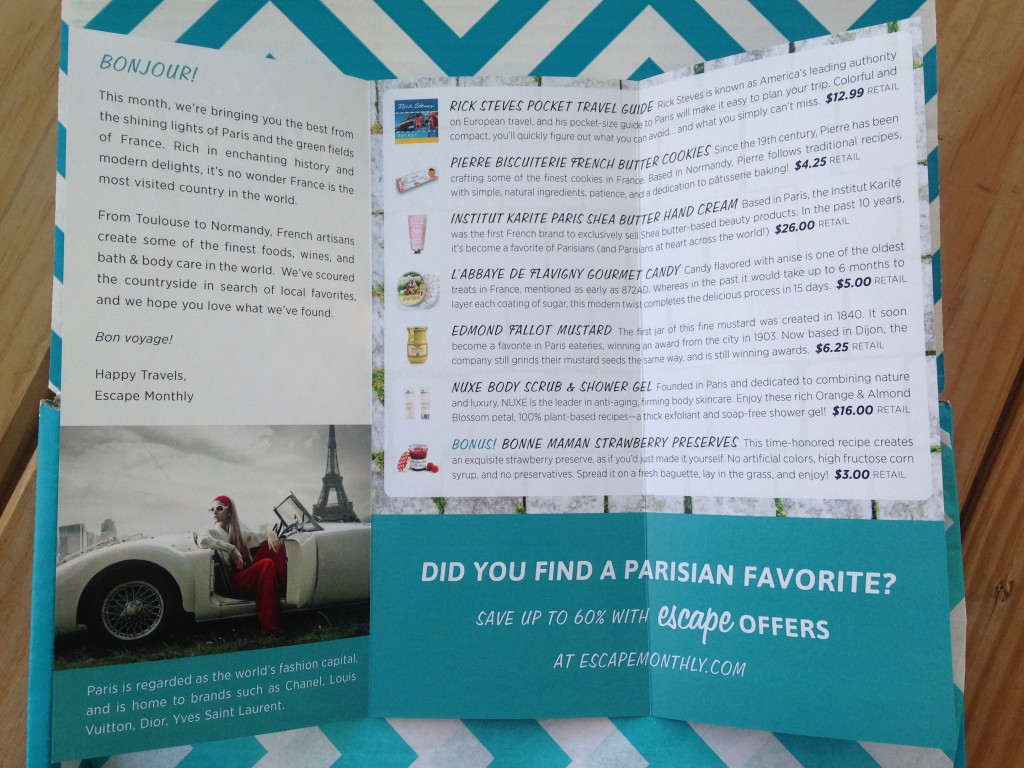 (click to enlarge and read full messaging)
The items this time around didn't take up much room, which made me feel like there wasn't much there, but the value of the items is certainly higher than usual.
Here's what came in the box:
Rick Steves' Pocket Paris – This is a nice little guide full of colorful pictures! You might not even have to go to Paris anymore after seeing all the sights from its pages. I certainly plan on visiting Paris time and time again, so this will be a great way to help me discover all that the city (and surrounds) has to offer.
Nuxe Body Scrub & Shower Gel – Well, I didn't get the scrub and that's really sad for me since that's one of my favorite skincare items. Instead, I got two shower gels, so I've emailed them to get the scrub sent to me. I didn't even notice the seal on it when I first tried to open it for a whiff. I'm not a huge fan of almond, but the combination with orange flowers is really great! It smells fantastic and I can't wait to lather up to the scent in the shower. I'll be even happier to scrub to this scent!
Institut Karite Paris Perfume Almond and Honey Precious Hand Cream – I'm guessing that this was the product holding things up in customs. It looks luxurious and definitely fancy and Parisian. I've certainly enjoyed shea butter hand creams like the ones from L'Occitane, so I'm sure I'll love this for the winter months. It's so thick! I love that I got a scent that is rather unique and I hope the almond scent doesn't get too strong for me after awhile. So far so good – it appears to be a nicely mild and sweet scent.
Edmond Fallot dijon mustard – There's quite the history behind this little jar. I don't really eat many items I'd put mustard on, so I'm thinking I might take this to work to put in the communal fridge.
Pierre Biscuiterie French butter cookies – I like that they have two plastic packs in this box, so I don't have to worry about having to each all of them quickly. These little butter cookies are crisp and rich in flavor. The dried fruit bits offer a bit of a tangy, fragrant kick to the cookies. I'll be finishing these off with my next pot of tea, which I think will be just fabulous.
les Anis de Flavigny French mints – The light lemon flavor of these mints is lovely. There is a bit of an aftertaste that I can't quite place – perhaps that's the anise (no idea what that is). It's a bit bitter, but not outright so. I think of these more as candies though, since I don't think they're really freshening the breath much. Whoa! I just bit into it and definitely got the anise taste – I think they have small bits of it in the center. Now I know these must be related to those star anise dried things you cook with.
Bonne Maman strawberry preserves – I love the little jar this comes in. This was the bonus item for this box. Perfect for traveling with and a 1-2 person portion. I actually got this in another box once upon a time and have yet to open that one. I just don't get around to eating jams, so perhaps it's time to consider buying bread or English muffins. I'd also want to get into the habit of eating breakfast, I suppose.
I could have gone for more items, but the hand cream really elevated the feel of this box. Which item do you think is the coolest from this Paris Escape Monthly box? If you want to sign up, try one of these codes (not sure which ones are still active): PARISESCAPE or RICOESCAPE for 20% off the lifetime of your subscription or GIFTESCAPE for 25% off.
For September it's time to go to Puerto Rico! Fantastic. I'm really excited about that one since I could certainly learn more about that country.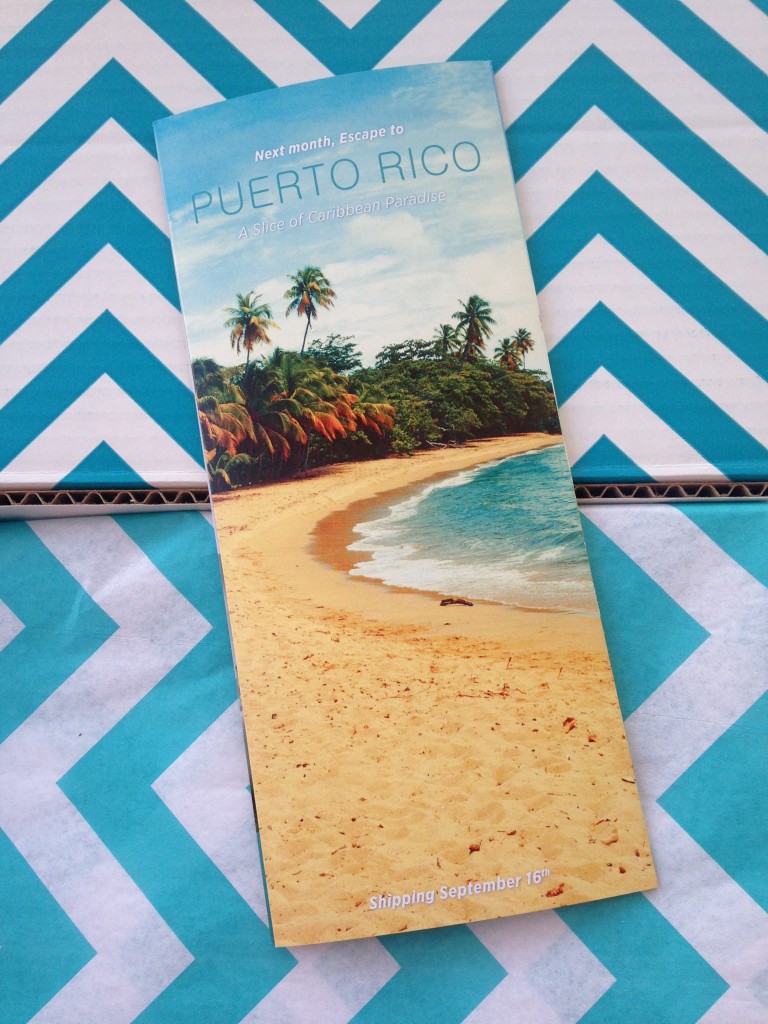 [This post contains affiliate links. Signing up through them helps support my subscription and I'd be ever so grateful. 🙂 All opinions are my own and I received no compensation for this review. I just purchased this box and wanted to share what I got!]