Since my first mystery box (which I loved), I haven't seen one come across my inbox that truly intrigued me. But then I saw the fun speckled designs for the Speckled for Spring Mystery box and I decided to spring for it (har har). There was one complete mystery one, one with Kimberly (the purple one), and one with Emerson (the blue one). Can you guess which one I got? My favorite color is purple… 😉
Julep mystery boxes are just under $25 per box and come with a mix of polish colors and beauty products. These are one-time orders and do not require a subscription.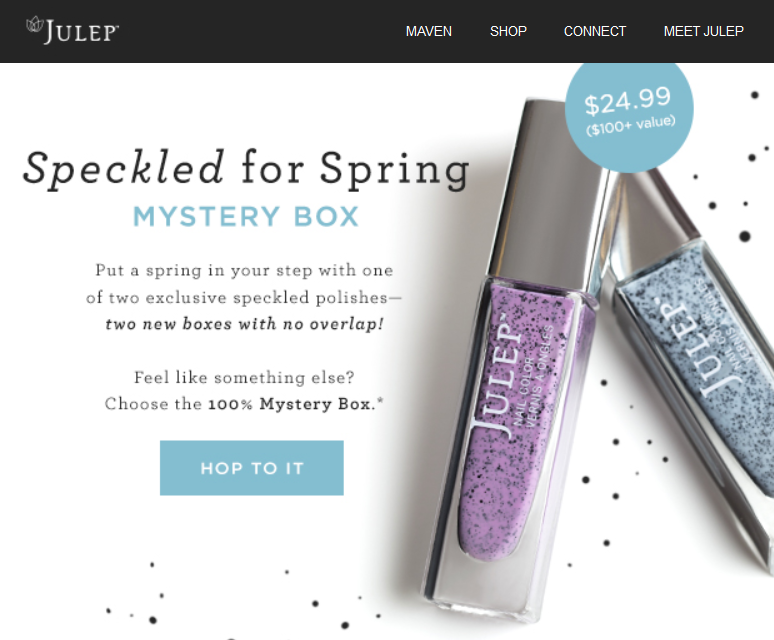 I'm not very impressed with this box, especially in light of everything I got in my first mystery box. All I got in addition to the polishes was one beauty product. It's a decent product and I will use it, but the lack of extras combined with the lackluster set of colors leaves me wanting more. I definitely like the speckled Kimberly I chose the box for and I'm cool with Catrina because it's bright and Karen because the peachy glitter is certainly springy. The other three I'm undecided on. Perhaps next time I will be more careful with my purchase (and I'm certainly going to search for a discount code first, since there was an active one for 30% off that I could have used!!). What do you think of this box?
Estimated value: $108 (Nail Color @ $14 each: $84, Lengthening Mascara $24) or $86.40 at Maven prices (20% off)
Join as a Julep Maven to get polishes sent to you monthly! Use code FREEBOX or FREEMAVEN to get the first box free (you pay shipping).
[This post contains affiliate links. Signing up through them helps support my subscription and I'd be ever so grateful. 🙂 All opinions are my own and I received no compensation for this review. I just purchased this box and wanted to share what I got!]