In addition to the subscription boxes and trades I already mentioned receiving, here's what's been filling up my mailbox!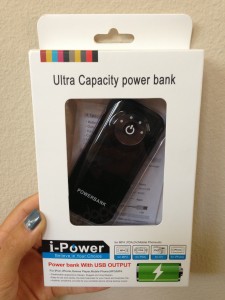 I did a review of this external battery and charging accessories I got from nomorerack so you can read more there. When I first got this I was concerned whether it'd be some knock-off brand that is shoddy work that won't last, but I'm happy to report that while the packaging is "meh" the item itself and its performance are great.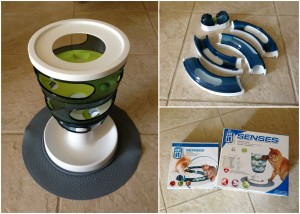 Since I was given an Amazon gift card as part of a focus group (mentioned in this post), I decided to splurge on my cats and get them these fun toys. One is a feeder where the cats need to paw around through the holes to push the food so it falls through the holes in each level until it is caught at the bottom. I've included a video below at the end of the post so you can see Missy at work! She really enjoyed it at first but I think both cats are lazy now and just wait for their daily wet food feeding to get them through the day. Maybe if they are desperate enough they will learn to use this properly. At least I know they aren't overeating now, right?
The other item is a pretty standard track with ball that you can piece together in many configurations. Once again, this is something Missy has enjoyed and will play with, but Molly kind of just looks at it and walks away. Alas, Molly is like 14 and declawed, so it makes sense she wouldn't want to play with this. At least Missy likes it!

I got a couple of random samples that I had requested from various sites, including a sanitary pad, L'Oreal's Revitalift Miracle Blur finishing cream, and Pampers sensitive wipes. I'm always on the lookout for free samples to help me find products that I want to adopt into my life! That's probably why I love subscription boxes so much. 🙂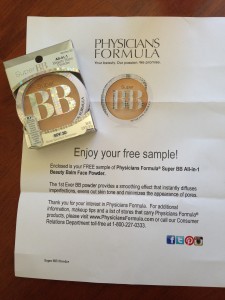 A long time ago, I entered to receive a free BB powder from Physician's Formula. This was similar to the first contest I entered (which I wrote a tutorial about), but suddenly there were a lot more people contending. When I went to submit the form, it froze on me and I never got a success message, so I crossed my fingers hoping I was one of the lucky 1000, but I didn't count on it. Then just a few days ago, what shows up in my mail but this?! I was pretty thrilled since I'm obsessed with trying BB creams and I've never seen a BB powder. Can't wait to test it!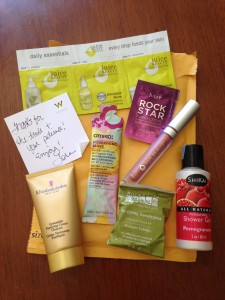 I already wrote about my previous trades, so here's just a quick look at the last trade I got. A bunch of lovely samples that I am looking forward to trying. I sent over some L'Occitane stuff and a set of Angry Birds lip balms that I had in exchange for these.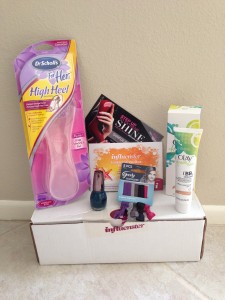 And finally, my Influenster Sunkissed VoxBox, which I'm sure I will write about coming up. I am very happy with everything I got and I am so thrilled to try them out!
cat eating from food maze from Mary Qin on Vimeo.