Learn more about 365great here.
Dry erase boards are such a useful tool! It's a great way to keep an ongoing list of things to do, groceries to buy, and other items that recur. Or, it's just a fun way to doodle on a cool medium, then wipe it all away. Whatever you choose to do with it, they can be immensely useful since they're reusable time and time again, unlike writing on paper. Plus, they wipe easily so you can truly start with a clean slate each time.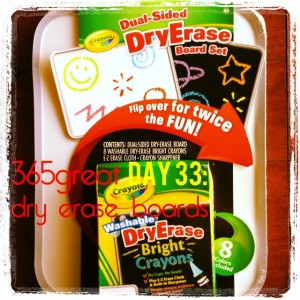 I found this awesome little Crayola board at Best Buy right when I was in need of a small dry erase board I could use at my desk! It was on sale and we had free money to use too, so I just had to get it. I love that this one uses crayons – how completely different from the markers I'm used to! These babies don't smell and won't wipe off accidentally, which are the two downsides to dry erase markers… which means they're basically all pros, no cons! I love that the board is two-sided and in black or white. A black "white board" now that's funny. 🙂 And for the practical purposes it serves in addition to the fun/cool/interesting factor, what isn't great about a dry erase board?