This came before my Thanksgiving trip, so I brought along the chocolates and cookies for the plane ride. I always like having my own snacks to rely on whenever I'm traveling.
Treatsie is $15 per box + $4.95 shipping and comes with artisan candy from 3-4 brands. That means about 6 or 7 different flavors of treats. Boxes are sent monthly with no option to skip. They offer a referral link program to earn store credit. Use my referral link and code FRBUCO01 to get double the treats (a purported $40 value) in your first box!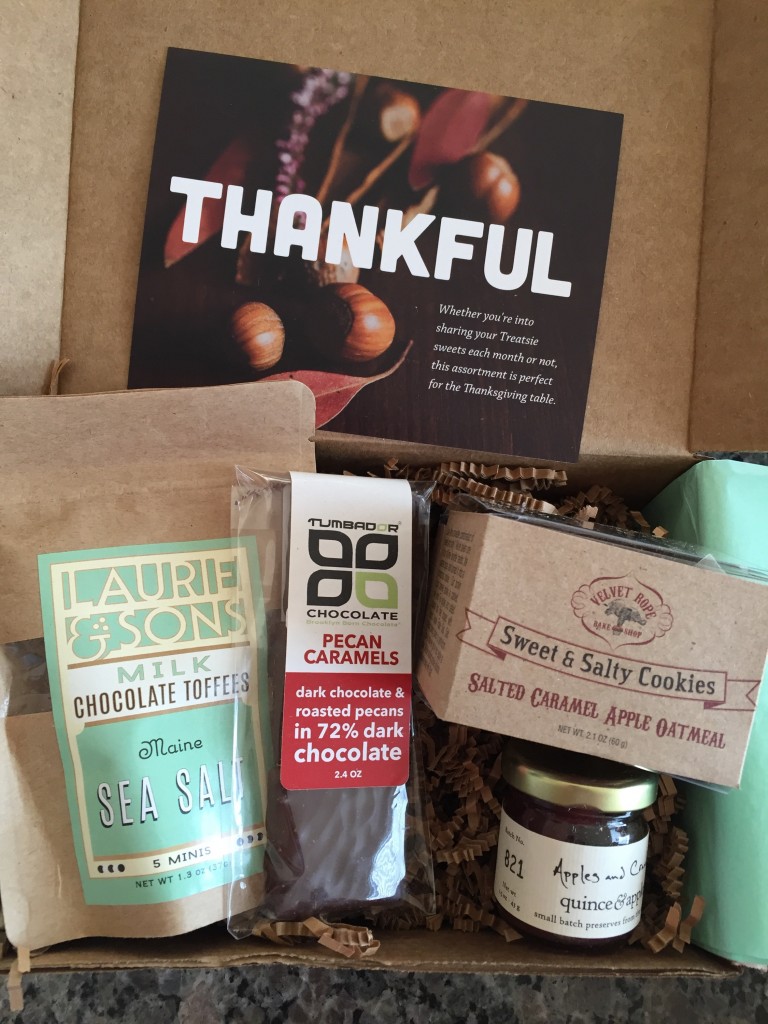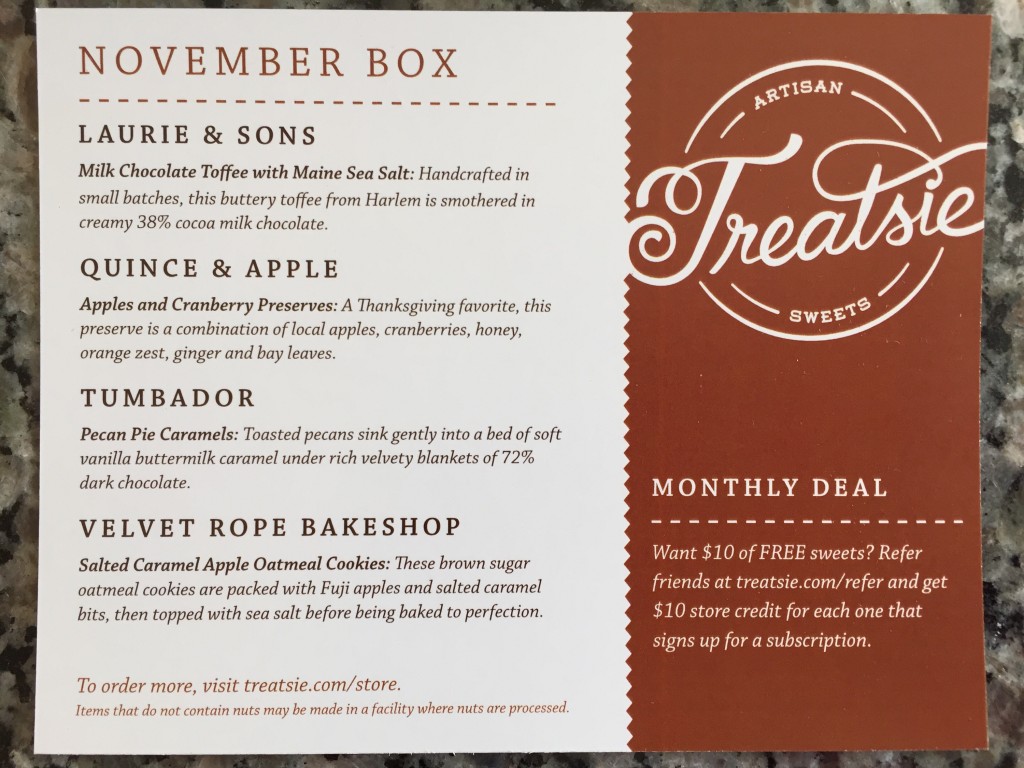 Laurie & Sons Maine Sea Salt milk chocolate toffees: Mmm yum! I love myself some toffee and the little bit of salt flakes on these, plus the chocolate melting around it make it a great little treat. I think it's pretty cool they use Maine sea salt, since you don't often hear about that!
Tumbador Chocolate pecan caramels: The caramel in this is less on the gooey side, so I'm thinking it's a more "dry" style (if that's even a thing). Do you like when you can take a nice neat bite and not have a sticky string follow your mouth? Then you will like this caramel. I actually prefer caramel to stretch until it's a thin little thing that floats and gets stuck on your lip, so this to me is tasty but not mind-blowing. It's all about preference though, so go with what works for you.
Velvet Rope salted caramel apple oatmeal cookies: Whoa, this is cool. I've gotta say, apple oatmeal cookies are new to me. I like how they included chunks of apple to really give you a burst of flavor. These make a great snack or even a quick breakfast bite.
quince&apple apples and cranberries preserves: As always, I'm drawn to cute mini jars. Not sure what I will do with the preserves, but perhaps I'll take them to our morning All Hands are work on Tuesday to see if there will be a bagel to spread them on. In general I like to take this kind of thing to work, since I'm much more likely to find a time to use it.
Some pretty solid items that definitely had a fall/winter feel. Which treats do you like from this box? To get Treatsie, sign up with my link and code FRBUCO01 to get double the treats in your first box!
[This post contains affiliate links. Signing up through them helps support my subscription and I'd be ever so grateful. 🙂 All opinions are my own and I received no compensation for this review. I just purchased this box and wanted to share what I got!]