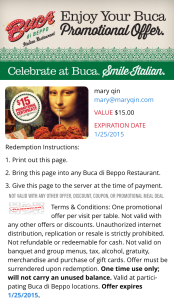 This weekend, Panda and I got a chance to go to the Buca di Beppo to redeem an offer. It was some sort of promo they were doing and the first 50k to register got $15 towards their meal! We both signed up and received the email for it. For some reason I could not find mine for the life of me, so we printed his and headed out. Later on, I was desperate so I checked in CloudMagic for the email and BAM they found it! I still couldn't tell where it was originally in my email server, but that didn't matter. I figured I might as well try showing the email and hope for the best.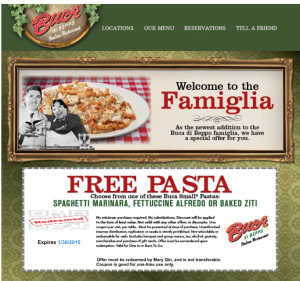 Along with that email, my search result pulled up a welcome email with a different offer. At first I didn't pay much attention, but then I decided to open it up. Turns out you can get a free pasta for joining their mailing list. I decided I'd rather get the free pasta, but I'd try to use them both. As we were looking at the menu in the restaurant, Panda checked his email and found that he had missed the welcome email, but received it as well. He had already placed his order for the penne arrabbiata using the $15 voucher, but I figured it was all such a great deal we might as well order everything and have a bunch of leftovers.
So, ultimately we were both able to redeem the free pasta (I went for the ziti and he opted for the spaghetti). I used my $15 towards the bruschetta. All in all, this entire feast only cost us about $8! Now how splendid is that?! It's too bad Buca isn't located closer and more convenient to us, or I'm sure we'd be here more often. Still, I plan on going back – I enjoyed all the pastas and really liked the brushetta.