For the first time, there was no brochure/info card insert – instead it was sent digitally! I've embedded it below and also included a link to where you can view the PDF in detail if you'd like. I'm a fan of less paper waste and if this box is an indicator of the quality of future boxes sans paper insert, I'm totally happy.
Escape Monthly is just under $40 per box (with code for 20% off your subscription – see end of post) and comes with a variety of food, home, skincare items themed around a city/region. Each box comes with a guide for that area. Boxes are sent monthly with no option to skip. They offer a referral commission program.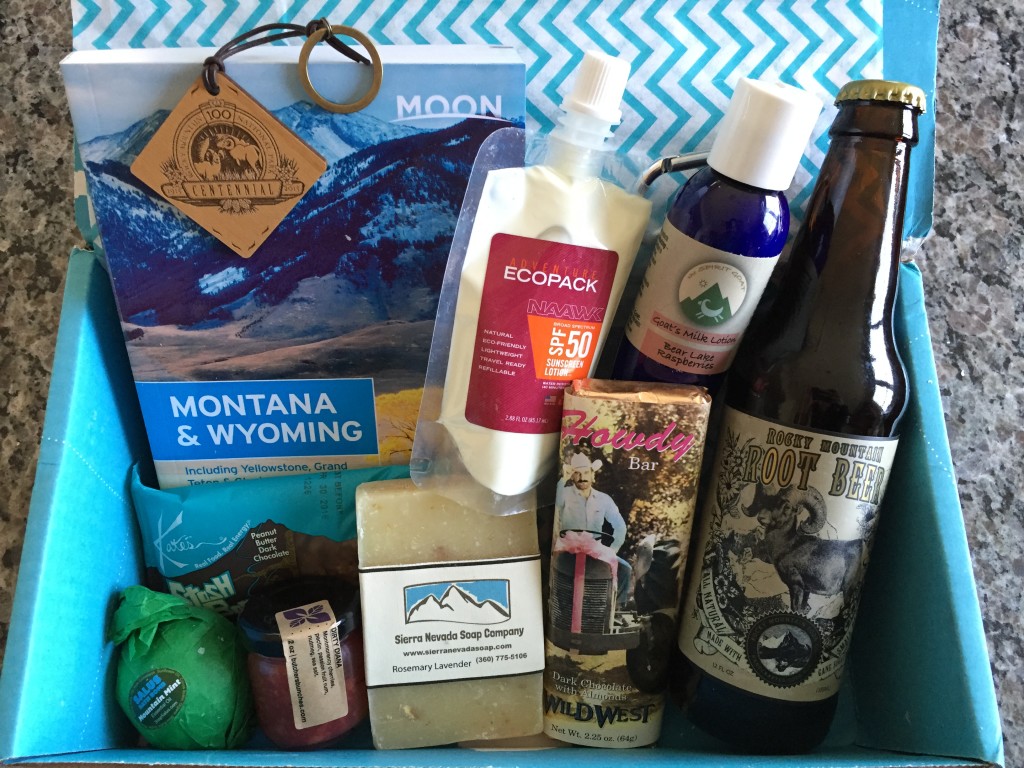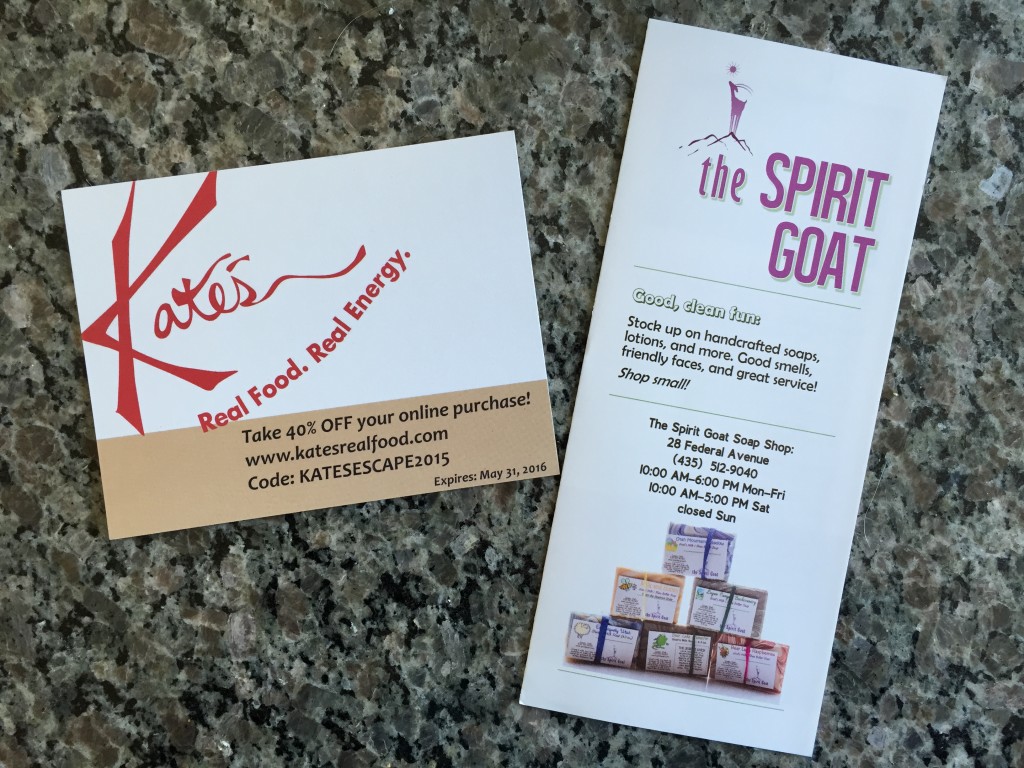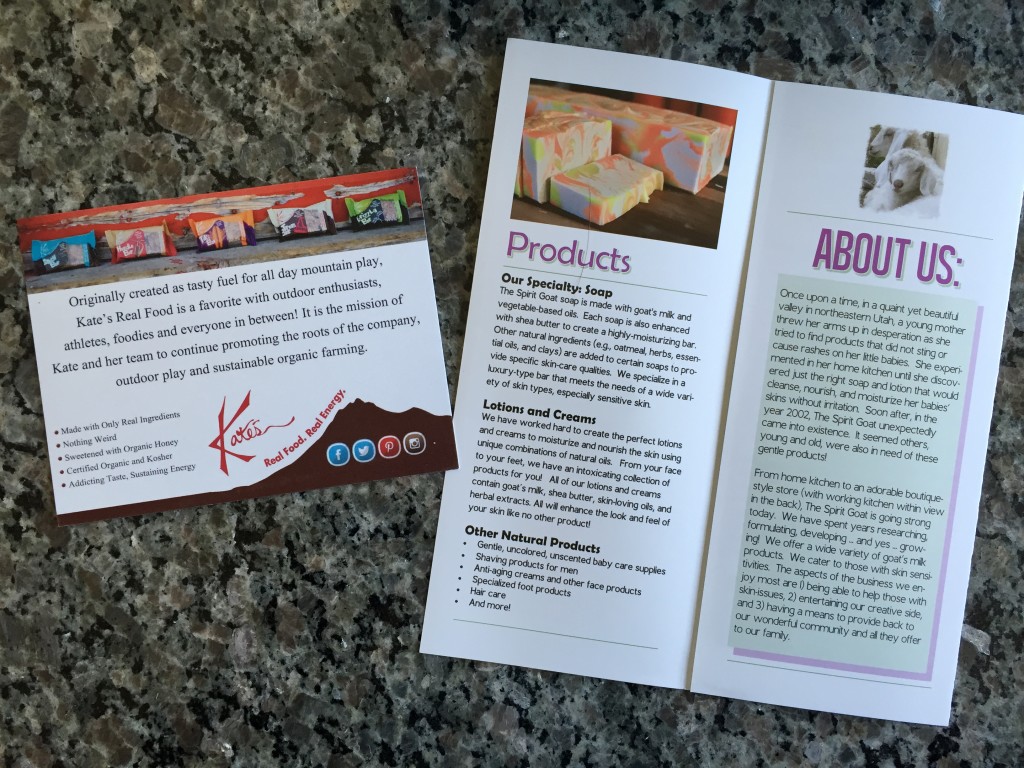 (click to enlarge and read full messaging)
escape-monthly-rocky-mountain-box-info-card-pdf

(view the file to read in detail)
When I first opened the box, I was totally impressed! Not only did it smell fantastic, but it had so many items that it truly felt like a treat. I'm all about more medium-sized (and value) items rather than a larger one that may have monetary value, but isn't something I like as much. Or maybe I just really like what this theme meant in terms of curation! I could have done with digital versions of the info cards in addition to the already-digital brochure they always have.
Here's what came in the box:
Moon Handbooks guide to Montana & Wyoming – Well, this doesn't quite match up to the listed handbook, but it looks like it covers more than that one would have so I don't mind. I've been to Yellowstone before, but haven't really explored the rest of the national parks or either state. I think it'd be fun to do a road trip in that area to admire all the nature. I love scenery and animals!
Rocky Mountain National Park commemorative keychain – This is a nice, quality keychain that is very well-crafted. It's so nice that I'm going to have to store it rather than actually use it on my keychain. I don't want to wear it down!
NAAWK EcoPack sunscreen – I love this packaging, which is so perfect for traveling through national parks and wilderness. Just clip it to your belt buckle or backpack and you can reapply sunscreen throughout the day. What a cool pack!
the Spirit Goat Goat's Milk lotion in Bear Lake Raspberries – This is a rather unusual scent for me (in a good way). I'm not sure I've had a raspberry lotion before and I love it! There's a mild sweetness that is really nice and not in your face. It's such a fresh sort of feeling. My skin feels wonderfully soft after applying.
Rocky Mountain Root Beer – I heard something moving in the box as I was carrying it and it turned out to be this bottle. I opened it pretty much as soon as I took the picture and it was a nice treat to enjoy. I love the glass bottle and that it wasn't super sweet. Sometimes sodas are just too much, so this is a nice alternative.
Kate's Peanut Butter Dark Chocolate Stash Bar – While I don't really like bars or peanut butter, this one looks quite good. I will definitely make good use of it next time I need a boost, whether from travel or exercise.
Salus Bath Bomb in Mountain Mint – How perfect that I got shower bombs from Yuzen and now I have a bath bomb to try too! This strong mint scent is sure to be a nice cooling experience. I hope it helps soothe aches too.
Dirty Diana Preserves – I'm hesitant to try this due to the cherries. I typically only like fresh cherry flavor. I'm also not quite sure how to use this… as a spread? To cook with? We'll see.
Sierra Nevada Soap Company Rosemary Lavender soap – Ah yes, this was emanating relaxation as soon as I opened the box. I love the scent and will add this to my soap queue near the front. It's fun that there are chunks in there – I like a soap with some added texture.
Wild West Howdy chocolate bar – This bar has dark chocolate and almonds. It's a very hard chocolate that is a perfectly balanced so it's not bitter, but not crazy sweet either. The almond bits are smaller and don't steal the show.
I'm thinking I need to move near the Rockies at some point in my life. I love eco-friendly stuff and the clean, fresh feeling these products give me. Which products from the Rocky Mountain Escape Monthly box would you want too? If you want to sign up, try one of these codes (not sure which ones are still active): YOURESCAPE or ROCKY for 20% off the lifetime of your subscription or GIFTESCAPE for 25% off.
Coming up is Vancouver for some Canadian goodness. I'm excited for that and I wonder if any packaging will change since I just noticed their new logo.
[This post contains affiliate links. Signing up through them helps support my subscription and I'd be ever so grateful. 🙂 All opinions are my own and I received no compensation for this review. I just purchased this box and wanted to share what I got!]