Learn more about 365great here.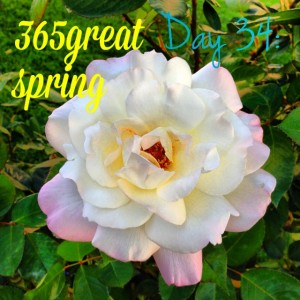 This year, spring has been elusive. When flowers should have been budding and people should have been admiring the lovely cherry blossoms of our capitol, we were stuck with mini snow/slush/rain storm after storm. Cold front this, wacky pressure that, and no temperatures over 60-something. Over here on the west coast, at least the LA area, high winds have briskly whisked away our hopes for a nice warm day. What's going on?!
I think just about everyone looks forward to spring – the renewal, the budding flowers, the warm air, the change of wardrobe, maybe even some cleaning! The world around us becomes more active and the weather gets warmer so we can shed those layers. Colors come back and beauty is everywhere – check out how amazing this flower in my yard looks! Playing outside becomes more accessible and everything just seems so alive. What a great feeling that is!