I've been meaning to put together some empties posts for a long time, but somehow it hasn't happened yet. Here we go with the very first one! I'll share five items that I've completely used up and what I thought of each. This is a really varied batch, with everything from skincare to beauty to bath. Each happens to have been a hit with me, though I promise I won't only share what I liked in future posts.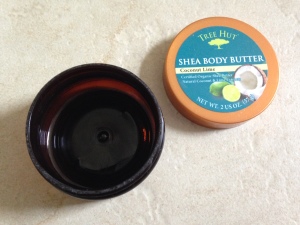 Tree Hut Shea Body Butter in Coconut Lime
This little tub came in a blissmobox and my opinion of it is still as great as the first impression. The scent is just fantastic and tropical without being crazy sweet like some scents. It lasted me a long time since it doesn't take much to get great results. I'm a huge fan of this body butter and I was pleased to receive it also in one of my Beauty Box 5 boxes! The tub is also a really nice size for repurposing. I've since put some homemade body scrub in it. I would absolutely buy this and try the other scents too.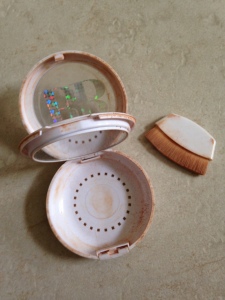 Physician's Formula BB Powder in Medium/Deep
I got a free sample of this and I'm so glad I did because it's now my must-have powder. In fact, I didn't use much on my face before but now that I've used this, I can't stop. I get great results with nice coverage for my face, especially paired with my BB cream. I've already bought another one and am nearly done with that one too. When they had the buy one get one sale at Target, I really should have jumped on that. Here's to hoping they offer something similar for the upcoming holiday sales. I wish it had better staying power though. I always forget to not touch my face, so midway through the day a lot of this has been rubbed off, especially on my giant breakouts. I use my own brush instead of the one that it comes with, since the flat line was making strange patterns on my face.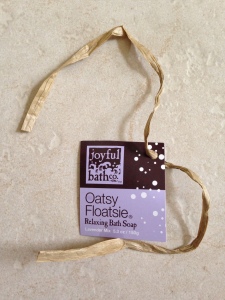 Joyful Bath Co soap in Oatsy Floatsie
I bought this back at Green Festival DC 2012 and I'm really glad I did. This lavender and oatmeal soap is so soothing and relaxing. I love how much it foams when I use it, yet it doesn't dry out my skin. There are also chunks in it that make it kind of like a massaging bar too. I will definitely look for this at Whole Foods if I ever run low on soap (which might take awhile). This is my favorite of the soaps that Joyful Bath makes, so I'll probably get the same rather than try a different formula.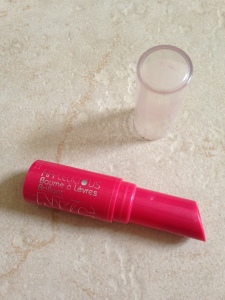 NYC New York Color Applelicious Lip Balm in Big Apple Red
This came in a VoxBox and it quickly became my go-to lip balm. It's so moisturizing and smells amazing, plus it gives my lips an extra boost of red that isn't overwhelming. I like a more subtle look. The added detail of the apple shape in the center is brilliant and made me smile every time. What a fun product! If I didn't have a plethora of other lip items to use, I would have already gotten more of this in the other shades and flavors.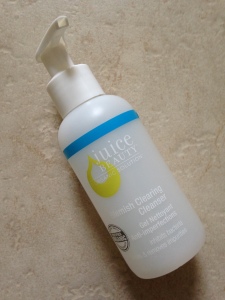 Juice Beauty Blemish Clearing Cleanser
I purchased this as part of a set and it's the only product I consistently used so far. Not that I don't like what came in the kit, but there are plenty more serums and lotions I like to use. Finding a cleanser I like is much harder, so this was great to have. I liked how it was a bit slippery (slimy, even) and had a nice scent. Some cleansers are so gentle I wonder if they're working whereas some are harsher and can't be used regularly. This one was nicely in the middle, which made me go for it most times I washed my face. That's a great sign. I just wish it clearly got rid of my acne. It certainly helped at first, but then I didn't see any improvement in my breakouts. Still, it beats out most others I've tried for my acne.
Have you tried any of these items? What did you think? And what empties do you have to share?