Wow, Hawaii again? I hadn't paid attention to when they announced the next month's theme or I might have thought about the wisdom of a third Hawaii-themed box. Still, it turned out ok and there isn't much overlap in products, which is great.
Escape Monthly is just under $40 per box (with code for 20% off your subscription – see end of post) and comes with a variety of food, home, skincare items themed around a city/region. Each box comes with a guide for that area. Boxes are sent monthly with no option to skip. They offer a referral commission program.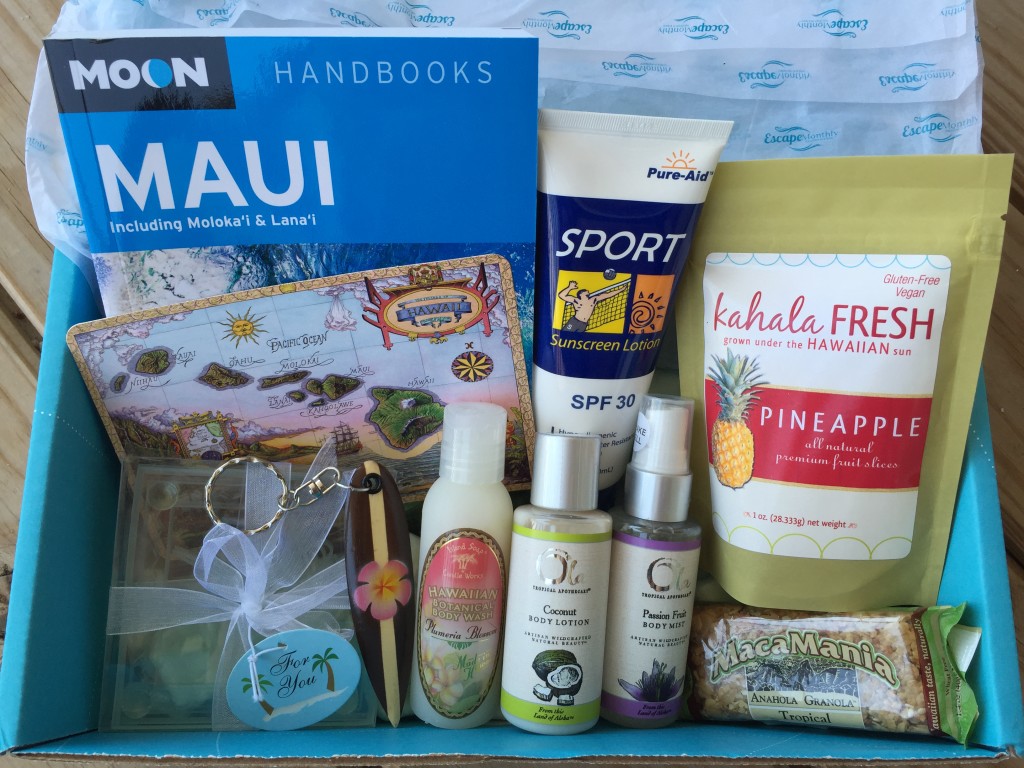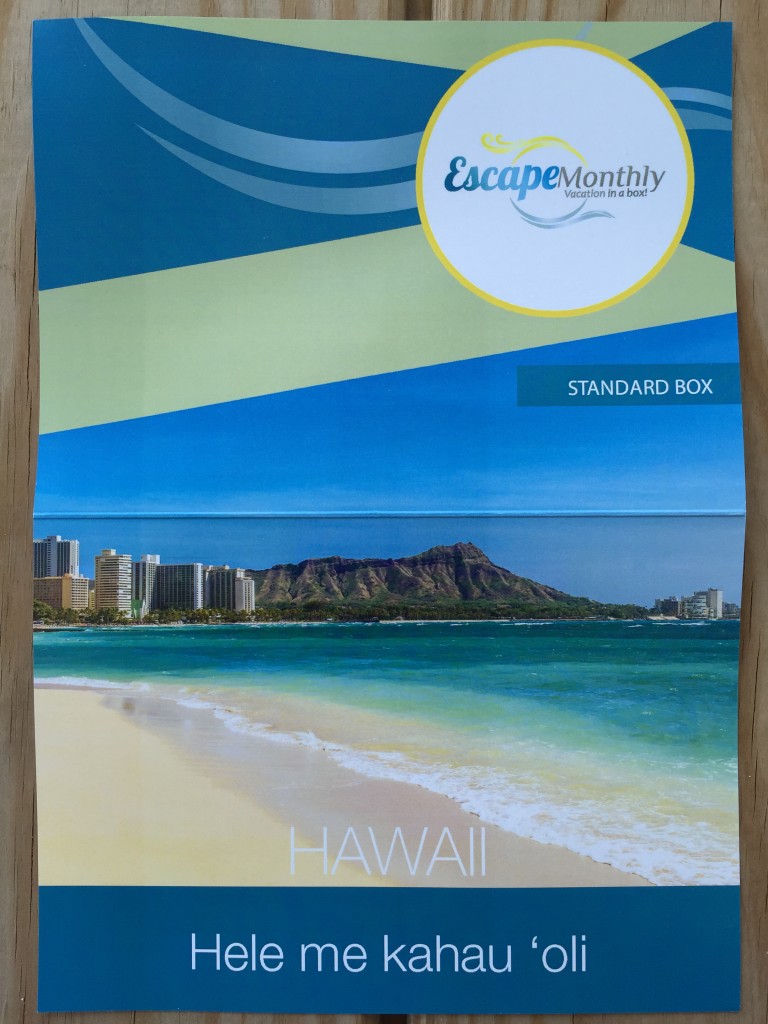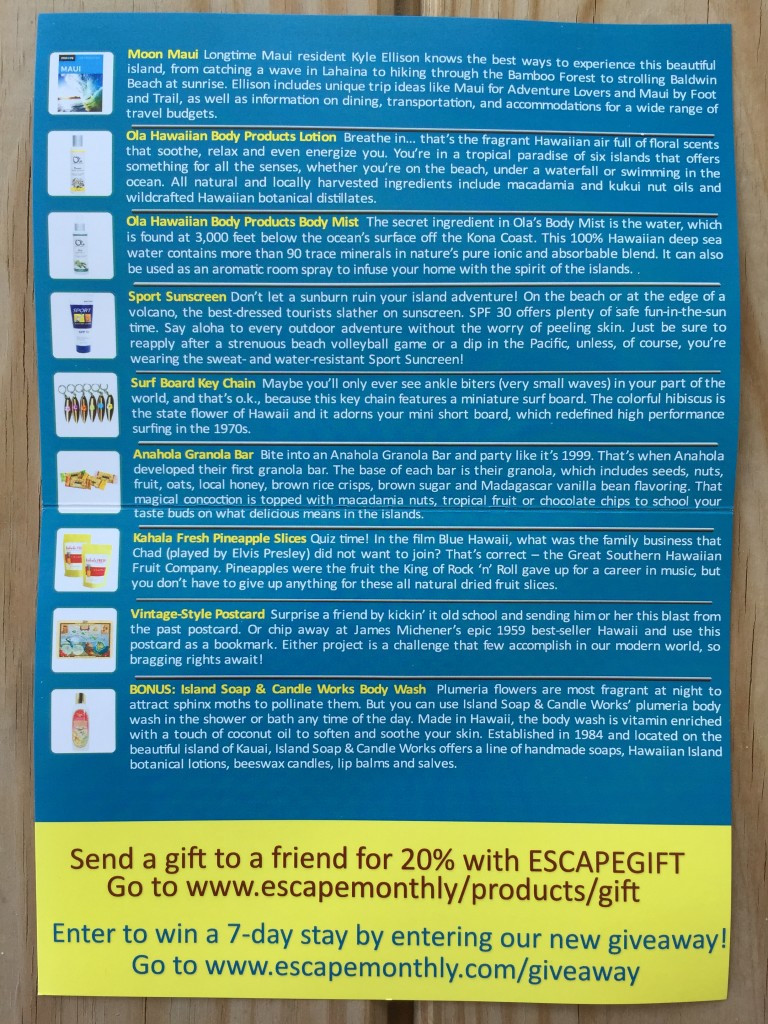 (click to enlarge and read full messaging)
I must say, I'm pleased with the selection here and really found some new favorites!
Here's what came in the box:
Moon Handbooks guide to Maui – Darn, this is the same one I got in the second Hawaii box. I wish it was a third kind so I could keep amassing my collection! Now I don't know what to do with this. Maybe donate it to a library?
Island Art Store map of old Hawaii vintage-style postcard – Adorable postcard that I'm going to keep as art! I love the look and feel and it's a great little map of Hawaii. It's just too nice to actually use!
Pure-Aid sport sunscreen – While sunscreen is important, I wish they'd included either a local brand or a tropical scented one at least. The sport version just seems generic, though it will be useful for the outdoor activities you'd want to do in Hawaii.
Kahala Pineapple slices – These are amazing snacks that I already want more of. I love how the pineapple is soft and slightly chewy. Most dried pineapple gets too hard and chewy for my liking. The sweetness was just right to offer a snack that's also a treat. I see they're in Whole Foods all around Hawaii, but what about elsewhere?! I'll keep searching every Whole Foods I go to.
glass coasters – Totally random items that weren't even listed but this pair of coasters is one of my favorite items. Ever since being a homeowner, I've enjoyed mundane household things. Like cute glass coasters. The design of seashells fits the Hawaiian theme nicely and these coasters add an elegant look to our coffee table.
surfboard keychain – This surfboard is nice and smooth with a glossy finish. I love the look of it but I wish I'd gotten any color other than pink! Oh well, it still looks good and I might swap out the Australian surfboard keychain on my keys for this one now.
Island Soap Candle Works plumeria blossom body wash – The body wash smells great, with a nice light flowery scent. I've never had anything plumeria scented before! I'm surprised this is the bonus item and would have expected the surfboard or coasters, but hey we seem to always get the bonus item anyway so that's great.
Ola coconut body lotion – I've got this same scent from this brand in the body butter, which is of course thicker than this lotion. The coconut scent is quite subtle once you rub it on and the consistency is somewhat runny.
Ola passion fruit body mist – Whoa, what an immensely fruity smell! Great in the spring to liven things up, or to remind you of blossoming flowers. I like that this spray can be used around the room, on linens, or of course, on the body. It's sure to add a little boost to the experience.
MacaMania Anahola tropical granola  – I'll never love granola bars, but this one looks pretty good. I'm saving it for a trip when we do something like hiking or a long drive. It's great to have a burst of energy for those types of things.
I'm happy with the different products being showcased this time around, but I do wish they wouldn't rely on Hawaii so much. The third year in a row isn't necessary when there are so many places in the world yet to explore. Which products from this Hawaii Escape Monthly box would you want too? If you want to sign up, be sure to sign up for their newsletter to get a code for 20% off the lifetime of your subscription.
Next up is Greece! Now that's a great place we haven't escaped to yet and I can't wait to see what comes. I've been there before and really enjoyed it, so I hope some things remind me of my trip.
[This post contains affiliate links. Signing up through them helps support my subscription and I'd be ever so grateful. 🙂 All opinions are my own and I received no compensation for this review. I just purchased this box and wanted to share what I got!]