So I've been with Escape Monthly for a year and a half now and I think I've reached the end of our time together. For awhile I was really enjoying getting items from other cities, but I'm not getting the same sense of excitement with them anymore. I hung in there for this box because there's so much Europe can offer and I was suuuuuuuper curious what they would highlight. I wish they had focused less on food items and included some other seasonal items or personal care type stuff.
Escape Monthly is just under $40 per box (with code for 20% off your subscription – see end of post) and comes with a variety of food, home, skincare items themed around a city/region. Each box comes with a guide for that area. Boxes are sent monthly with no option to skip. They offer a referral commission program.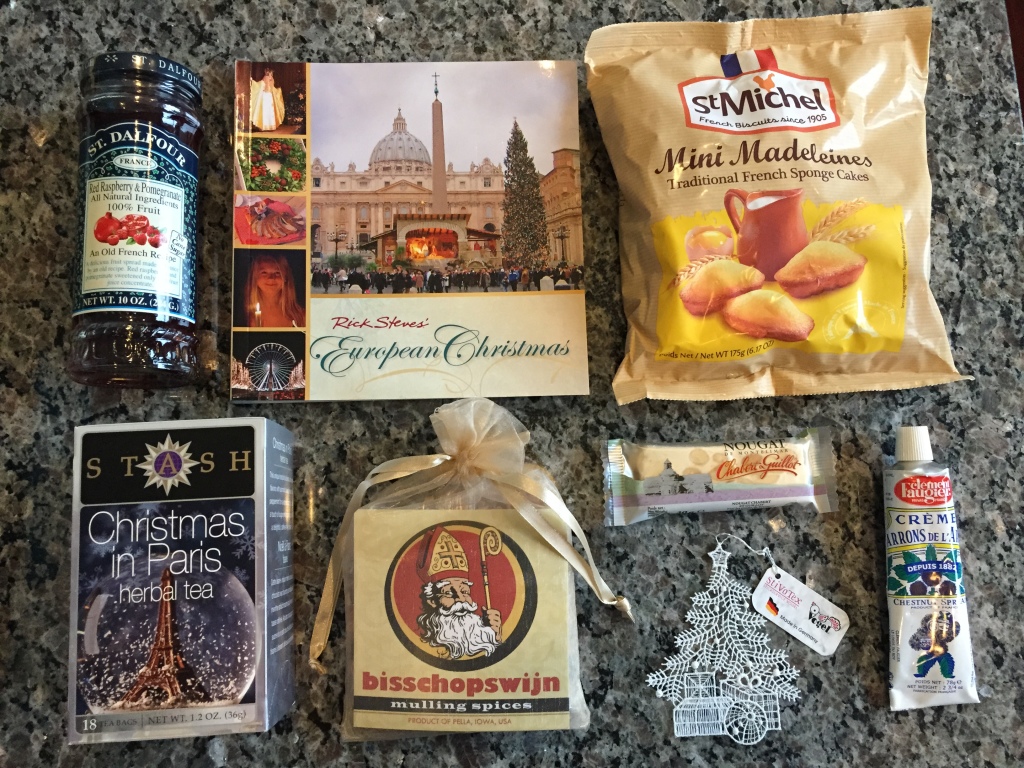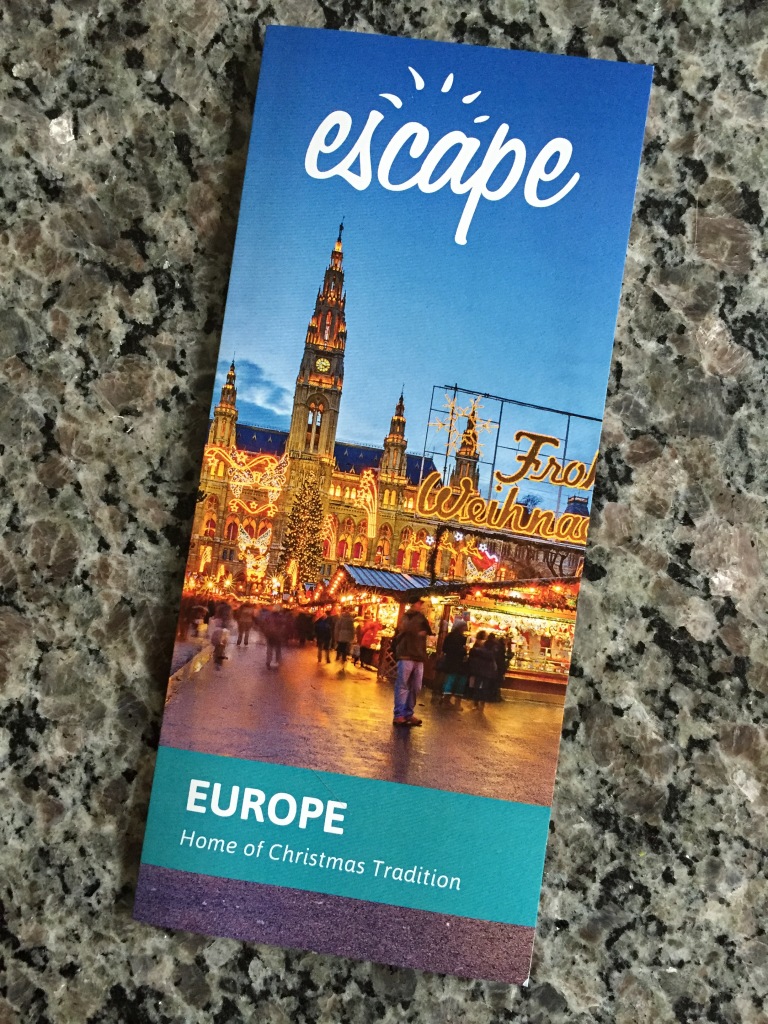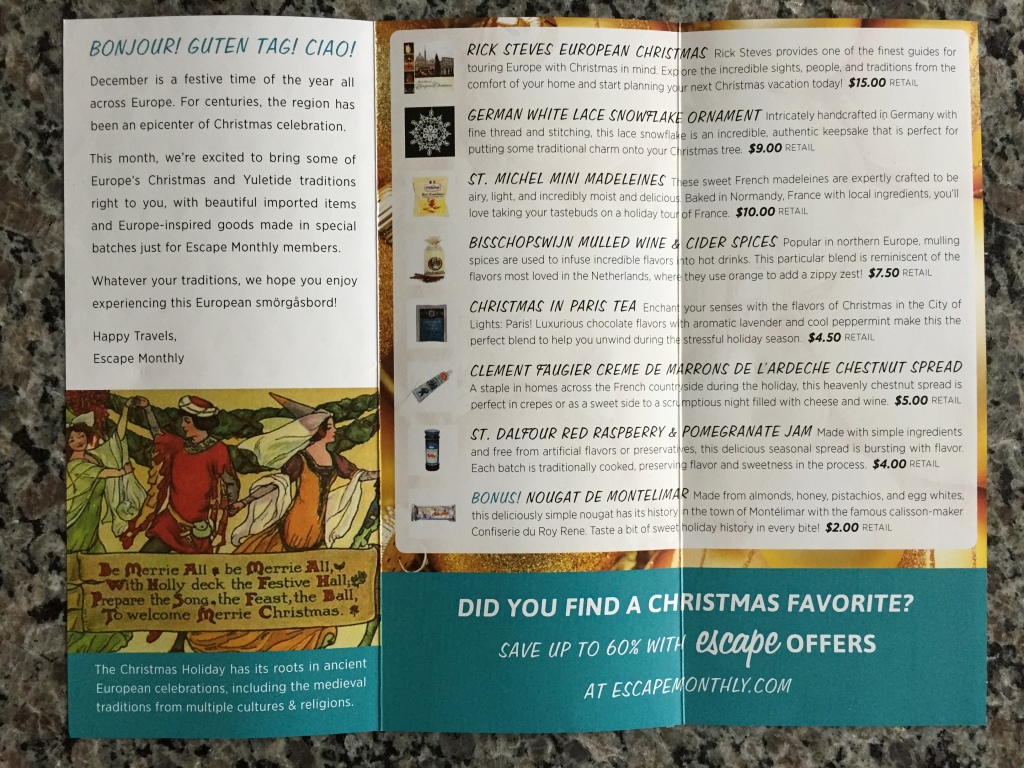 (click to enlarge and read full messaging)
I would have preferred to see more diversity in countries – it seems that the majority of products are French or French-inspired. While I do enjoy France, it certainly doesn't represent the breadth of cultures across Europe.
Here's what came in the box:
St. Dalfour Red Raspberry & Pomegranate Jam (French) – I need to start eating breakfast and incorporating jam. I've accumulated a couple jars of various flavors and I don't want them to all go to waste! This didn't feel uber Christmas-y, but I can see it evoking certain memories of the season.
Rick Steves' European Christmas – Well that's interesting. A book about Christmas in Europe! I never knew travel guides go specific to the time of year like this. I've spent two holiday seasons in Europe, but I didn't seek out specific holiday festivities, so perhaps I shall have to plan another trip to take advantage of what I can learn from this book.
St. Michel Mini Madeleines (French) – I love these snacks and happily brought the bag along for my travels to save me from the possibility of going hungry. I actually haven't needed to open them yet since I've stayed rather well-fed, but I'm definitely looking forward to having these. I imagine to them to wonderfully moist. I like eating madeleines in general (like the Costco ones) so I'm glad to get this.
Stash Christmas in Paris herbal tea (French-inspired) – Chocolate tea was never my thing and peppermint in tea can be a bit too cooling for me, so I wasn't sure what to make of this. The warmth of the chocolate actually helps dull the peppermint so it's not too cooling in my belly. It's an interesting combination that I will certainly drink, but it's still outside my normal tea-drinking habits enough that I wouldn't get more on my own. As a fun holiday thing, it's nice though.
bisschopswijn mulling spices (Dutch-inspired) – Oh, this smelled good! Definitely perfect for the season and very reminiscent of Christmas spices. I've been drinking a lot of hot apple cider and I wonder how this will compare (or enhance that flavor?). I'll brew some of this and experiment with taste options over the next two months when the snow finally hits!
Chabert & Guillot Nougat de Montelimar (French) – What a wonderful bonus treat! I have a major sweet tooth and nougats are one of my top favorites. I love the chewiness and sweetness and the bit of nuts offers a nice break to the sticky bar. This is fantastic.
Stickservice Vogel ornament (German) – What a cool little ornament. It's so delicate and dainty! I'm amused that it's in the shape of a Christmas tree, so it can act as our tree this year, since we don't have one. In the future I want to collect one ornament a year so this is an excellent start with such a special piece.
Clement Faugier Creme de Marrons de l'Ardeche Chestnut Spread (French) – I have to admit, I'm apprehensive about this. Something about it coming in a metal tube seems odd. I'm used to hand creams coming in this form, but food too? I don't plan on making my own crepes anytime soon, so I'll have to see how else this can be used. Maybe as part of a dish! We did make a chestnut pasta dish a few weeks ago…
I would have appreciated this theme a lot more had it included a candle, skincare product, or something else non-food. Much as eating is a part of the holidays, so are a ton of other things that didn't get highlighted here. The other thing would have been to include just one (max two) products from any given country. Certainly there could be compelling stuff from Italy, Spain, Eastern Europe, and Scandanavia. Would you want this Europe Escape Monthly box? What do you like best? If you want to sign up, try one of these codes (not sure which ones are still active): PORTLAND or MYESCAPE for 20% off the lifetime of your subscription or GIFTESCAPE for 25% off.
For the first time, the next month's location was not yet chosen – it was a "users choice" type thing, where I guess you could put in your suggestion on their Facebook page. At the beginning of the month, they announced that it will be Portland. There are a ton of great products coming out of the Pacific Northwest, so I'm looking forward to this. I hope they don't overlap with the previous Oregon box.
[This post contains affiliate links. Signing up through them helps support my subscription and I'd be ever so grateful. 🙂 All opinions are my own and I received no compensation for this review. I just purchased this box and wanted to share what I got!]