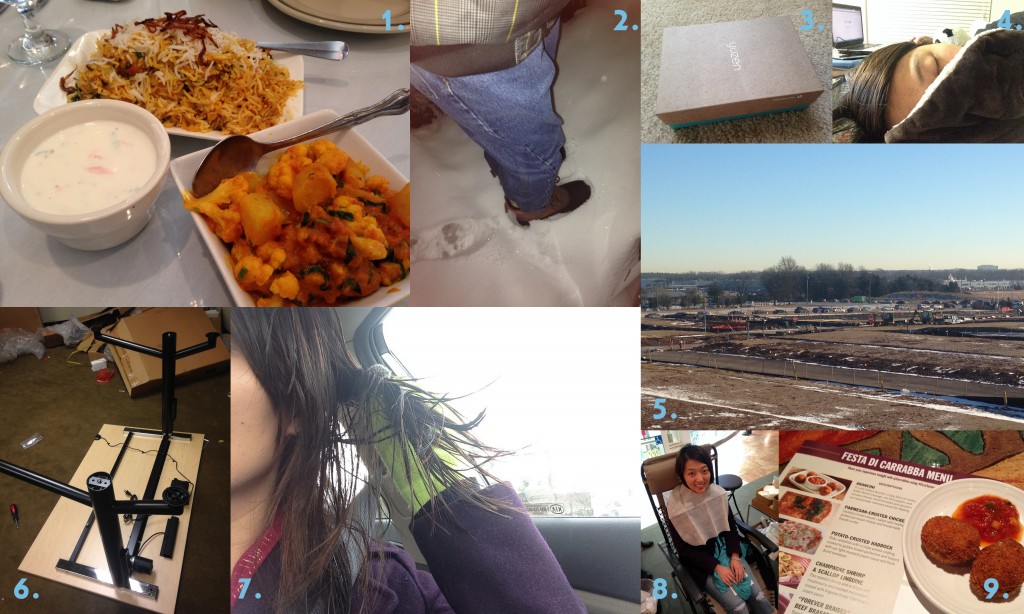 Let's take a look back on how the year got started!
1. Groupons – Panda really got into getting Groupon deals for our meals and now we often try new places based on what deals he's been finding. This was one of the places we went for lunch/brunch one time.
2. snow days – Before storm after storm attacked our region, I was still enjoying the snowfall and this one in particular was exciting. Panda and I got a chance to enjoy it together and I had my first work from home day.
3. Yuzen – Jen was kind enough to send me the men's Yuzen box as a gift for Panda! I love how everything about it really caters to guys more, including the actual look of the box. If you want to know what came in it, watch out for the review.
4. snuggling – I was sick much of the month, so I spent a lot of time resting in bed, getting cozy with the blankets. I love feeling all toasty and swathed in softness. It's so very comfortable.
5. home hopping – This entire month we had access to both the apartment and condo, so we'd spend time hopping between them. We started moving boxes over to the new place little by little and I spent some time enjoying the space. All was lovely but then I saw the morning traffic and knew I'd be in for quite a change in my morning commute with the move.
6. moving offices – It was really exciting to finally be moving to the new office that I'd been hearing about since I started. Taking some time in the afternoon to go help out and build furniture was a nice break for me from the stress of work. I very proudly helped build something like 8 motorized desks!
7. gloves – Mornings were so cold I had to wear gloves while driving, until my heated steering wheel kicked in. Even then, if I didn't wear gloves the tops of my hands would be cold. A few times my hair even froze on my way from the apartment to the car.
8. Origins free facial – I've been getting the Origins free facial offer for years, but never took advantage of it. This time I decided to give it a try and it was much more thorough that I anticipated. It lasted a good 20 minutes and the lady used seven products on me.
9. Carrabbas First Tastes – Panda and I got to attend our second First Tastes event at Carrabbas and we had a lovely time with the mother daughter pair who sat across from us. This is always a wonderful event to attend and I hope they keep hosting them!
January was all about getting back into the groove out east. We're truly settling in and everything is feeling like home more and more. What were your favorites in January?