Once again, 2014 is not offering me the most exciting bags from Ipsy. There's only one item I'm really looking forward to trying. I would have loved the nail polish if it wasn't baby pink, so I hope I can trade for a shade more suited to my taste. Similarly, I wasn't a fan of the bag as much due to the color. I like the slight contour of the zipper and you can see a peek of the bold patterning inside, but pink just isn't my thing.
Ipsy is $10 per glam bag and comes with 5 or so beauty/skincare products. Bags are sent monthly with no option to skip. There's usually a waitlist to get the subscription. They offer a referral program that earns you points towards free products.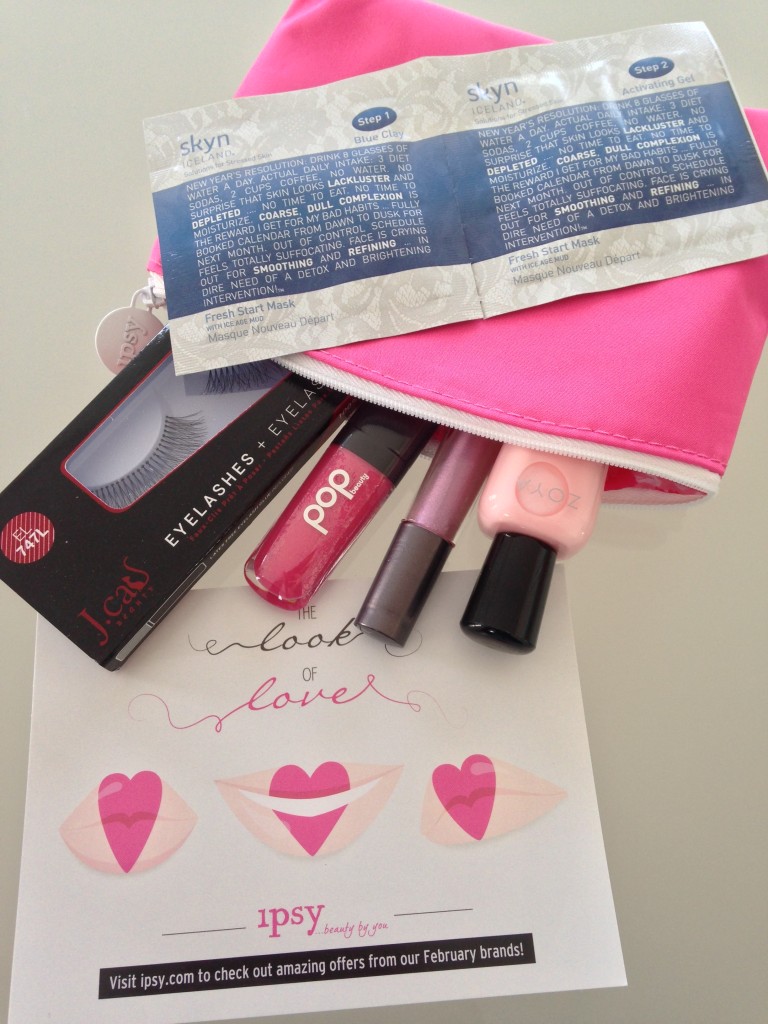 skyn ICELAND Fresh Start Mask with Ice Age Mud – This is a fascinating product that I'll be trying soon. You take the clay and put it on your face, then add the activating gel. Apparently, the combination will actually bubble/fizz/foam in a warming solution. How fun! I love things like these and a few more samples of this would have made this bag well worth it.
J.Cat Beauty Eyelashes + Eyelash Glue – I've never tried to apply false lashes, but I did have them put on before for a photo shoot. They seem like a fun thing to play with someday, so I might keep them around. They're crazy long though, so I'd feel silly walking around with eyelashes like that. Maybe if there's a need for them at a costume party…
POP Beauty Plump Pout Mini in Fuchsia Freesia – Ok, I really like the look and shape of this lip gloss, but it smells awful. Is it supposed to be like that? It kind of reminds me of gasoline at times and the strong odor makes it very hard for me to use this product. Pity, because I just love the packaging here. Once again, I could do without the bright pink shade though.
Tini Beauty Eyetini Cordial Cream Shadow + Base In One in Violette – I'm so split on this product! On the one hand, it's a lovely shade of purple, but on the other hand, it's an eye product. I just don't see when I'd ever use it, so I'll probably trade it. If only this was a lip gloss tube instead.
Zoya Nail Polish in Dot – I was really hoping for the purple shade shown in the Ipsy spoilers. But of course, I got the pink (bleh). It does seem like a solid base color to use for nail art or a somewhat nude-looking color if I don't want to draw too much attention to my polish color. Still, I'm going to try trading it first and if it doesn't go I'll use it.
So all in all, I was not thrilled with this bag. I would have been a lot happier if the Pop Beauty lip gloss didn't smell funky and the Zoya polish was another shade. If you want to trade, check out my FSOT list.
[This post contains affiliate links. Signing up through them helps support my subscription and I'd be ever so grateful. 🙂 All opinions are my own and I received no compensation for this review. I just purchased this bag and wanted to share what I got!]