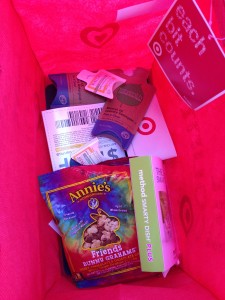 This morning, we had a little family outing to Target to get the free reusable bags for Earth Day! The good thing about my town is that store traffic is pretty light, so we didn't have to worry about them running out. Also, ours came with samples! I'm sure plenty of other Targets only passed out bags mostly, especially if they're in a concentrated area where a ton of people would come running for free snacks/skincare/cleaning products. That's the one good thing about living in a quiet suburban area – we may not always have the most things in stock or the best sales, but on offers like this we tend to get a sweeter deal (and an easier time getting it). On the right you can see a sneak peek of the goodies we got from our 3 bags.
And here's a look at everything laid out: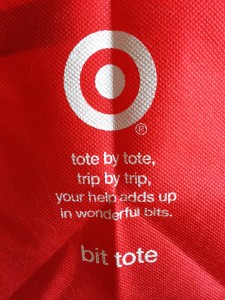 You can see on average each bag had 4 samples, plus the coupon book. There might have been other samples available, but here's what we got in our bags, which I think is pretty representative of what was available: 2 Method Smarty Dish Plus dishwasher tablets, 3 Seventh Generation Laundry Detergent samples (good for one large load of laundry each), 3 bags of Annie's Bunny Grahams (with honey, chocolate, & chocolate chip) made with whole grains, 3 Burt's Bees Sensitive skincare Daily Moisturizing Cream samples, 1 Seventh Generation Natural Dish Liquid sample, and three Target coupon booklets with over $44 worth of savings on various eco-conscious brands like the ones shown. Sponsors this year that didn't have products included were plantbottle, GE, and Neutrogena Naturals.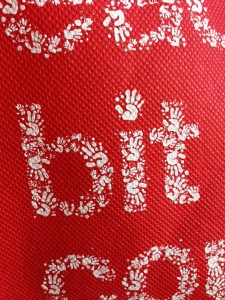 The bags themselves are deemed a "bit tote" because they're a smaller size and the messaging this year is "each bit counts." I totally agree with this! People often dismiss efforts to be more green because they think "oh this one time won't matter" or they wonder "can I really make such a difference?" While we may not see it, the sum of all our little "bits" can add up pretty fast, especially over time. So I hope people become more conscious of this and do a little more each day to conserve, repurpose, reuse, recycle, etc. In addition, with each action we take, we can change our way of thinking and doing so that we become more and more "green" – so I see every small step compounding into bigger and bigger steps for the future.
One final note – I loved that the words were composed of tiny little handprints! Very cute and it goes with the idea that each of us counts. Every bit.
« Prev:365great Day 37: terrariums
365great Day 38: 1 Second Everyday:Next »