Panda and I get a chance to stay at a bunch of different hotels throughout the year, so I thought I'd share some of the experiences a bit more thoroughly than I could in a travel review site. I've broken it down into a few sections: Location (including parking info & nearby businesses), Rooms (including wifi info & toiletries), Service (including check in/out times & front desk service), and Amenities (including breakfast info & pool/gym details). Finally, I sum up with a Pros & Cons comparison if you're short on time. Click on any of those to jump straight to the section you want!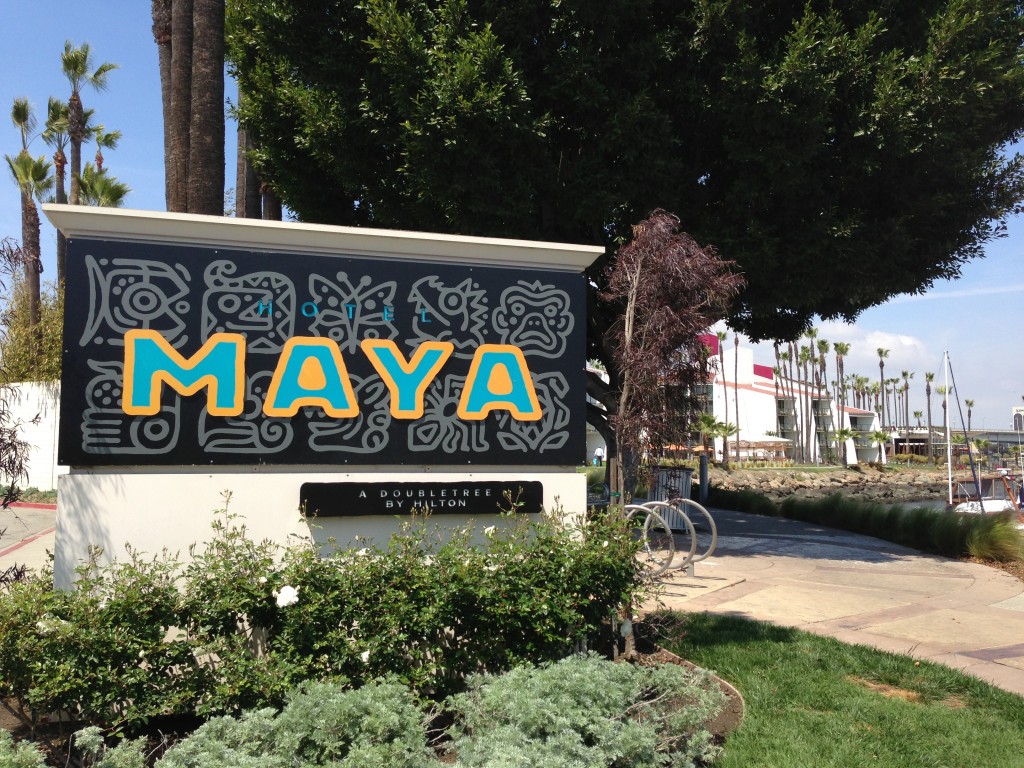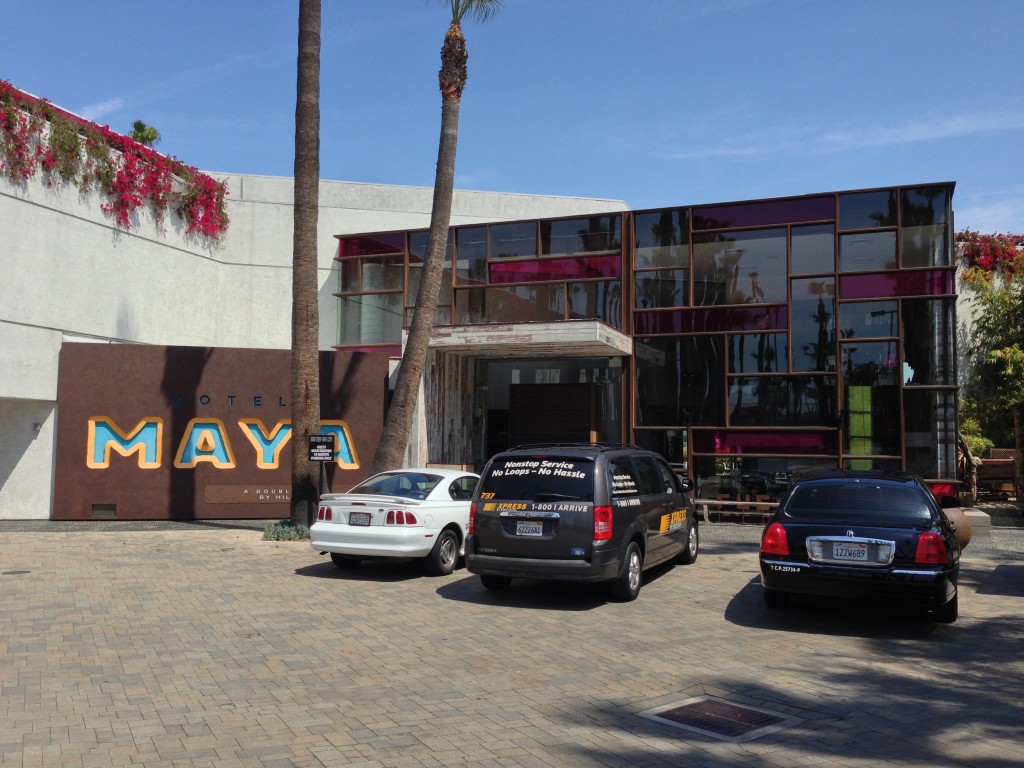 The Hotel Maya is down in Long Beach, facing part of the harbor and not too far from the Queen Mary (you'll hear the foghorn sound a few times throughout the day). It is being run as a Doubletree, so you can expect the same services and amenities (such as complimentary cookies). The location can be a little confusing to get to since the roads are long and windy and as soon as you cross the Queens Way bridge, you exit on the right and it looks like you're getting onto a freeway but then you get right off. From there, you do a complete 180 and basically backtrack along your route on the side road, passing by a Residence Inn and curving around underneath the bridge to get over to the hotel. If you're like me and missed the exit, then you end up reaching the end of the bridge and having to pull a u-turn and loop around from the opposite direction. Confused yet? Yeah, it can be a bit challenging reaching the hotel the first time but take a look at the maps I linked for you to see what I'm talking about. There aren't really many businesses nearby, so you'll probably have to drive back across the Queens Way bridge to access the more densely-packed area where there are restaurants and bars and stores.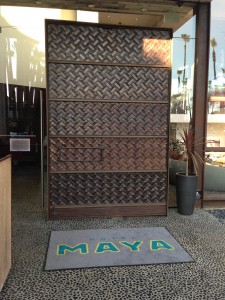 When you arrive, you will get a ticket from the parking machine that will let you in. If you're in the lot just dropping off someone, don't worry – you have a grace period of (I believe) 20 minutes that you can stay without being charged. If you're staying as a guest, you will have to pay the fee of $19 per night. You'll just use your room key as the entry and exit card whenever you want to drive out somewhere. When you enter, you'll find this giant door, which you push on the left side to enter. It will rotate to open like some sort of secret passageway entrance. Or, you can opt for the "normal" door on the left side, which is that glass panel with the metal bar handle. The front desk is just to the left once you enter. If you were to go straight up the ramp in front of you, you'd find the restaurant up the stairs on the right and some meeting rooms in the back. From the front desk, off to the left is the open computer area, couches, and more meeting space.
The hotel actually consists of multiple small buildings clustered together. It feels rather like an apartment complex and there are only a few rooms per floor. Each room has its own little balcony or porch, with chairs and a small table so you can sit and enjoy the weather and/or view (if you have one). If you happen to get a top floor room, it will likely have very high ceilings as shown. Overall the feel is very airy and spacious, which is appropriate for being by the ocean. The beds are typical ones, not too firm or soft and the bedding might be a bit light if you're sensitive to the cold like me. We had to use the heater at night and it is an older type that is mounted in the window, so it rattles a bit and isn't the quietest thing.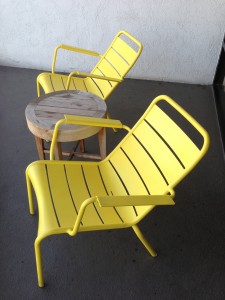 You'll get to enjoy free wifi, yay! To ensure a lot of light can enter the room, the entire window area also houses glass sliding doors that lead to the porch. The porch doesn't have railing like a fence, but instead is composed of something like plexiglass so you can enjoy the best possible view from the porch, with nothing obstructing the way. It's also nice for helping to block some of the cool ocean breeze you might get as you sit outside. I really enjoyed the furnishings in our room, from the wicker seat by the mirror that was great for stacking our stuff on to the glass top desk by the porch to the nice sturdy coffee table next to the couch. Check out these photos of the room – you can click on them to enlarge.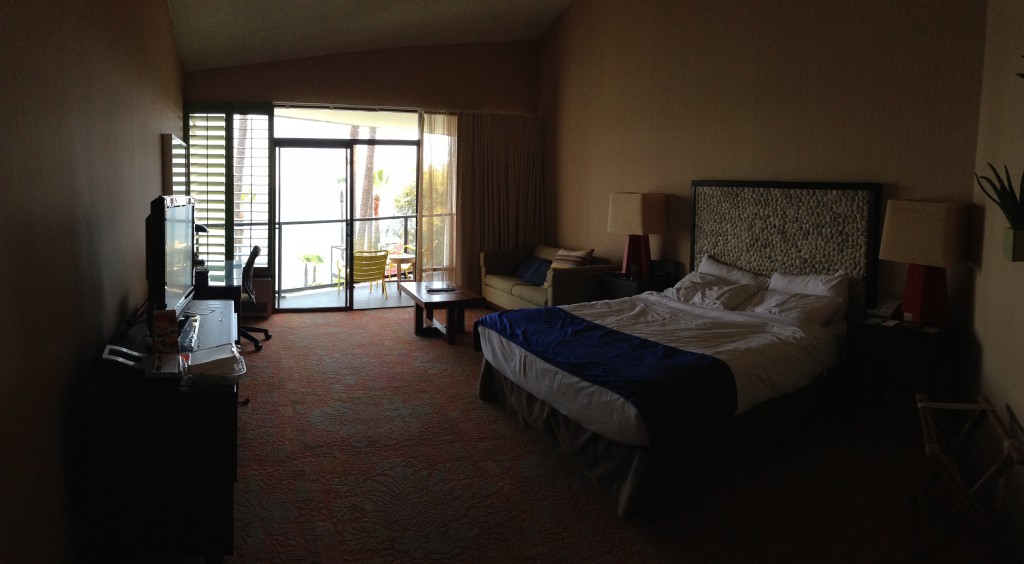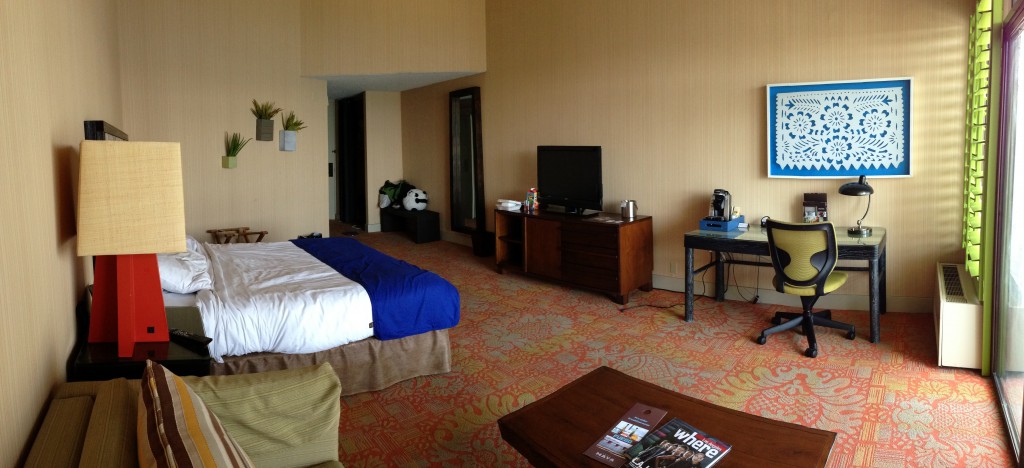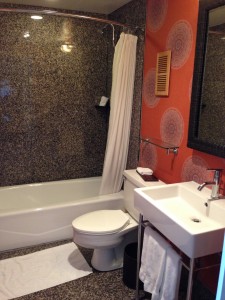 In the restroom you'll find Crabtree & Evelyn toiletry products in Citron Honey & Coriander. The wallpaper is Mayan-themed and the floor and shower area have a nice marble. I did not like that the toilet paper holder was on the wall behind the toilet, so you had to reach back blindly or twist to try to reach it. I did like the sink, which had a nice water flow and a cool rectangular design. There are bars beneath the sink so you can keep hand and face towels within each reach, but the small little metal nub on the wall for hanging towels could have been bigger. If you didn't place the towel just right, it could easily slide right off.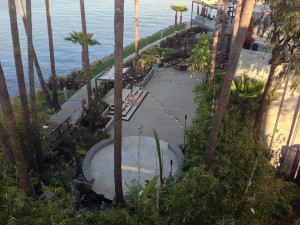 Check-in time is at 3 PM and checkout time is at 12 PM, but of course this is always negotiable if you ask and are courteous to the staff. The hotel is a non-smoking property, so don't expect to find ashtrays or get a smoking room. I found the staff to always be helpful, whether we needed some disposable utensils or wanted an extra cookie. They even held a bake sale while I was there, raising funds for the Ronald McDonald House. You could easily hold events here as well, ranging from weddings to business conferences. They offer a nice outdoor area pictured there, which was set up for various events during my stay. They also have some large rooms you can use for meetings, presentations, and the like.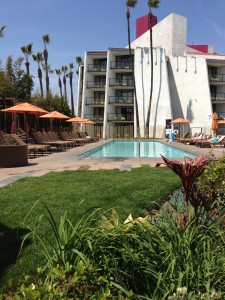 As you'd expect, the Hotel Maya has a pool (complete with lovely "floating" cabanas) and hot tub, as well as a variety of seating options to enjoy the sun, the pool, the harbor, or just the air. There is a gym with giant glass windows just across from the lobby area – a good place to get drinking water if you have some bottles you want to fill up. There is a small business center in the hallway region off to the side of the front desk, with two computers for you to use if you need to hop online or print something. The little snack shop on the side of the front desk offers not only food like a s'mores kit, but clothing and magnets to remember your visit to Long Beach by. You can also use the microwave there to heat up any food that might need microwaving to eat.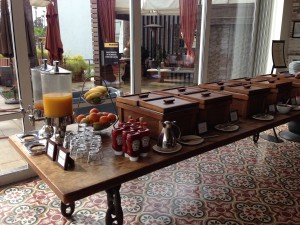 A free continental breakfast is available in the in-house restaurant (Fuego Restaurant) to Hilton Gold members and above. One of my mornings, I was told the hot buffet was available to me as well, but I'm not sure if that's usually the case or if you have to pay an additional fee. Anyone is welcome to purchase meals there throughout their working hours. They offer a great view of the harbor. Just outside and down the stairs, you'll find the Aquabus, which only runs in summer months. It takes you across the harbor to the more main area of Long Beach, where you can go to the convention center, check out a park, or grab some food. There's also a bus you can catch from the front of the hotel area, which can take you into town as well.
There are also a ton of great spaces to enjoy that make this property feel somewhat like its own little town. You can stroll along the harbor, play tennis or beach volleyball or bocce ball, hang out in a variety of cabanas and lawn chairs, enjoy firepits and the small "beach" that they built, and so much more. Check out my gallery of pictures below for even more looks at what the Hotel Maya has to offer!
Pros: cool vibe, great views, resort-like property, tons of windows to enjoy the most sunlight, good food, great furnishings, very relaxing
Cons: location slightly out of the way for most activities, paid parking, small inconveniences in restroom, loud air conditioning unit
Overall? I'd totally stay here again whenever I'm looking for a chill atmosphere and some relaxation – as long as I have a car I can use at night. I mean, I wouldn't mind trying Fuego for dinner but I doubt it's in the price range I prefer.
« Prev:365great Day 70: owl stuff
365great Day 71: cleansing systems:Next »