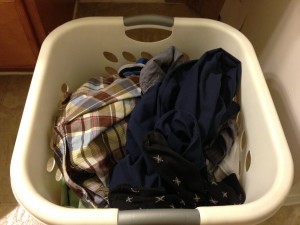 Panda and I have very different habits. Some we've compromised on and others we tolerate. His laundry basket habit falls under the latter category. You see, to me a laundry basket is something you use to gather dirty clothes. When you no longer plan on wearing them, you throw them in there. Therefore, it is not a place you want to be rummaging through. Things go in one by one, they all get dumped out around the same time, and sometimes a freshly laundered load will temporarily go in to be transported away from the dryer.
Is that how you use your laundry basket?
Because it certainly is not how he uses it. For him, the laundry basket is a holding cell for clothing that has been worn once but is still viable for another wear. Yet at the same time, there are items meant for the wash as well. This grosses me out even though really it's just a bit of weathered clothing – not like there are dried stains from sauces or anything super dirty. I can't help it; it's completely psychological but if something goes in that basket I am NOT taking it out unless it goes straight to the wash.
So how do you manage your laundry?
« Prev:365great Day 188: Soma
365great Day 189: traditions:Next »