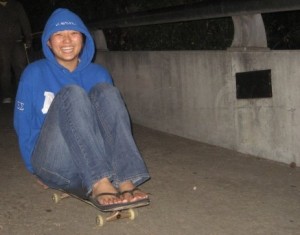 I'm not your average "skater girl," whatever you think that may be.  At the least I can guarantee that when people picture a skater, they'd never come up with me.  I don't resemble Avril Lavigne, I don't wear skater shoes, and I skate just fine in flip flops and a dress.  To me, skating is a really fun way of getting around and improving your balance.  I don't do it to try fancy tricks and I can't say that I know much about the subculture.  All I know is that there's a certain pleasure in having a board under your feet. It looks and feels really cool too.
My favorite is when I'm breezing along, picking up some speed from a slight decline in my path, but nothing too crazy. I can go down steep hills if I foot-brake along the way, but that does a number on my thighs. When you're cruising, it's the best feeling in the world. There's a gentle breeze as you roll on by enjoying the scenery along the way. I once did spent a Saturday afternoon going from Malibu to Venice and back (about 6 miles each way I think). It was amazing – beautiful weather, easy boarding, and great company. I even got to practice balancing on one foot and streamlining closer to the ground.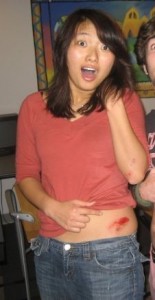 While I did manage to get pretty good (well, better than people probably expected), I never handled hills too well. I'm not brave enough to do what it takes to carve down a hill effectively. The one time I tried going down a hill with a friend, he held my hand to steady me, but we both ended up flying from our boards and "Supermanning" down the road on our hips. That scar finally faded after a good four or five years. I may never do the more crazy stuff with my board, but I can certainly hold my own when it comes to the basics. I have a Loaded Board that I absolutely love, partly because you can bounce up and down on it and it will not break. That sort of flexibility offers better maneuverability, though it does present a challenge every time you kick off and might veer more than usual. Still, it's totally worth it and I wish I had more of a chance to use it these days.
I made sure to take advantage of the opportunity to ride around when I was doing Orientation at UCLA. In fact, I was awarded the Avril Lavigne award: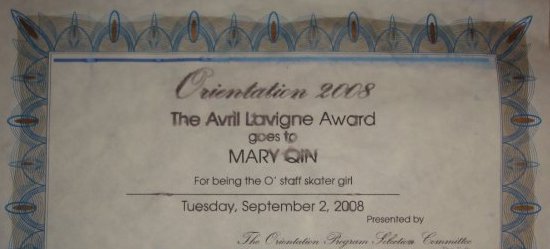 That's me, just the skater girl cruising around campus with my fabulous board.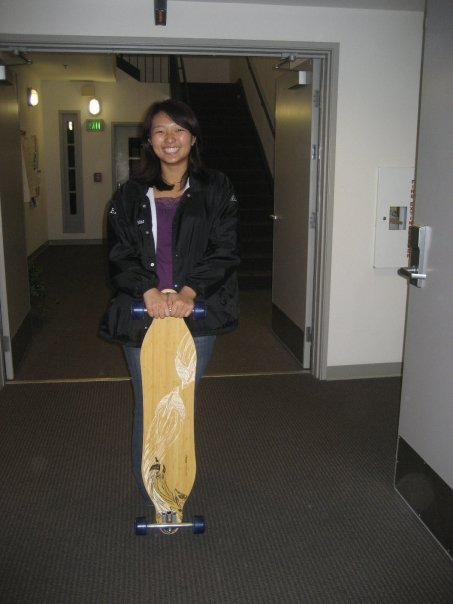 « Prev:365great Day 217: Grooveshark
365great Day 218: battery packs:Next »