[Edit: I've learned that there was some confusion and I was actually supposed to get a third brand. I'm getting a premium one sent to me to make up for it! :)]
I was super confused with the box I got this time around because there were only two brands (granted one item was really large) and the card inside listed three. I finally reached out to Treatsie to ask if I was supposed to get all three and it seems that the upgraded boxes had the third item, but those grandfathered in to the non-upgraded version got the card listing all the items without actually receiving all items listed.
Treatsie is $15 per box + $4.95 shipping and comes with artisan candy from 3-4 brands (I am grandfathered in for $15 for 2-3 brands and fewer items). That means about 6 or 7 different flavors of treats (or 4 or 5 for me). Boxes are sent monthly with no option to skip. They offer a referral link program.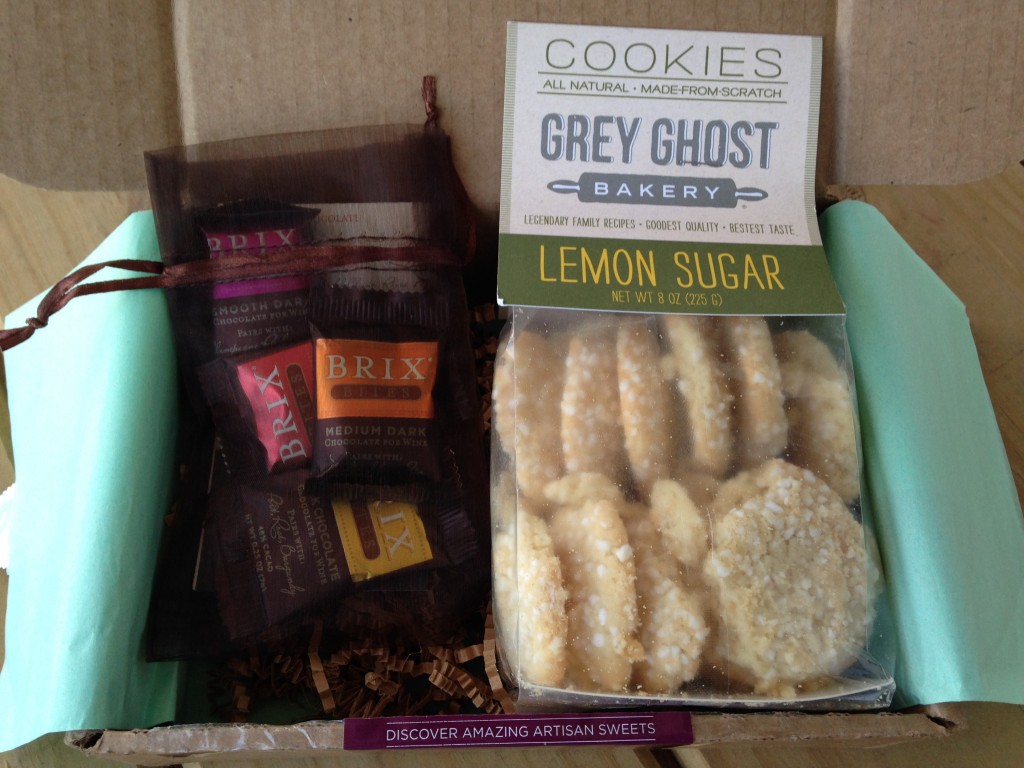 Brix Bites Chocolate for Wine in Extra Dark, Smooth Dark, Medium Dark, and Milk Chocolate bars: Even though I don't drink wine, I can totally enjoy these. They truly are "brix" in that they are a very firm piece of chocolate. If you like a piece that will not just melt in your hand, this is the type for you. I like the hardness of them and even better is the taste. I've tried the medium dark and extra dark so far and both are fabulous – great flavors that are super smooth. These are some quality chocolates that anyone would love with or without wine.
Grey Ghost Bakery Lemon Sugar cookies: I was certainly skeptical when I first saw these – they looked too crumbly. But oh my, did they surprise and impress me! They're actually wonderfully moist (I hate dried out cookies, don't you?) and those giant grains of sugar along with the chewy bits of lemon hidden in there… wow, fantastic combo in a cookie. I think I need to have these with my tea every day now. Fantastic, and I'm glad the bag of them is a generous portion.
The third brand as you can see was Hot Cakes. I'm not much into peanut butter, so no huge loss there. I'm glad I got the two brands I did!  What do you think of the items in this box?
[This post contains affiliate links. Signing up through them helps support my subscription and I'd be ever so grateful. 🙂 All opinions are my own and I received no compensation for this review. I just purchased this box and wanted to share what I got!]
« Prev:How to: set keyboard shortcuts
Easter holiday:Next »