Now this is just the kind of candy mix I love! A little bit of caramels, a little bit of candy, and some chocolate. I was much more impressed by this month's Treatsie box. I didn't even notice until now, but I didn't get an info card. Not sure if that's just me or if they decided to stop including them?
Treatsie is $15 per box + $4.95 shipping and comes with artisan candy from 3-4 brands (I am grandfathered in for $15 for 2-3 brands and fewer items). That means about 6 or 7 different flavors of treats (or 4 or 5 for me). Boxes are sent monthly with no option to skip. They offer a referral link program to earn store credit. Use my referral link to get your first box FREE!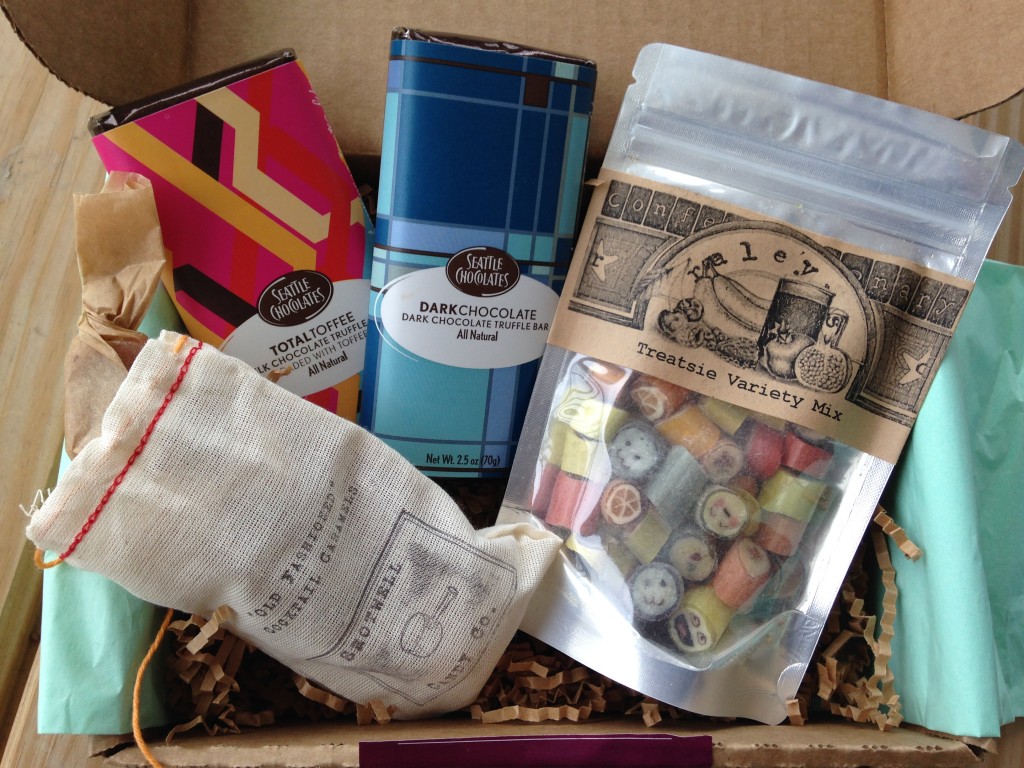 Seattle Chocolates bars in Total Toffee and Dark Chocolate: Oooooo these made this box for me. I loved both flavors and will definitely keep a lookout for them in stores. The toffee had wonderful bits of crunchy toffee AND some fine grains of salt, which made for a really interesting texture. I've never had a bar like that before. The dark chocolate was smooth and very solid – a nice luxurious-feeling piece.
Shotwell Candy Co. Old Fashioned Cocktail Caramels: I thought these tasted a little strange to me and no wonder, they're made with whiskey. Since I don't drink, I have no idea what whiskey tastes like and whether someone who likes drinking would enjoy this flavoring in their caramel candy. I guess I'll take the leftover pieces to work and see what others think. It's not to my liking though, much as I enjoy a nice caramel.
Raley's Confectionary Treatsie Variety Mix hard candy: How freakin' adorable that a special Treatsie mix was put together! This is a grab bag of assorted flavors, mostly fruit ones, but then there's root beer too. The designs are just fantastic and I love the fun pieces. I'm quite impressed with their designs! I've got to say, this is the cutest candy I've ever seen.
I was excited about these products and for the most part they did not disappoint. What do you think of these candies? If you want to try Treatsie, sign up and get your first box free.

[This post contains affiliate links. Signing up through them helps support my subscription and I'd be ever so grateful. 🙂 All opinions are my own and I received no compensation for this review. I just purchased this box and wanted to share what I got!]
« Prev:New furniture!
Escape Monthly July: India Box Review:Next »