Yay, my Treatsie July box arrived yesterday! I didn't get around to checking the mailbox until mid-afternoon on the sweltering day. By the time I opened the package, the cooling pack was soft, but it must have done its job because my treats came in pristine condition!
Treatsie is $15 per box and comes with artisan candy from 3 brands. That usually means 5 or 6 different flavors of treats. Boxes are sent monthly with no option to skip. They offer a referral link program.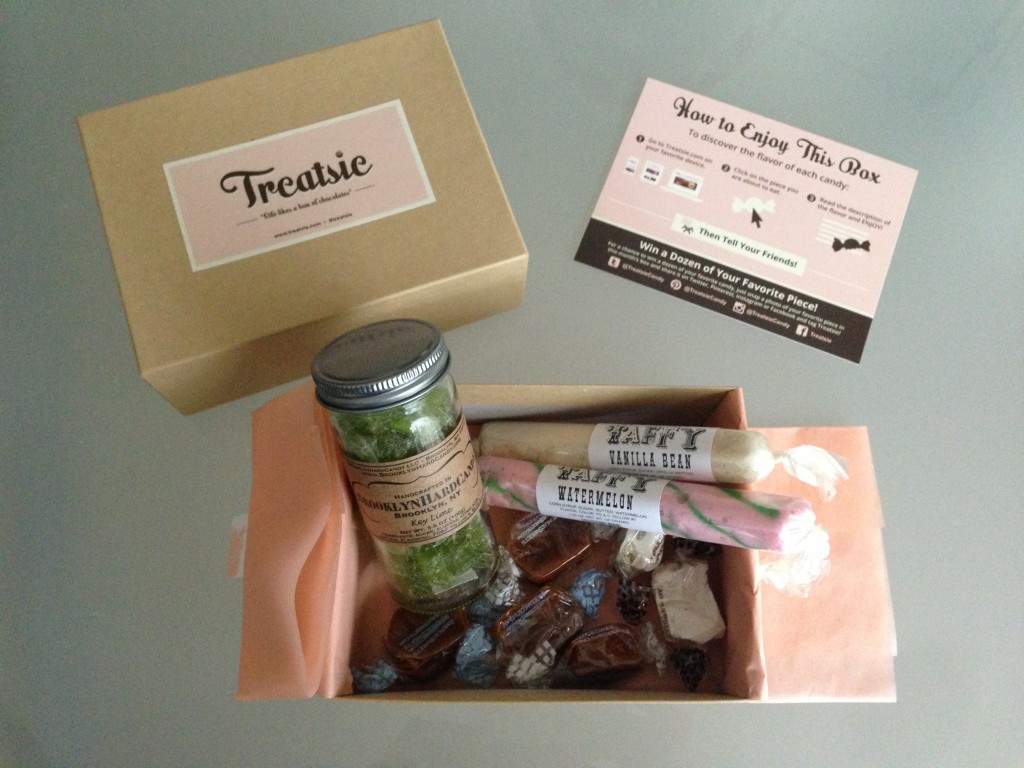 I promptly kicked Panda out of the room where I needed to do filming and made a video of the unboxing. I remember reading that Treatsie (very smartly) does not generally send chocolates in the hottest months since they're almost guaranteed to melt. However, soft candies like taffy and caramels and hard candies work quite well! They definitely had an excellent, tasty selection.
Also, they just revamped their site and are now offering all these products for sale once you've tried them and fallen in love. Excellent move! I mean, while I enjoy trying out new things, I also want to be able to get more of the stuff I liked most! Plus, there are accounts you can manage online now, so if you need to update your address or anything it's easy as pie. Loving all the upgrades they're making!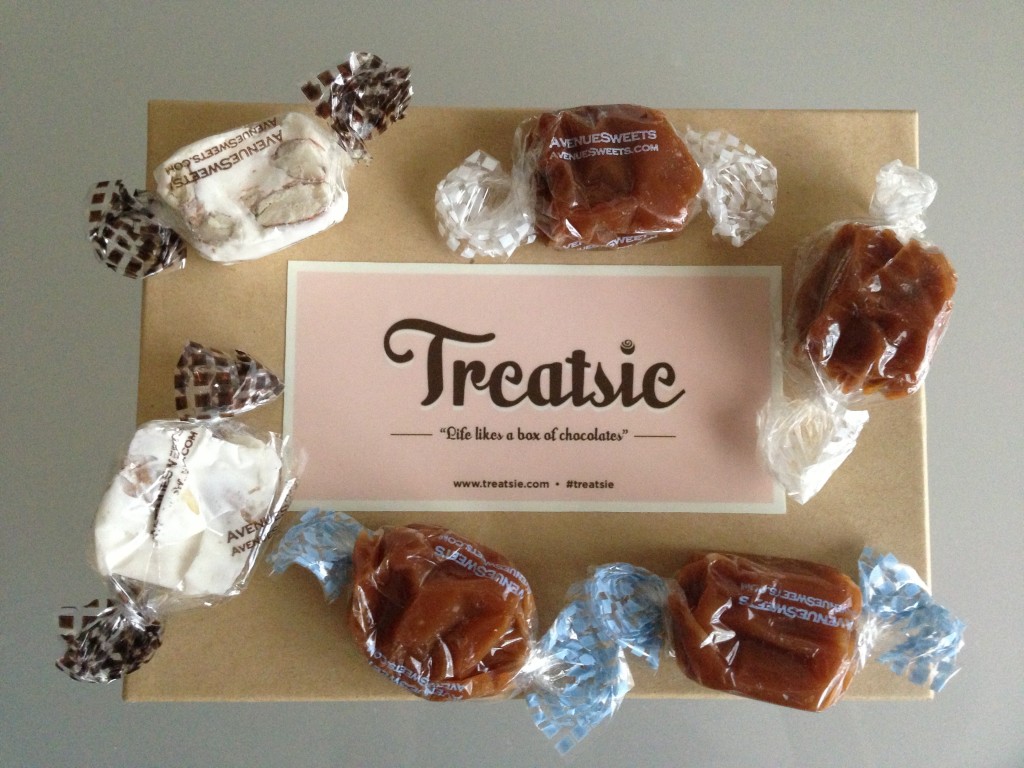 AvenueSweets Almond Nougats, Sea Salt Caramels, & Butter Rum Caramels: These pieces are huge, just the way I like it! Each flavor was vivid and depending on your preferences, you'd probably love each of them for a different reason. My personal favorite was the sea salt flavor – it's truly divine and I think I might have to order a pound of them. It was rich and creamy and the sea salt was nice and distributed so you never got overwhelmed with a sudden chunk of saltiness. The almond nougat comes in next with its firmer texture and nice chewy consistency. And really the only reason the butter rum was my least favorite is because I don't drink and I don't like anything with alcohol. I took a nibble of this and definitely tasted some alcoholic flavoring, which does not appeal to my taste buds at all. However, if you enjoy drinking like so many do, you'd probably love this candy.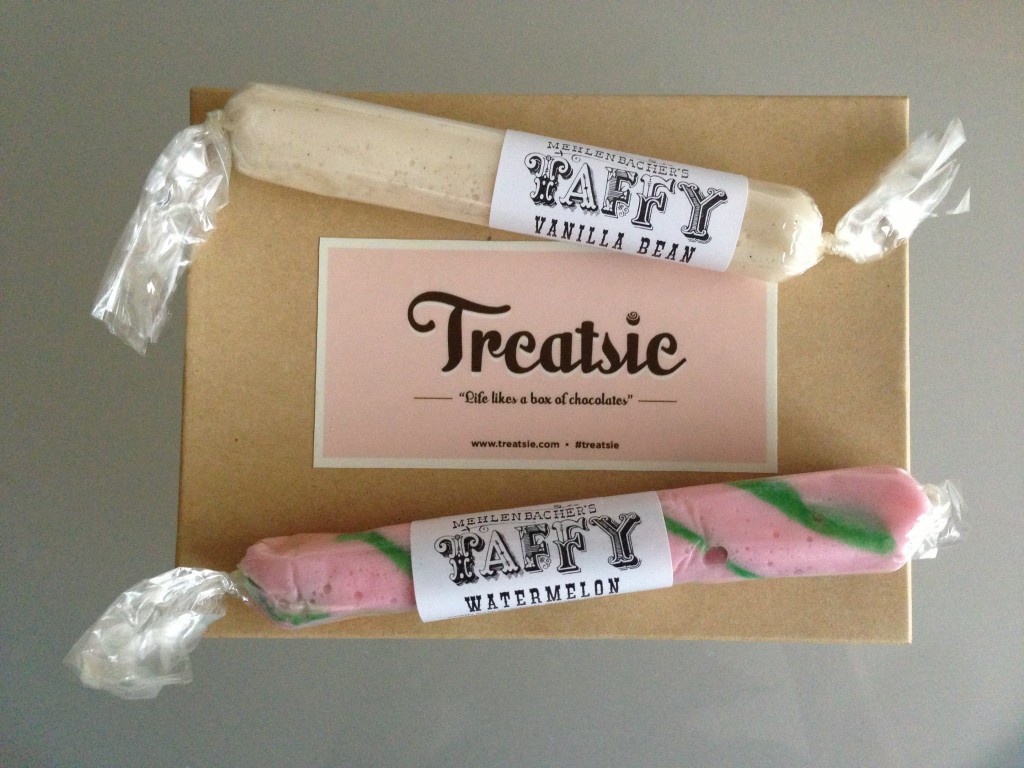 Mehlenbacher's Taffy in Watermelon & Vanilla Bean: I was surprised at the softness of these taffy sticks – for some reason, I expected them to be firmer. Maybe because of the stick shape? Well anyway, that doesn't matter because they are fabulous! The vanilla bean is wonderfully fragrant and the watermelon is super sweet – they're sure to satisfy your sweet tooth! The consistency of the taffy is fantastic and it does a nice stretching when you bite and pull. I did find getting it out of the wrapper a bit of a challenge, so I think I'm going to put them in the fridge for a bit to see if that helps. If had to choose between them, I'd have to say the vanilla bean wins out by the slimmest margin. (Hey Treatsie, if you're listening – I'd love to see you sell mixed packs so I don't have to choose! :-D)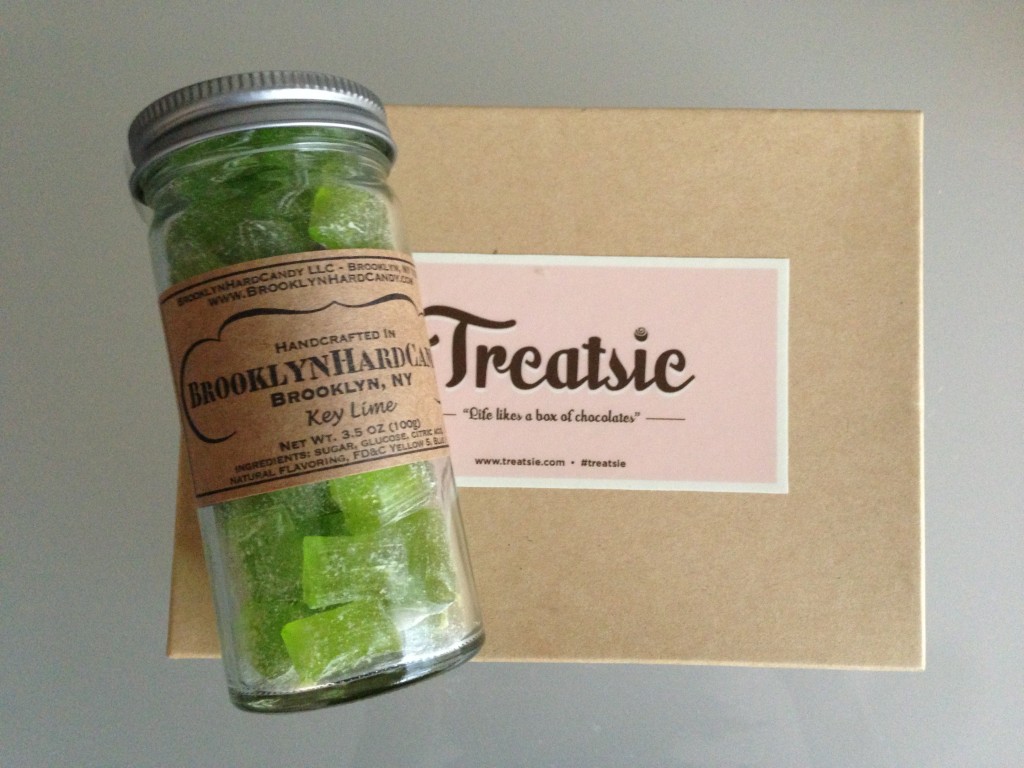 BrooklynHardCandy in Key Lime: Ok first of all, I adore this little jar. I'm not sure how I could reuse it but I totally will. I'm also very happy with the amount of candy in it! I've already gone through like 6 pieces and barely made a dent. This will last me! The candy is perfect to suck on and the flavor is sweet and refreshing. I like that it's not too overwhelming and you can bring this along on trips when you need a sugar boost. Unlike many other candies, you don't really have to worry about leaving these in the heat – they may stick together a bit, but it's pretty easy to break them apart. Great for summer road trips!
I'm pacing myself so I don't inhale the entire box in one day, but it's hard! Between everything my absolute fav (and this is a tough one) would have to be the sea salt caramel. It's so rich and wonderful! A veeery close second is the vanilla bean taffy. Yum!
Did you get a Treasie box too? What was your favorite item?
[This post contains affiliate links. Signing up through them helps support my subscription and I'd be ever so grateful. 🙂 All opinions are my own and I received no compensation for this review. I just purchased this box and wanted to share what I got!]
« Prev:365great Day 125: Couple
365great Day 126: blossoming tea:Next »