I had just mentioned how Treatsie seemed to not be using ice packs anymore, so of course I had to be proven wrong. 😛  This time, it was hot enough outside that it warranted some cooling packs again. The box came in an insulated bag with two ice packs that weren't solid anymore, but did their job along the way.
Treatsie is $15 per box + $4.95 shipping and comes with artisan candy from 3-4 brands (I am grandfathered in for $15 for 2-3 brands and fewer items). That means about 6 or 7 different flavors of treats (or 4 or 5 for me). Boxes are sent monthly with no option to skip. They offer a referral link program to earn store credit. Use my referral link to get your first box FREE!
Salty Road Salt Water Taffy in Peppermint: I would have preferred most of the other flavors that could have come in this box. Peppermint as a breath mint works for me, but for most other things it's just not a flavor I'd choose. These taffies are interesting, with their salt bits that is completely unique to a taffy. I love that idea and would especially like a caramel-flavored taffy.
Olive & Sinclair Buttermilk White Chocolate: The chocolate was not melted at all, which was wonderful. I wasn't really into the tangy sort of taste that the buttermilk apparently creates. Pretty sure I would have liked the sea salt dark chocolate flavor better. I like the firmness and smoothness of the chocolate though.
Brittle Brothers Gourmet Cashew Brittle: At first glance, I thought this product was a repeat. Turns out this is their cashew brittle whereas previously I had received their peanut brittle. The difference in nuts does matter! I can't compare how this one tastes next to the peanut exactly, but I think I prefer the peanut one slightly. Perhaps I'm just not use to cashews in a brittle. It's super nutty and I really like the sugary bits.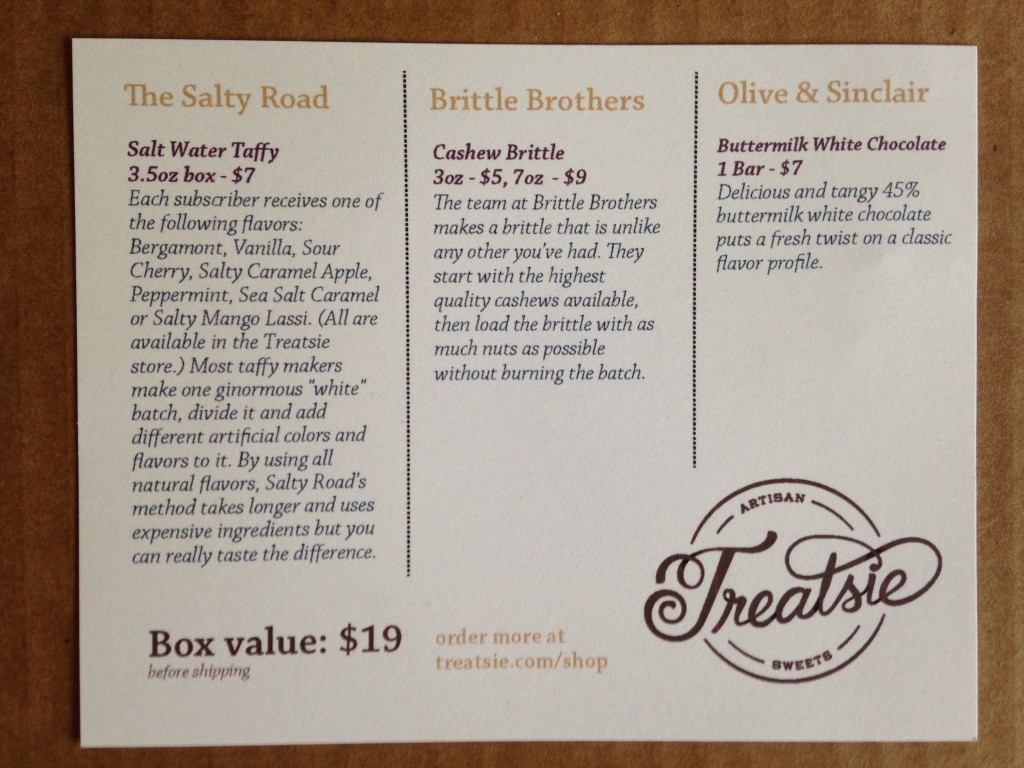 Flavor-wise, this was probably my least favorite box so far. Brand-wise I think it would have been more exciting for me if the flavors matched up to my taste better. I'll be sharing these with my co-workers or whoever wants them. Which of these treats is your fav? Sign up for Treatsie and get your first box free.

[This post contains affiliate links. Signing up through them helps support my subscription and I'd be ever so grateful. 🙂 All opinions are my own and I received no compensation for this review. I just purchased this box and wanted to share what I got!]
« Prev:Blinding
Homegrown Collective beeswax wood butter project:Next »