This month, the new premium version of Treatsie (which you'd get if you signed up after they changed their pricing) had a deluxe TCHO bar in addition to what I got. These bars are larger than the set of minis I have and include fun flavors like Galactic Gelato and Strawberry Rhubarb Pie.
Treatsie is $15 per box + $4.95 shipping and comes with artisan candy from 3-4 brands (I am grandfathered in for $15 for 3 brands and fewer items). That means about 6 or 7 different flavors of treats (or 4 or 5 for me). Boxes are sent monthly with no option to skip. They offer a referral link program.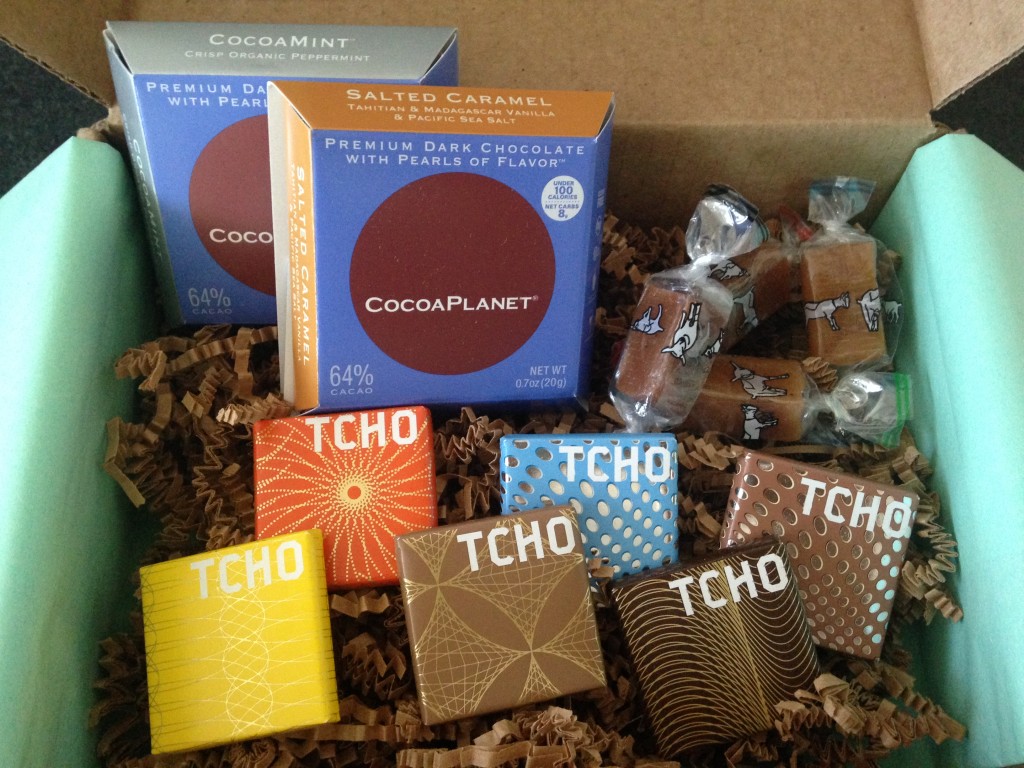 CocoaPlanet Salted Caramel and CocoaMint chocolate bars: I didn't understand the "pearls of flavor" until I bit in and found wonderful little pockets of caramel or mint scattered throughout the salted caramel and cocoamint bars/discs. It's a nice round chocolate "bar" and there are directions on how to make hot chocolate with it. I think that's a fabulous idea! I enjoy eating them as is too.
Big Picture Farm Cocoa Latte, Maple Cream, Chai, & Sea Salt & Bourbon Vanilla caramels: I'm not sure about the two with coffee and alcohol flavoring, since I like neither, so I think I'll share them with someone else. I loved the chai, which tasted wonderfully of chai and gave me a nice warm sensation. The maple cream tasted like a pretty normal caramel to me and it wasn't until I'd been chewing it for awhile that some of the maple and cream was noticeable. If subtle was their intention, they got that down.
TCHO Minibar Assortment: These are packaged beautifully and each comes with a fun description of the taste notes: there's the PureNotes dark chocolate – extremely rich and "chocolatey," the SeriousMilk "classic" milk chocolate with caramel notes, the PureNotes dark chocolate with layers of "fruity" notes, the PureNotes dark chocolate with light and "bright" notes, the SeriousMilk "cacao" milk chocolate with lush and fudgy notes, and the PureNotes dark chocolate with subtle "nutty" notes. Well, I know exactly what to expect with these! I've enjoyed the flavors I tried and I think these bars are a perfect little treat.
I'm still glad I'm locked in for the original box for now. I was plenty happy with the contents of this box and don't feel too bad about missing on a large TCHO chocolate. Do you like the contents of the box this month?
[This post contains affiliate links. Signing up through them helps support my subscription and I'd be ever so grateful. 🙂 All opinions are my own and I received no compensation for this review. I just purchased this box and wanted to share what I got!]
« Prev:How to store your lightning charger
Petit Vour March 2014 review:Next »