Trick or Treatsie!
Treatsie is $15 per box and comes with artisan candy from 3 brands. That usually means 5 or 6 different flavors of treats. Boxes are sent monthly with no option to skip. They offer a referral link program.

Alma Chocolates Thai Peanut Butter Cup & Salted Lavender Caramel: These are super cute little chocolates that are reeeeeally rich. The peanut butter cup was very smooth and definitely wasn't your normal American peanut butter flavor. I'm not sure I could eat these normally since it was so creamy. The salted caramel is delicious and I wish I could eat more but it's very strong too so half a piece is already more than enough. These taste like high-quality treats and I'd totally get more caramels.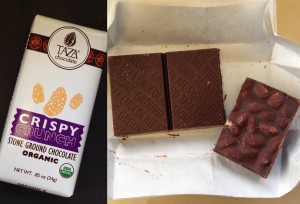 Taza Chocolates Organic Stone Ground Dark Chocolate Crispy Crunch Bar: This is an excellent crispy chocolate bar. It's like a healthy version of Nestle Crunch bars. I didn't even know they used brown rice in these! This is more of a dry taste, probably due to the bitterness of the dark chocolate and the crispiness of the rice.

Craftmade Toffee Almond Toffee with Milk Chocolate & Caramel Corn Toffee with Milk Chocolate: O.M.YUM I looove toffee and these are just fabulous. The perfect kind of sweetness and crunch with extra bits to balance out the flavor. The almond one is good but the caramel corn one is heavenly. Amazing! I must get more of the caramel corn one. Noooom…
I like that Treatsie's back to focusing on chocolates as the weather cools down. These are all wonderful fall candies that I can see myself eating with a nice mug of hot chocolate and a book by the fireplace (not that I have a fireplace). What do you think of these snacks?
[This post contains affiliate links. Signing up through them helps support my subscription and I'd be ever so grateful. 🙂 All opinions are my own and I received no compensation for this review. I just purchased this box and wanted to share what I got!]
« Prev:365great Day 223: desserts
365great Day 224: yoga:Next »