A great variety this time around and all tasty stuff in this Treatsie box! The items had a more fall feel, just in time for the cooling season.
Treatsie is $15 per box + $4.95 shipping and comes with artisan candy from 3-4 brands (I am grandfathered in for $15 for 2-3 brands and fewer items). That means about 6 or 7 different flavors of treats (or 4 or 5 for me). Boxes are sent monthly with no option to skip. They offer a referral link program to earn store credit. Use my referral link to get your first box FREE!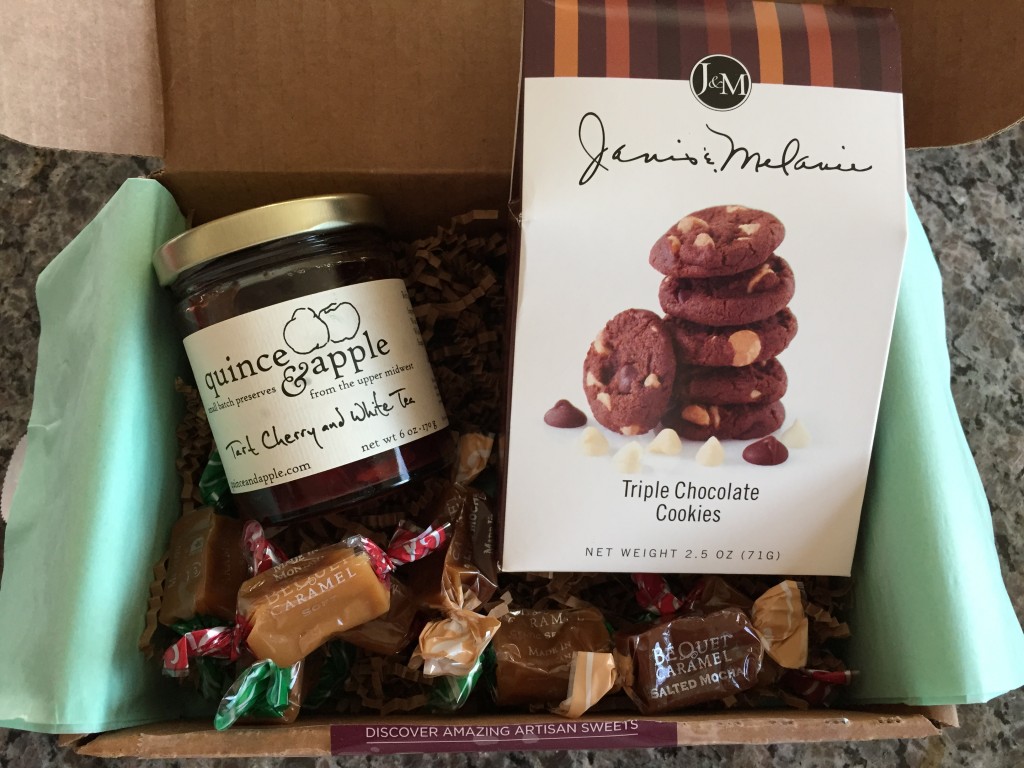 Quince & Apple Tart Cherry and White Tea Preserves: Hmm, this is an interesting flavor I wouldn't be able to describe! It's lightly tart and not overly sweet like many preserves. I like that it's a more subtle flavor and I'll have to find something to spread these on. It's so cool that it's made with tea and jasmine flowers.
J&M Triple Chocolate Cookies: Wow, they cooked these perfectly. The chocolate flavor, the crunchy texture, and the soft bits of chocolate chips is a wonderful combination. It's a rich flavor and not the dry crunchy cookie, but perfectly made for enjoyment. I shared these with my coworkers and we couldn't get enough of them.
Béquet Confections Classic Soft, Celtic Sea Salt, and Salted Mocha Caramels: We received these at the office last holiday season, so imagine my surprise when they showed up in this box! I love these caramels and was totally addicted to the bags we got last year. I sure hope we get more of these at the end of the year. They're tasty and there are a ton of great flavors.
I'm happy with the selection and I look forward to getting more of those cookies. What do you like best from this month's box? To get Treatsie, sign up with my link and get your first box free!

[This post contains affiliate links. Signing up through them helps support my subscription and I'd be ever so grateful. 🙂 All opinions are my own and I received no compensation for this review. I just purchased this box and wanted to share what I got!]

« Prev:iPhone 6 saga
Beauty Box 5 September 2014 review:Next »