When I first got this set of Garnier Fructis Hydra Recharge shampoo, conditioner, and "moisture-plenish" treatment to try for free, I didn't think much of it. I was pretty excited to get them as part of a BzzAgent campaign, but I figured it'd just be a nice way to replenish my hair care supply. Little did I know that I'd be completely wowed by the results!
Let's start with the basics: the Hydra Recharge line uses superfruits like goji berry, passion fruit, and kiwi – all of which fascinate me! I was really curious about what the combination might smell like and I'm happy to report that it's wonderful. If you want to understand it too, you'll just have to pick up a bottle for yourself and give it a whiff next time you're in the store. This line is meant for dry to normal hair, to make your hair weightlessly silky and hydrated. The shampoo has these cool beads in them that burst as you rub it in your hair – this is the first time I've seen this in a shampoo!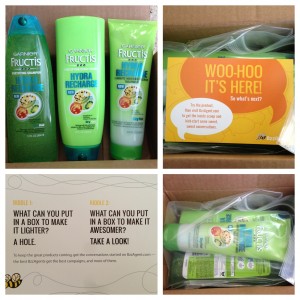 The first thing I noticed when I got the set was the new cap design. I used to struggle with the old Garnier bottles, which had the small round nub to push on. Very cool design, but hard to use when my hands were slippery. With this new cap, I don't have the problem anymore! It is very easy to open and close no matter how wet your hands may be. They managed to keep the aesthetic appeal of the ball yet improve functionality – bravo! Ok, now that you understand the facts, let's discuss how these products performed.
I've been using this haircare regimen for four weeks now and I'm still pleased with the way my hair has responded. The first couple of days I immediately noticed my hair felt much, much silkier. It was so much fun to swish it around! I tried to capture the newfound glossiness, but my camera didn't seem to pick it up very well. Once I got more used to the shine my hair had gained, I remembered that the results were supposed to last two days. I hadn't really gotten a chance to test that since I was showering daily, but when I did skip a day here and there, it definitely held up. My hair tends to get very oily very fast if I don't shower on a daily basis, so this was really good news!
Then came the real test – I was going on a flight and whenever I do, I always get uncomfortably dry, static-y hair. Would my newly hydrated locks hold up to this kind of pressure? My plane ride was a cross-country ordeal that lasted 5 1/2 hours and (did you guess it?) my hair came out just fine! It was amazing. This had never happened before. Now I'm just sad I couldn't bring my new regimen with me, because I'm going to be here awhile.
Even nearly a month in, I'm pleased to say that my hair hasn't gotten "tired" of the shampoo like it has with some previous products. You know that feeling, right? You get a new product that works great at first but then your body gets used to it or something and performance goes on a steep decline… this is what happened to me with Proactiv. Happily, I can report that Garnier Fructis Hydra Recharge has continued to perform well. I might just need to get a set to use in my new location.
« Prev:365great Day 19: cupcake in a jar
365great Day 20: packages:Next »