Yay it's Yuzen fall time! I'm glad that the weather is still acting like it's summer since I haven't gotten enough of the warm days just yet. But hey if fall has to come then what better way than with a lovely Yuzen box? 🙂 I got this before my UK trip but didn't have time to review it until now. As you can see, the lighting on my pictures got worse and worse as I lost sunlight. Ah, the new challenges of working away from home. So are you ready?! Here are the wonderful products from the August-October box (unboxing video coming).
Yuzen is now $33 per quarter (it was $26 before but now they started including more products with the seasonal frequency) and each comes with around 7 or 8 eco-friendly beauty, skincare, food/snacks, and home products. Boxes are sent quarterly (Feb, May, Aug, and Nov) with no option to skip, but you can get one-time gift boxes too. Sometimes there's a waitlist to get the subscription. They do not offer a referral program.
*Disclosure: As a super fan, I was invited to be the Yuzen Ambassador to help them spread the word about their brand. Starting with the October box, I began to receive them for free. I was not compensated otherwise and all opinions are my own, irregardless of my relation to Yuzen. I just happen to think they're awesome (as does everyone else I've heard from). 

This is the first time they're using the new packaging, so I wanted to show you that first.
Click on the pictures for the full sizes so you can enjoy all the details of each product!  You can even zoom in to read all the messaging.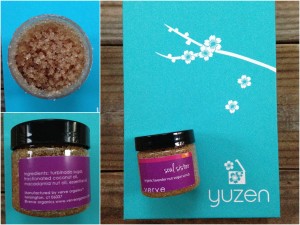 Verve Organics – soul sister scrub: I love me a scrub! This is the first one I've gotten that is dry like this, so that was a change. They have large grains of sugar so you can rub and rub and rub. I wasn't sure what to do with it – put some in my hand and get it wet or get the area I want to rub wet and start scrubbing. It was a new experience for me and I really enjoyed the nutty sweet scent. I do wish it was a little more held together by something liquid since it was hard to keep the grains from just falling away unused.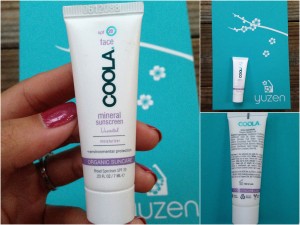 COOLA Suncare – face spf 20 unscented: I've used their cucumber facial sunscreen from one of the earlier Yuzen boxes and I have a similar sample of the rose scented sunscreen from Ipsy, so it's nice to have the unscented as well. I'm keeping this sealed until I've worked through more of my current sunscreens (which I'm not very good at doing since I always forget to apply them). If it's anything like the cucumber one, then I will like it because it absorbs really well for a light layer that doesn't grease up my skin.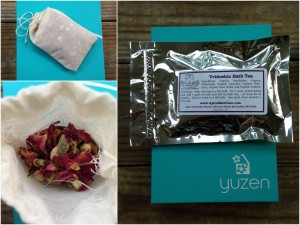 Ajara Ayurvedic Beauty – Tridoshic Bath Tea: This smells really healing! It's such a pretty combination of flowers and plants that it's a shame all of that is hidden in a muslin bag. I love that everything is organic and it's all plants that I recognize. I just took a tea bath recently so I'm not quite ready to use this one, but if I ever have a long day where I need some healing, this will be my first choice.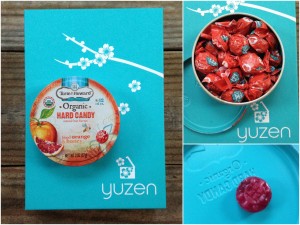 Torie & Howard – blood orange & honey hard candy: Yes! How could you go wrong with blood orange and honey in a candy? Make it organic and it's even better. I appreciate the individually-wrapped pieces since I was afraid I'd find one giant clump of hard candy (you know what I'm talking about). I love the packaging and the tin can is very well made. It's not hard to open yet the lid doesn't fall off. Great design right there. The candies have a cute little TH imprint on them and you can throw a few pieces anywhere you want them handy, or just take the whole tin along. 🙂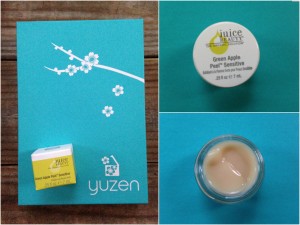 Juice Beauty – Green Apple Peel Sensitive: I have the Blemish Clearing version of the peel so I did a side by side comparison on my face. One half was covered with my original one and one half was covered with this one. At first the Sensitive one tingled more than the Blemish Clearing one, but then it soothed while the BC one continued to feel warm and tingle a bit. The formula for this one is milkier/creamier, which might be part of the soothing action. It smelled creamier to me too.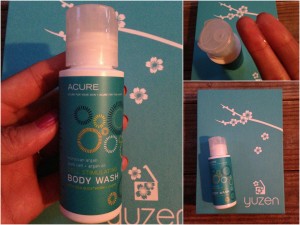 Acure – argan cell stimulating body wash: I really need to try a different scent from Acure! In the January Yuzen box we got the shampoo and conditioner in almond scent, which I found just didn't suit my fragrance preference. This body wash also smells like that so I'm going to have to pass on it and have Panda try it for me. I do like the concept of argan stem cells, though I have no clue what that means. I'm also just a little obsessed with sea buckthorn after the Sibu product in the December Yuzen box, so I wish I liked this scent.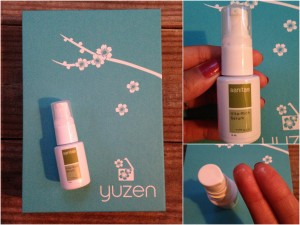 sanitas – Vita-Rich Serum: Part of their Moisturize line of products, this is a super rich serum. A single squirt was way too much for my face so it really packs a punch. I think two drops would have been more than enough for my entire face, so you can imagine that this would last a long time! Since I accidentally over-applied I had to rub it in for quite awhile. It still left my face a bit shiny since I couldn't absorb all that, so definitely be careful when dispensing it. This is probably best used at night for your bedtime routine.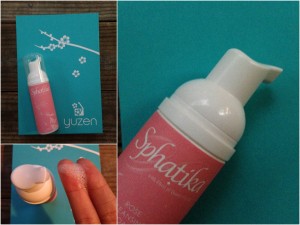 Sphatika – Rose Cleansing Foam: Ok, this already wins because it's a foaming dispenser. I get such a kick out of these and I really enjoy washing my face with pre-foamed cleansers. Elixir of quartz crystal sounds super fancy but of course is something I know nothing about. Nonetheless, I liked this product and found it to be very soothing. It's supposed to be gentle enough for babies so that makes sense! Apparently the Bulgarian Rose Oil they use is rare (and hey I've never heard of it, so it must not be that common).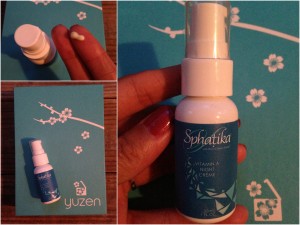 Sphatika – Vitamin A Night Creme: If you didn't get the foaming wash then you would have gotten this Sphatika product instead. It's a rich night creme with a nice light scent I can't quite place. I enjoyed the slightly flowery slightly herbal smell of it and found it to be very relaxing. It's anti-aging too, which is a nice bonus. I'm so glad I got to try both Sphatika products! Being a Yuzen Ambassador rocks. 😀
What a lovely healing box we got this time around, perfect for the transition to fall. These products offer more protection for your skin as the seasons change and your skin adjusts to colder weather (unless of course you live in a tropical or desert region!). I really get a sense of warmth from this set of products that's totally fitting for the change to autumn. I also love the new box design! The inner box is now going to house my nail polish collection and I'm sure I will find many uses as I accrue them.
Did you get this Yuzen box? Which version did you receive? What was your favorite product?
« Prev:365great Day 180: care packages
365great Day 181: remembrance:Next »