Getting closer to finishing this game of catch-up! Here's the January box, which was the last monthly box that Yuzen sent. In February they started the seasonal boxes sent out every three months, with a favorites box showcasing some of the items from previous boxes as a separate gift option. They tend to sell out quickly of all box varieties, so sign up quickly if you're interested!

Yuzen is $26 per month (but will be changing to quarterly as of the next box) and comes with around 7 or 8 eco-friendly beauty, skincare, food/snacks, and home products. Boxes are sent monthly with no option to skip. Sometimes there's a waitlist to get the subscription. They do not offer a referral program.
*Disclosure: As a super fan, I was invited to be the Yuzen Ambassador to help them spread the word about their brand. Starting with the October box, I began to receive them for free. I was not compensated otherwise and all opinions are my own, irregardless of my relation to Yuzen. I just happen to think they're awesome (as does everyone else I've heard from).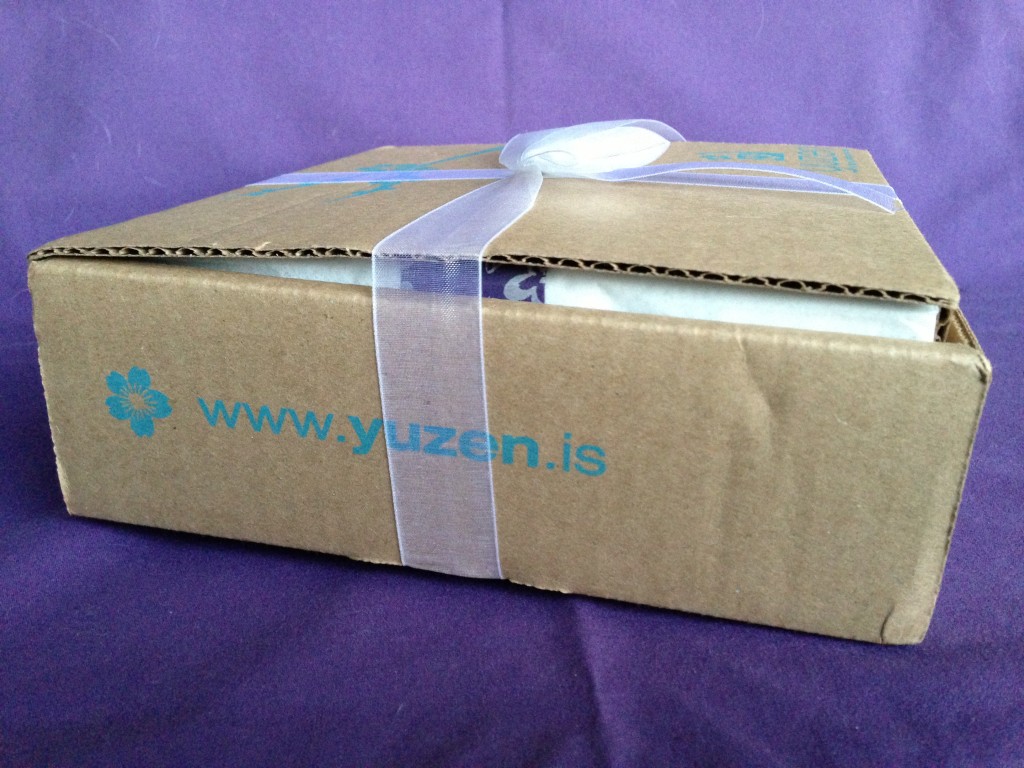 This time around the box was so full that it was nearly bursting at the seams! Look at how mine was bulging with goodness. 🙂 I didn't get a chance to get individual pictures of everything, so I've included what I have.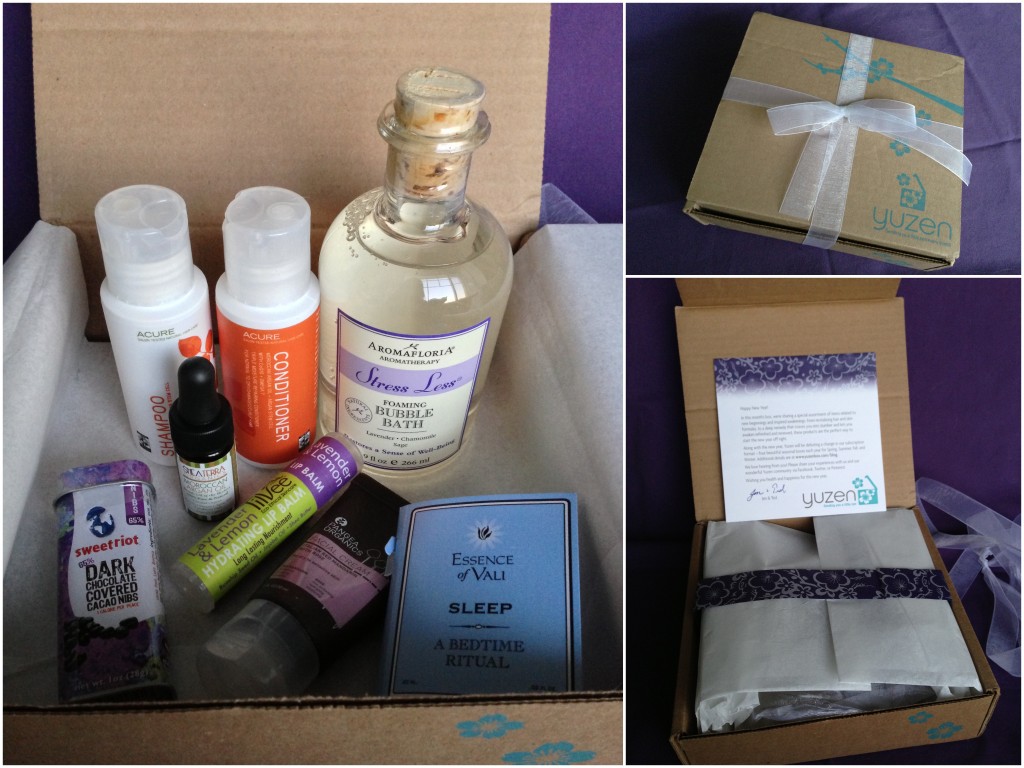 Click on the pictures for the full sizes so you can enjoy all the details of each product!  You can even zoom in to read all the messaging.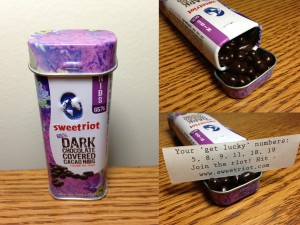 sweetriot – flavor 65: Let's start with the wonderful little snack! These dark chocolate-covered cacao nibs are 65% dark chocolate and amazingly crunchy. They're the perfect treat to pop when you want something nice and crispy, chocolatey, and delicious! The tube doesn't look like much, but just a few of these nibs is more satisfying than you'd expect for eating so little. I love the 65% taste that's not too bitter and still a bit sweet. These taste like a high-quality product and I'd try their other products too. I was nearly done with them when I discovered the cute little "fortune" note inside! This company's got personality. 🙂
Tilvee – Lavender Lemon Lip Balm: I have a ton of lip products so I haven't tried this yet but I'm excited to. I loved the healing balm that came in the August Yuzen box and I'd be happy with any of the Tilvee line! I like both lavender and lemon, so I can imagine this would make my lips feel great and smell/taste quite lovely too. I'm working through my current stash of lip balms and will pop this one open ASAP!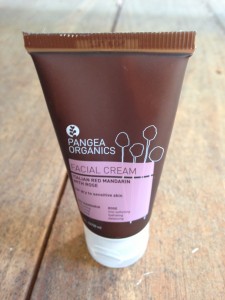 Pangea Organics – Italian Red Mandarin with Rose Facial Cream: Pangea is a brand I'm fascinated with and I'm glad to get to try their products. Similar to my lip balm dilemma, I have a looot of facial creams I need to use up, so I've kept this one sealed to be as fresh as possible when I do start using it. I'm curious how strong the rose will factor in, since I generally don't like that fragrance (except real roses on bushes), so hopefully it's mostly the mandarin scent that comes through! I'm starting to think I might have sensitive skin so this would be great to try.
Essence of Vali – Sleep essential oil concentrate: This little vial is an essential oil blend that's supposed to help you get to sleep and be more comforted during stressful times. Apparently it's so powerful/effective that you just put one drop on your pillowcase! I sure wish I brought this out east with me because I've had trouble sleeping at night and I'd love to see how effective this might be. At first I thought it was a perfume sample, and I nearly dismissed it, but once I learned more I found it's definitely something I'd put to good use if it works!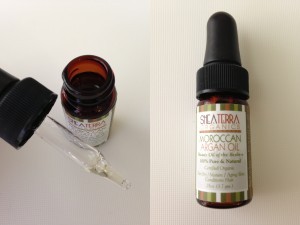 SheaTerra Organics – Moroccan Argan Oil: I have a large jar of argan oil for my hair, which I've been using here and there for ages. However, I'd never tried it on my skin before and this adorable little bottle with its dropper cap makes me want to dot oil on all my rough skin and rub away! Then again, I don't really much rough skin these days since I've been taking better care of my body. Still, I enjoy rubbing this on and it almost doesn't have a scent – just a faint kind of herby smell if you take a good hard whiff.
Acure Organics – moroccan argan oil + argan stem cell shampoo & moroccan argan oil + argan stem cell conditioner: I'm not really into almond-scented things and unfortunately this is no exception. I tried the products once or twice but couldn't stand the smell so I haven't used them since and I was too busy being distracted by the smell to know if it actually worked any better than my current hair products. Plus, since I only used them twice I don't know if I would have noticed a difference or if I'd need a few more washes to get a good idea. Whatever the case, I'm going to have to pass this on to my family and get their feedback. I'm sure they don't mind the almond smell!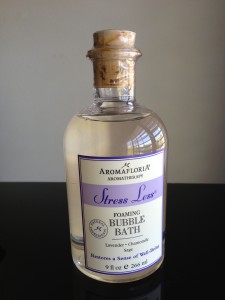 Aromafloria – Stress Less Foaming Bubble Bath: So this is what was making the box bulge so much! A nice GIANT bottle of bubble bath that I cannot wait to try out in the new condo someday. I can't remember the last time I took a bubble bath, but I'd love to and the tub I'm going to get is nice and large, with plenty of room for bubbles to foam up without overflowing. Lavender, chamomile, and sage all sound so soothing and nice that I'm sure it be a perfectly relaxing scent. I'm eager to find out just how well this foams up when I put it to the test.
And there you go, the January box, with so many fantastic products to promote relaxation, destressing, and keeping your skin in tip-top shape.
« Prev:365great Day 142: future plans
365great Day 143: zero gravity chairs:Next »