I got involved with BzzAgent towards the end of last year and recently started getting some offers through it!  It's been pretty exciting and I wanted to share my first FREE product: MorningStar Farms veggie burgers. I was sent a coupon for a free box and I opted for a very delicious-looking Grillers Chick'n Veggie Patties.  Since my mom was home, it took me awhile to finally getting around to cooking for myself and it turned out great!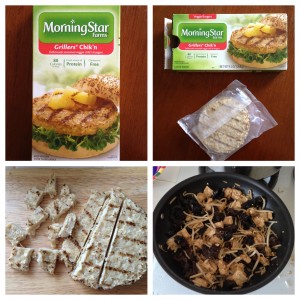 I made a quick and easy stir fry with two Grillers Chick'n patties, some bean sprouts, and some wood ears (so very Chinese of me).  I liked that the packaging was split up into two separate plastic bags so I don't have to worry about the other two patties getting frosty.  When I first opened the plastic bag, the smell of the patties made my mouth water!  It doesn't really need any extra seasoning at all.  When I got to cutting, I realized that I probably needed a sharper knife since I got a bit of mush as the patty defrosted.  Apparently butter knives don't cut it (haha).
So here's my oh so simple recipe, Chinese style (aka no exact measurements)…
Ingredients:
1-2 MorningStar Farms Veggie Patties in the flavor of your choice (depends on your appetite – one is plenty for lunch and two is great for dinner or to share)
2 handfuls of veggies chopped up and ready to stir fry
1 dollop of soy sauce (if you must add some stronger flavor)
Instructions:
1. Chop up the patties & veggies into bite-size pieces.
2. Heat up a wok or stir fry pan and dump in all ingredients.
3. Stir around so nothing burns and turn down heat low if needed.
4. After stirring for awhile, throw on the extra sauce as desired.
5. Turn off burner and enjoy with rice, rice porridge, or alone!
Yup, and that's how cooking goes in my household.  It came out pretty well, though with the strong flavor, I didn't need the soy sauce.  I definitely want to try it as a burger next time.  You should give it a try sometime too! 🙂