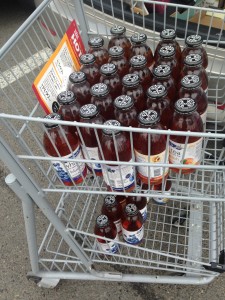 This morning I had a massage scheduled at Massage Envy and when I was done, I decided to swing by Whole Foods to see if any of my drinks were on sale. There are a couple of brands of bottled drinks that I like to get there, but only when they're on sale so I can combine that with the store's case discount (buy one case, get 10% off). I was happy to find my favorite bottled tea brand, Inko's, on sale. I immediately grabbed a dozen each of my go-to flavors: blueberry and white peach. Then, as I was checking the price, wondering what the original price was, I noticed the tags said clearance price. Now per my understanding, when something goes on clearance it's not coming back. Sooo I tracked down someone who worked there to check and was heartbroken to learn that they are discontinuing this brand from their store.
Apparently they'd been trying to reorder it but couldn't seem to get them from the company? Well, whatever the case, I was told that what was on the shelves was all they had and there'd be no more. Upon hearing this, I immediately went to get another dozen drinks, clearing them out of the rest of the blueberry and white peach and also getting some honeydew and original to try. The shelf was about half empty by the time I was done. As I pushed my cart out, the bottles jingled and jangled against each other and I was glad that I checked today.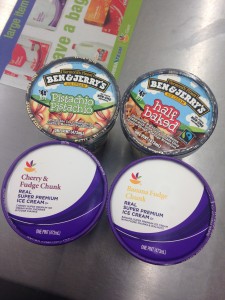 Then after dinner tonight, I had a craving for ice cream. Panda mentioned a deal Giant is having where you can get a free pint of Giant's own brand of ice cream when you buy a pint of Ben & Jerry's. It's their way of having you compare their brand to the brand name (and hopefully adopt their ice cream as your new fav). When we got there, we found that Ben & Jerry's was on sale, so we decided to both choose our own flavors. We ended up getting 4 pints of ice cream for just $7.18 with tax! Now that's a pretty sweet deal.