It always seems like I sit on my Yuzen boxes for a long time before I finally get the review out. Don't know why that keeps happening, so I'm finally getting this done before summer is truly upon us! I filmed the video for this a week and a half ago and it should be showing up on Yuzen's YouTube channel in a few days. But hey, you get to see what comes in the box here!
Yuzen is $33 per quarter (with boxes sent Feb, May, Aug, and Nov) and comes with around 7 or 8 eco-friendly beauty, skincare, food/snacks, and home products. Boxes are sent quarterly with no option to skip, but you can get one-time gift boxes too. Sometimes there's a waitlist to get the subscription. They do not offer a referral program.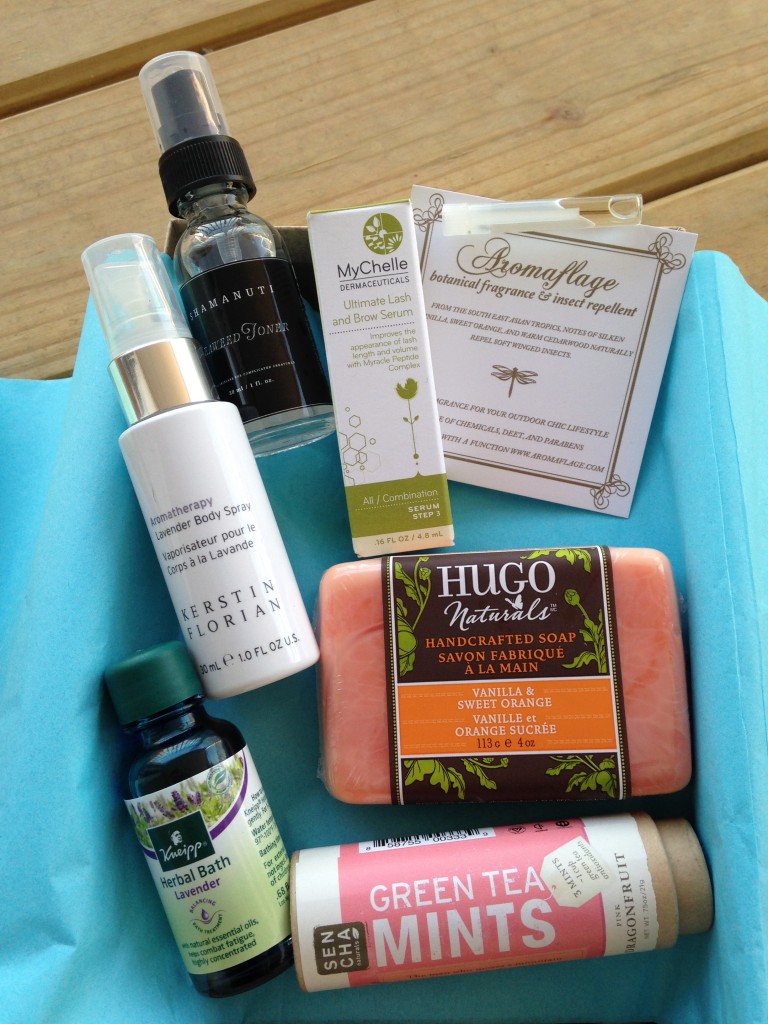 Shamanuti – Seaweed Toner: I'm a huge fan of sprays and mists, so this toner is just fantastic. It has a light scent that is wonderfully relaxing and has a very soothing effect. I like how it's ocean-inspired with the kelp they use. Some great skincare comes from the ocean! I did accidentally overspray myself at first because one push of this sends out a lot of product. I learned to hold it at a much further distance to get better coverage. Use code yuzenlove by 8/31/14 for 20% off at Shamanuti.
Kerstin Florian – Lavender Body Spray: Wow, this was a major surprise when I tried it. I thought it'd just be a normal spray, but what I got was a sheen of ultra-moisturizing amazingness. A gentle rub into the skin and felt soft and smooth. This is fabulous! I love how the spray head allows me to quickly moisturize my skin with a spray and swipe. That's all it takes to absorb and heal my skin. I'm very impressed. Use code ZEN20 by 9/30/14 for 20% at Kerstin Florian (restrictions apply).
Kneipp – Herbal Bath in Lavender: What a relaxing bath additive. Lavender is the perfect choice for a bath and this bottle of concentrated goodness promises a most excellent bathing experience. Of course I still need to get around to drawing a bath in the first place… I'll probably end up doing that within the week, since I've been so drained and I could use a good soak. Just smelling it in the bottle is helping ease my mind already. Use code Yuzen14 by 12/31/14 for 10% off the full size product at Kneipp.
MyChelle – Ultimate Lash and Brow Serum: I like this brand and I certainly like the idea of increasing my lash length. This is a small tube, but I'm sure it will last quite some time since you barely need any each time. I've applied it to my lashes and I hope it works! It doesn't smell or feel like anything, though it did tingle a bit when it was drying. The consistency is liquidy enough to come on easily and we'll just have to wait and see for results. Use code YUZEN25 by 2/1/15 for 25% off at MyChelle.
Aromaflage – fragrance & insect repellent: Ok, this has got to be the most unique thing I've seen! Taking a fragrance (aka perfume) and making it an insect repellent too? What a brilliant way to make something I'd never care for (perfume) into something I'd actually consider! The scent is very special, with a warmth and citrusy notes. When the bugs start coming, I'm totally using this as my insect repellent. I mean, who wants to go out smelling like bug spray, right? Might as well disguise myself as a fine lady with this scent. It smells more down-to-earth than your typical perfume fluff too. 🙂 Use code Yuzen2014 by 7/31/14 for 15% at Aromaflage.
Hugo Naturals – Vanilla & Sweet Orange soap: This is a brand and scent I've tried, not as a soap, but as a lotion. Funny enough, that was the same box I got my first taste of MyChelle from too. This is a generous full size bar that will last me ages! I'm saving it until my current soap is done so it doesn't lose any of its scent or go through too many cycles of drying out and getting wet. I like the sweet scent of this bar that's perfect for cleaning my body and giving me a fresh smell. Use code VSO20 by 8/31/14 for 20% at Hugo Naturals.
Sencha Naturals – Pink Dragonfruit mints: How random that just after receiving these, I was in a store and saw them being sold! Was it just that I had never paid attention before? Granted, it was a completely new store I was in at the time. Whatever the case, funny timing. I love the leaf shapes they use and that they incorporate green tea to help with bacteria (and of course give you some antioxidants). This flavor is sweet with a mint that comes later and lingers nicely. Use code YUZEN15 by 7/31/14 for 15% off at Sencha Naturals.
I definitely feel more prepared for the warmer months, what with insect repellent and super healing products for my skin. And hey, I might just get some longer lashes too! What items are you most interested in from this box?

*Disclosure: As a super fan, I was invited to be the Yuzen Ambassador to help them spread the word about their brand. I now receive the boxes for free. I was not compensated otherwise and all opinions are my own, irregardless of my relation to Yuzen. I just happen to think they're awesome (as does everyone else I've heard from). 🙂