The June Goodies box just arrived and I am loving it! It's full of crunchy delights.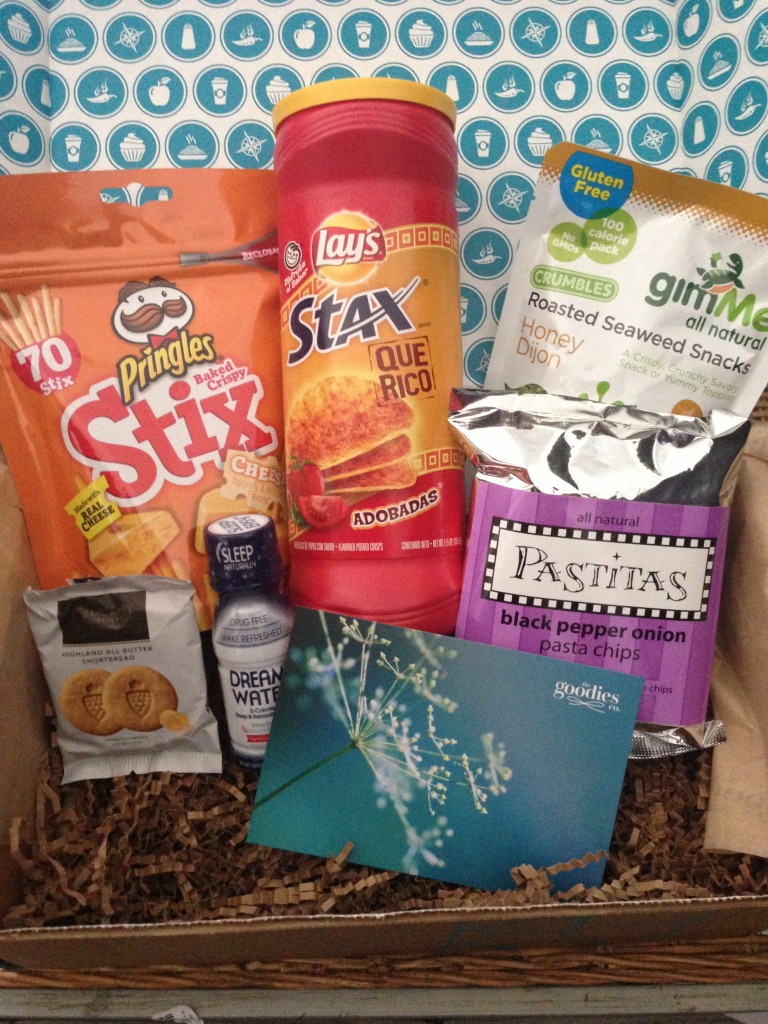 The box came with Pringles Baked Crispy Cheese Stix, Lay's Stax Que Rico Adobadas potato crisps, gimMe Honey Dijon Roasted Seaweed Snacks Crumbles, Duchy Originals from Waitrose Highland All Butter Shortbread biscuits, Dream Water SleepStat Nighttime Nectar Sleep & Relaxation Shot, and Pastitas Black Pepper Onion Pasta Chips.
The Pringles Stix are a very strong cheese flavor and I think they'd be great with something else, but on their own they are overwhelming for me. The Lay's Stax are delicious and a wonderful texture – definitely something I would eat again in the future! I love the taste that is salty with a hint of sweet and some fragrant herbs. I'm pretty sure they're baked since they're not greasy at all. The gimMe seaweed crumble smells fabulous and tastes good, though the dijon flavor is a bit strong. This would be perfect with a bowl of rice or something a bit bland. I'd love to try their other flavors! As for the only sweet thing in the bunch, the Duchy shortbread cookies are lighter than I expected and less crumbly than most shortbread I've had. There's a rich butter flavor and I would love to make a cup of tea to pair these with. I am saving the Dream Water to try when I need help sleeping, but I expect it to be mildly sweet and hopefully effective. Finally, the Pastitas pasta chips are such an intriguing crunchy-ending-in-chewy texture with a lovely pepper and onion taste. They're light and not greasy, flavorful but not too salty. A great replacement for your current fried potato chips!
Goodies Co. included a lovely assortment of crispy, crunchy items this month and it very well could have been their theme. Now the June box has become my favorite from them thus far, since I was interested in each and every item included! Some hit home more than others, but I am glad I got each to try. Bravo!