Yay for Greece! I love the wide variety of products, many of which feature olive oil, of course. Nothing looks familiar but it's cool to see some Greek on the packaging.
Escape Monthly is just under $40 per box (with code for 20% off your subscription – see end of post) and comes with a variety of food, home, skincare items themed around a city/region. Each box comes with a guide for that area. Boxes are sent monthly with no option to skip. They offer a referral commission program.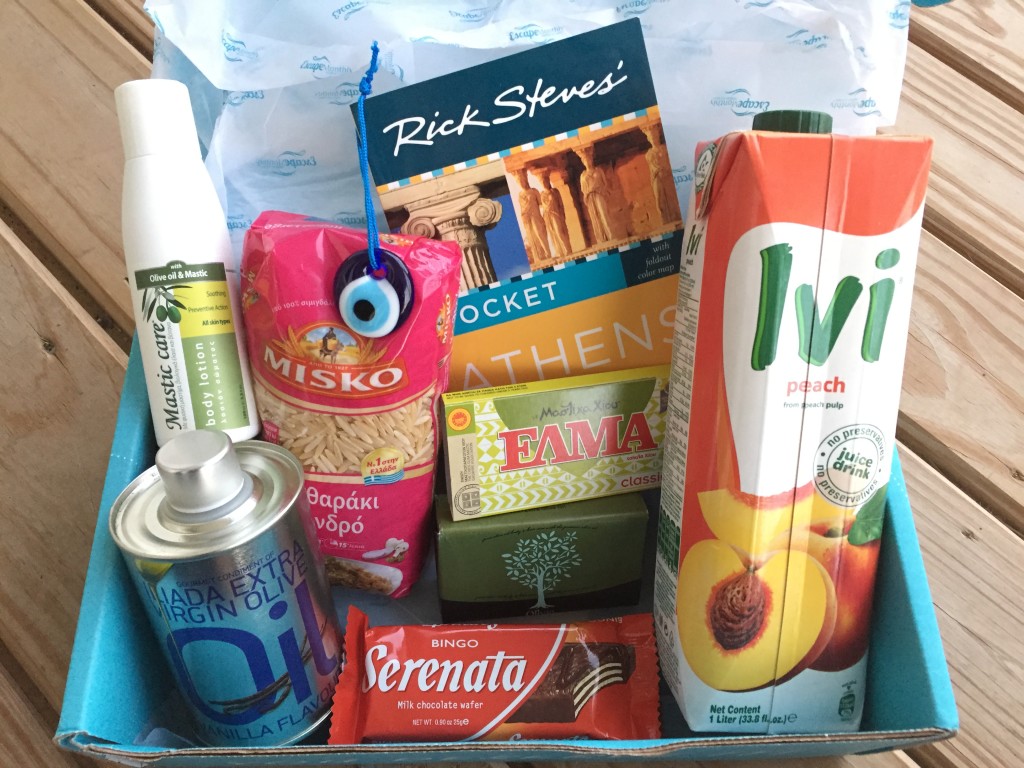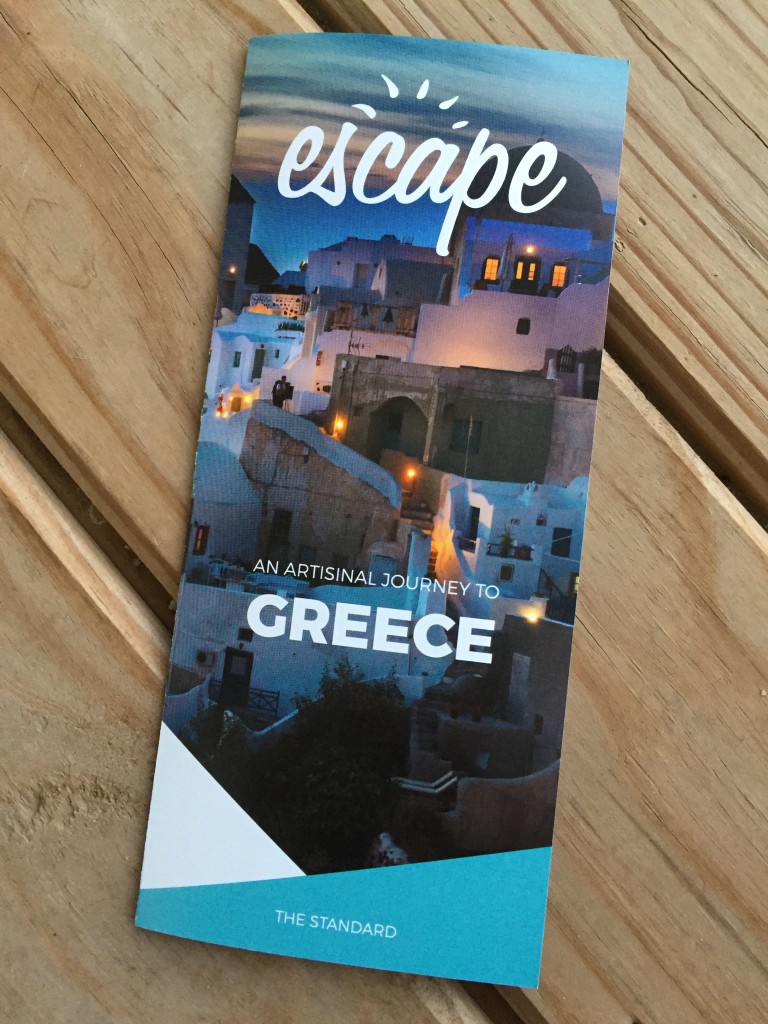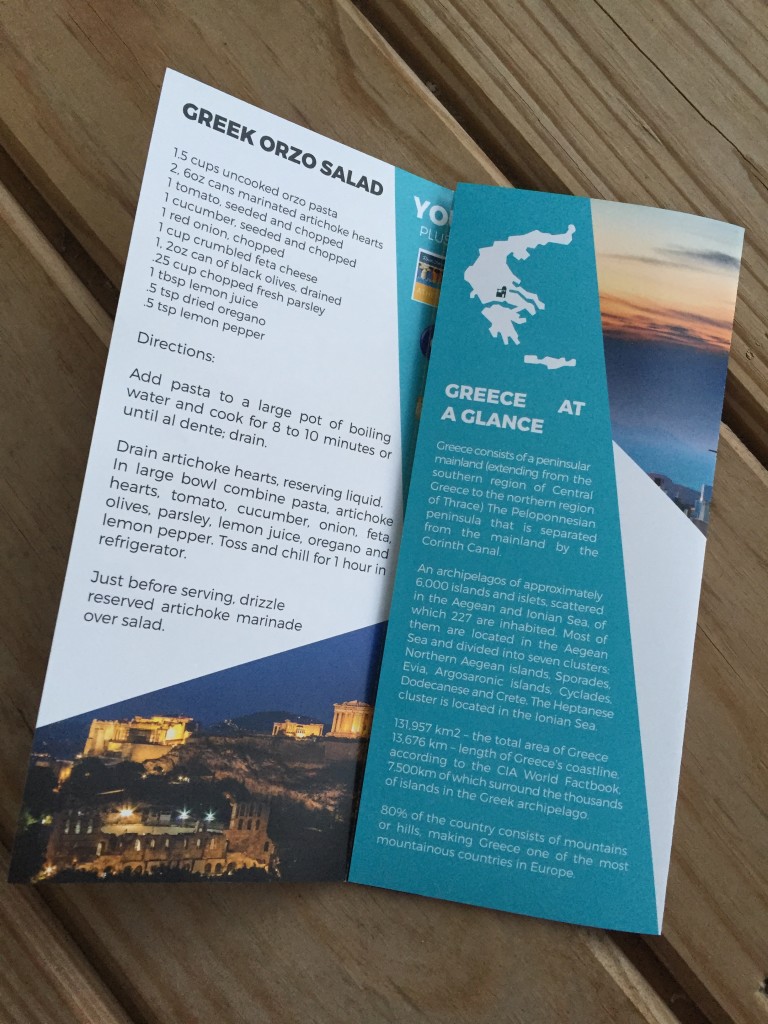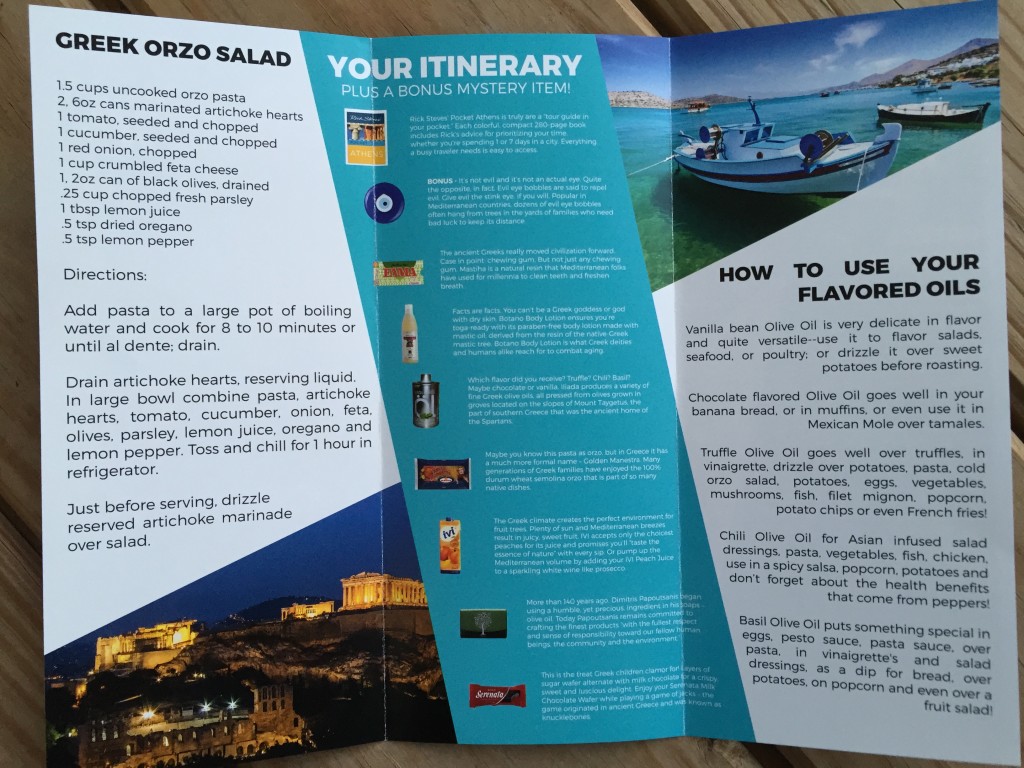 (click to enlarge and read full messaging)
It shouldn't be a surprise that there were plenty of awesome food items and I love that I'll be able to make a dish or two to really get that sense of Greece.
Here's what came in the box:
Mastic care body lotion – I can smell the plants in this as I rub it in. It is very smooth and instantly softens my hands. Feels great and I think I'll use it for lotioning up after showers to lock in that moisture.
Iliada extra virgin olive oil in vanilla – Whoa, I had no idea olive oil comes in flavors! Love it. I like the vanilla one I got, which should offer a nice fragrance and a hint of sweetness to my food. I'll try cooking with it as well as making a dressing to try.
Misko orzo – I've never cooked orzo and I'm excited to not only try the salad recipe (with some modifications for my taste), but also make some lemon orzo soup. I'm a fan of that soup at restaurants and I'd love to make my own version.
glass evil eye – Not much evil to ward off here, but I like trinkets like this so I'll find a place to hang it for good luck. It reminds me of a bar in York called Evil Eye, which was a really fun quirky place.
Rick Steves' Pocket Athens – I'm going on a Europe trip this year, but won't be making it to Greece this time. I look forward to returning to Athens though, and perhaps being very well-prepped if I read this guide!
Elma gum in classic – Cool, gum inspired by ancient times in Greece. This is another product making use of mastic trees. I've never heard of them before!
Olivia olive oil soap – Olive oil should be good for the skin and hair, so I might just rub this on my head too. I'm not a huge fan of the scent, but it's not too strong so that's not a big deal.
Bingo Serenata milk chocolate wafers – What fun! These remind of Kit Kats and I'm glad we got two. I enjoy chocolate wafers for the combination of taste and crunch.
Ivi peach juice – No wonder this box was so heavy! This giant bottle of juice is nice and the packaging makes me think of Ribena and other squashes (which you'll easily find in the UK). I love peach products and I've put this in the fridge to chill.
Greece was a great choice and I'm happy with the products. I look forward to where the next box will take us! What items from this Greece Escape Monthly box do you like most? If you want to sign up, be sure to sign up for their newsletter to get a code for 20% off the lifetime of your subscription.
[This post contains affiliate links. Signing up through them helps support my subscription and I'd be ever so grateful. 🙂 All opinions are my own and I received no compensation for this review. I just purchased this box and wanted to share what I got!]