After Panda and I got to spend some time in Rome and the surrounding area, we learned a lot about Italian culture. I don't seem to remember much of it from my first time in the country, either because I didn't experience things the same, didn't notice that time around, or forgot after all these years. I mean, it's been 8 years! So here are some observations about how Italians seem to live their lives – while I still remember them all.
-They say "prego" a lot. Apparently this is a word that can mean many things in many contexts, so it is both highly useful for those who know it and highly confusing for those who don't. Half the time I was wondering what the prego was supposed to imply in each given situation. The only one I got a hang of was when service folks used it to see if you needed anything. I'm pretty sure Panda used it a few times at times when it made no sense. 😛
-There are a lot of smokers, everywhere. At least they are on the streets and not inside! I'd forgotten how many more smokers you encounter on the streets of Europe and it's really rather unpleasant. I'm always holding my breath, ducking clouds of smoke, and hoping I don't stink of it myself by the end of the day.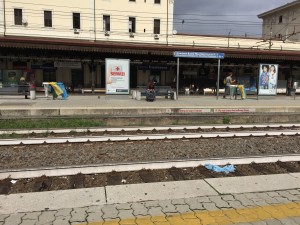 -Public transportation (and life) seems pretty lax. We got on many a train where our tickets weren't checked at all. Not sure if the underground metro worked the same since we never ended up using that. The schedule generally works well, but the last night, we had a train that was 85 minutes late! At one point I found myself wondering why I wasn't upset and why nobody else seemed upset either. That also seems to go with the generally lax approach. For us, it was because we were on vacation and just heading back to the hotel. No need to fret. For locals, perhaps they never even considered it a problem.
-Personal space is either nonexistent or like a one-inch radius from your body. I had multiple instances where people got too close for comfort, but they didn't seem to notice a thing. At first it was just a couple who sat at the same bar stool area that Panda and I were eating at in McDonald's (yes, we tried a local one). Out of all of the empty areas in the restaurant, they chose to be two seats away from us at the same table. I would have gotten a table to ourselves. Then there was a guy on the bus who swayed with the turns of the vehicle. Sometimes that meant bumping into me, despite the fact that he had a good two feet in front of him and even more to the sides. It was especially cringe-worthy because he reeked of cigarette smells. He also managed to brush hands with Panda when they were holding the same pole. At our stop, we both got off relieved to have some breathing room. Finally, there were the people who sat directly behind us on a long bench even though the entire rest of it was empty. And it was a loooong bench! I mean, you could easily seat at least 20 people on each side. Why did they have to come back to back with us, leaving just inches between our bodies? I don't get it. Maybe I'm too Americanized. Funny enough though, this is something I expect in Asia, so I might not even notice it there.
-Street performers and hawkers are abound. Tons of musicians will perform all over the place and random people walk up to you casually selling battery packs for your devices, selfie sticks, flowers, or toys. For these type of people, the best policy for me has been no eye contact. Once you give them attention, they won't leave you alone!
-In Rome for sure, but maybe more of Italy, they have little water spigots all over the place, which act as water fountains. The water never stops running out of them and you can go grab a few sips or fill up your water bottle at any of them. In fact, I remember my tour guide from my previous visit mentioning that all water fountains in Rome have drinking water – except Trevi Fountain. So hey, you really can't go thirsty, can you?
And when it comes to food, oh my! What a difference…
-First of all, they have some interesting outdoor seating. Oftentimes it's a few tables and chairs that are actually on the road, off the curb. In more busy areas, they have a little barrier to create a sort of "room" for people to sit in. This would be life-threatening in the states, but in Italy it's the norm!
-Just about every restaurant has morning and evening hours, with a break in the middle. Between 3-7, your meal options are very limited, so if you like to have dinner at 5 or 6, you better do your research. Dinners start late and go late in this part of the world. Personally, I'd rather eat earlier and get home.
-As you get each course, they tend to take away the food of the previous course. It seems irrelevant if you've still got a hunk of food on your plate. At first we were startled by this, but now I make sure to explain that I haven't finished. I'm partial to eating a little bit of each course and switching between more than one at a time. This is why I love tapas, izakaya, dim sum, etc.
-This is the land of "beware what you ask for." They tend to charge for all things, including bread, water, and sometimes even olive oil. If you really don't care for it, don't ask for it! Just say no (or no thanks).
-Menus are quite set (little to no flexibility to request modifications to a dish) and very seasonal – to the point that it's a day to day, hour to hour kind of thing. That means that you can look forward to much fresher options, but it also means that the awesome picture you saw on Yelp may not be applicable to your visit. (Yes, that happened to me. Sad times.) I've seen some restaurants with very strict rules on ordering with no straying from exactly how the dishes are offered. The chefs are in control and rather finicky too. I'm not used to such particular ways and it doesn't bode well for a picky eater like myself.
-Service is always slow. I'm not sure if it's because of the relaxed pace of life or the fact that these establishments appear perpetually understaffed. Or if they're "understaffed" by American standards because everyone takes it slow and they don't need to go any faster. Either way, we've had to plan extra time for meals because we know it will take forever to get our order in, get leftovers boxed, and finally receive and pay our bill.
So there you go! Some of the lessons learned from our observations of how Italians do things. Have you experienced this too? What did I miss in my list?