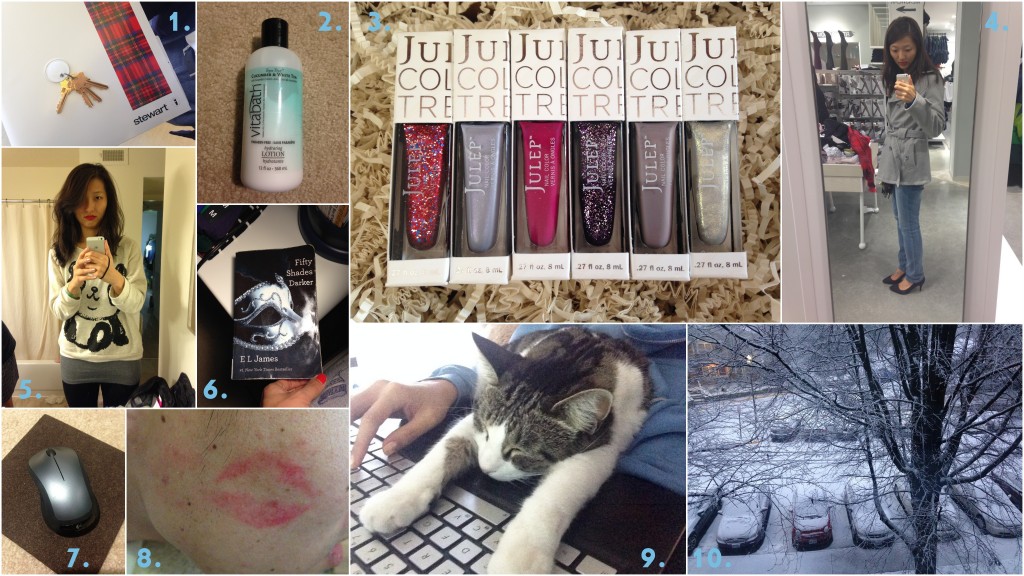 I nearly forgot to get this together before the month was over! Oh boy, it's already time to think about Jan favs and I'm still putting together the Dec ones…
1. home ownership – As of Dec 13th, 2013, we officially became homeowners. The keys were handed to us and since then we've been slowly planning the move. Meanwhile, all our neighbors are in and everyone is wondering when we'll finally get into this condo they keep hearing about. 😛
2. VitaBath lotion – I got this in my Influenster Rose VoxBox in the fall and boy do I love it! I've been using it frequently after showers and I absolutely adore the lightly sweet scent that is also cooling and fresh. Even with frequent usage, I've barely used up a quarter of it and it's wonderful how long it's lasting me.
3. Julep – I finally caved and got Julep when they came out with a mystery box I couldn't resist. I was totally impressed by it and will definitely get more, plus I've subscribed as a Maven to get some new nail polish colors every now and then. I actually really like the beauty products that Julep makes and will use my subscription as a way to explore them.
4. Wrapp deals – When I first found these shoes, I took that picture to remember to look for something similar. Then I got a great Wrapp gift card deal for something like $12 at Charlotte Russe (which cost me and Panda nothing to send to each other) so I ended up getting that exact style of shoe for a fantastic price. I only take advantage of the free offers in the app, which saves me a good amount.
5. sweaters – Well, my first proper winter in over a decade prompted me to go out and buy some sweaters to wear. I was also goaded on by Autumnfall, who laughed when I showed her what I considered to be a sweater, all proud that I finally bought one. I've since gotten ones that even she can't dismiss as not "real" sweaters. 😛
6. reading – For that period when my life was a hot mess of confusion, I escaped into reading again. My childhood was filled with books and it was nice to get back into it. I hadn't read fiction in many years, whenever that 4th Harry Potter book came out. I was surprised that I blew through the 50 Shades series the way I did (I thought I'd long since lost patience for fiction since it's not a business book that I can learn a ton from).
7. wireless mouse – The touchpad on my new laptop gets wonky at times (kind of often). Thankfully, a wireless mouse makes it easy to move the mouse around and strains my fingers, hands, and wrists less. I'm rather particular about the feel of the mouse and I'm glad I found this one for my personal use. I even have a blog post drafted for my pickiness when it comes to this and what I look for in the perfect mouse.
8. red lips – I went through a few weeks when I experimented with bright red lips. It was fun, bold, and playful. I even tried making lip prints like this one on Panda's cheek. Prior to getting that red lip crayon in my November Ipsy bag, I probably only used red lipstick twice before. Now I'm much more comfortable with something attention-grabbing like that, but usually only at night, special events, and the weekends. Still not a normal thing for me.
9. cat time – Going home for the holidays and spending time with Missy again was amazing. I can't wait to settle enough to bring her over here. Having a cat around calms me and gives me something relaxing to do whenever I'm home. There shall be no ennui when I can cuddle with my kitty or play around with her. I absolutely love waking up to a cat on my chest or next to my legs, though I may never want to get up for work (or anything else) again.
10. snow – This was before the intense polar vortex/arctic chill madness. It was exciting to get snow again and get to sit by the window and watch it fall down. I'd be happy to get stranded indoors for a few days from a snowstorm so long as I have heat and food. 🙂
Oops, I left out a picture from frolicking at the beach, but I had a whole blog post on that so you can check them out. Returning to Los Angeles was wonderful and a much-need reprieve from everything else. What did you find to be your favorites in December?